Pioneer runners show well in opening meet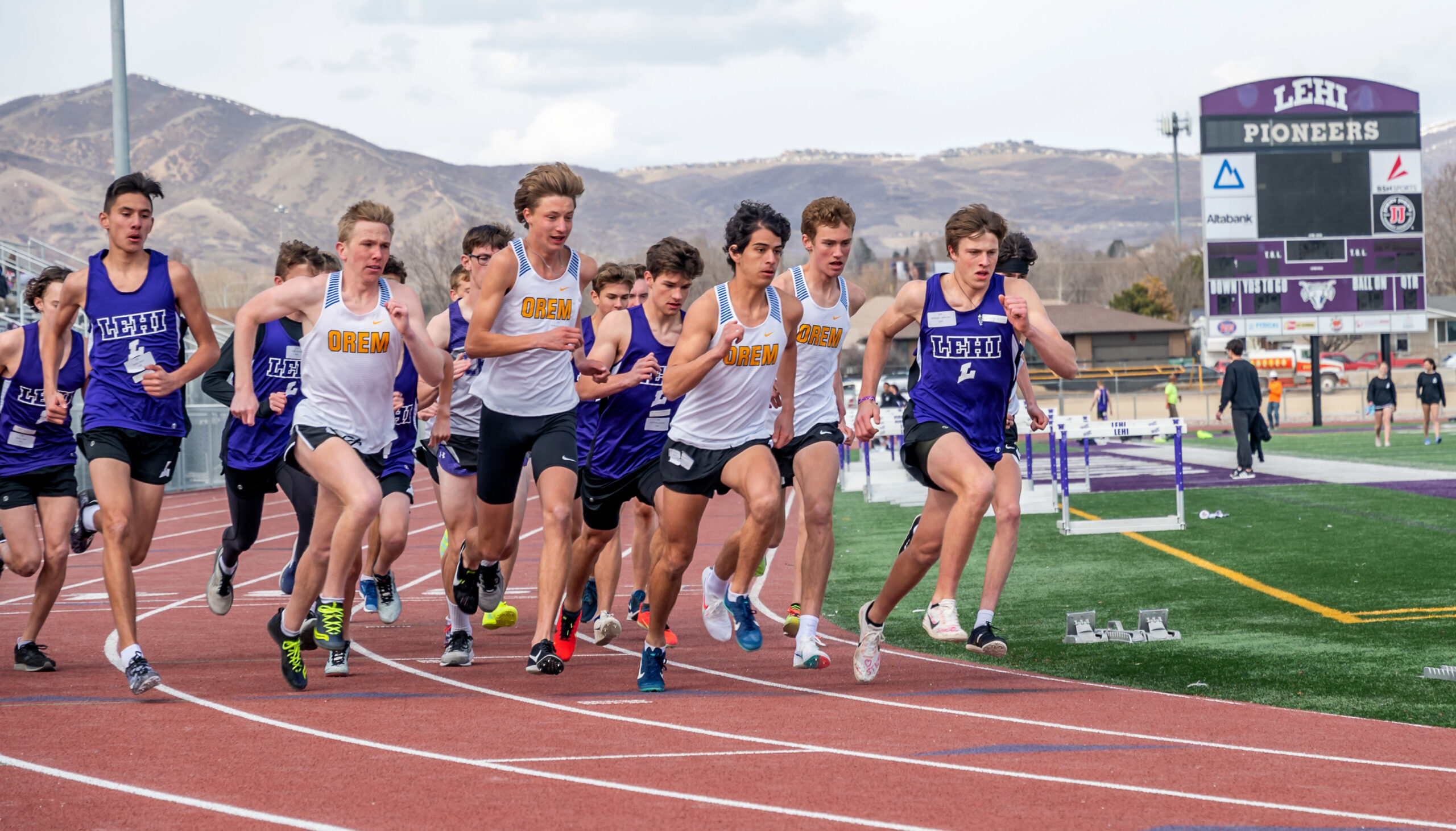 The Lehi track and field team opened the season at home in a dual Region 7 meet with Orem on March 10. Team scores were not released. The meet was the first competition held on the new Pioneer track surface.
Two Lehi sophomore girls posted standout performances. Caroline Moon won both the 800-meter (2:24.9) and 1600-meter (5:26.0) events. Sarah Ballard placed first in the 100 meters (12.91 seconds), the 200 meters (25.75 seconds) and the long jump (16-00.00 feet).
Senior Hailey Barlow won the 3,200 meters (12:16.5) and placed third in the 1,600 meters (5:42.1). Fellow senior Jahslyn Rajvong placed first in the high jump (4-06.00).
On the boys side, Ian Bonsteel swept the short sprints, winning the 100 meters (12.13 seconds) and 200 meters (24.04 seconds). Senior Robert Nelson cleared 6-00.00 feet to win the high jump.
Junior Kyle Burtt placed first in the 400 meters (57.42 seconds). Tyler Martin, also a junior, won the 3,200 meters in 10:18.4.
Lehi will compete next with 25 other teams at the Early Bird Invitational at Mountain View High School on March 19-20.
Orem at Lehi Meet Summary
Girls Top Finishers. 100m: 1-Sarah Ballard 12.91; 200m: 1-Sarah Ballard 25.75, 2-Rosa Welch 28.84; 800m: 1-Caroline Moon 2:24.9; 1600m: 1-Caroline Moon 5:26, 3-Hailey Barlow 5:42.1; 3200m: 1-Hailey Barlow 12:16.5, 3-Greysen Lanenga 13:08.2; 300mH: 3-Rachel Oswald 63.28; 4x100m Relay: A Team 55.37; Shot Put: 3-Aurora Lee 23-11.00.
Boys Top Finishers. 100m: 1-Ian Bonsteel 12.13; 200m: 1-Ian Bonsteel 24.04; 400m: 1-Kyle Burtt 57.42; 800m: 3-Jefferson McMullin 2:08.6; 1600m: 2-Jefferson McMullin 4:34.9; 3200m: 1-Tyler Martin 10:18.4, 2-Brandon Bennett 11:01.4, 3-Benson Quist 11:08.6; 110mH: 2-Elijah Earl 17.22; 300mH: 2-Isaiah Tauai 41.95, 3-Ben Johansen 43.75; 4x400m Relay: A Team 3:41.2; Shot Put: 3-Teague Andersen 47-07.00; Discus: 2-Teague Andersen 144-08.50; High Jump: 1-Robert Nelson 6-00.00; 2-Bryce West 5-06.00; Long Jump: 2-Elijah Earl 18-08.50 (PR), 3-Robert Nelson 17-10.50.