Falcon boys soccer improves start to 6-0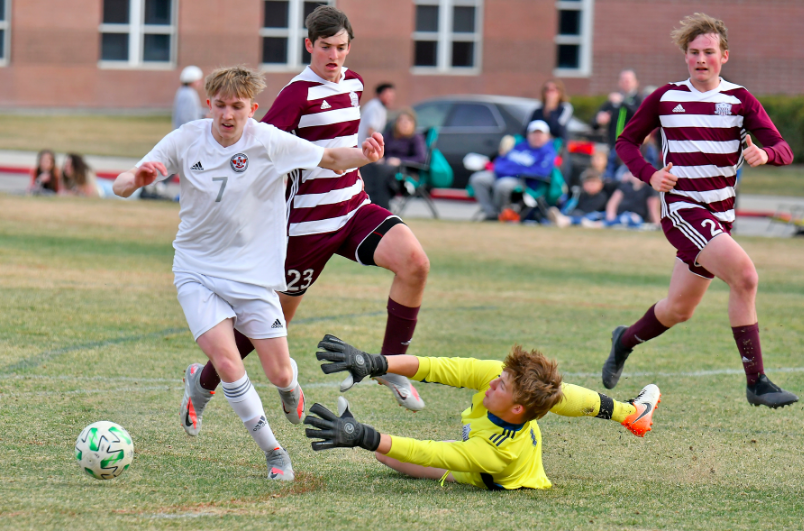 The Skyridge boys soccer team picked up three more wins in non-region road games last week. They shut out West on March 15, beat Real Salt Lake Academy on March 17, then pulled out a nail-biter at Jordan on March 19.
Skyridge 2, West 0
The Falcons went on the attack from the opening whistle and junior forward Dallin Gentry got the visitors on the board in the 15th minute. The 1-0 advantage stood to the break.
In the second period, it took a little less time to double the margin off the foot of senior forward Jackson Warden at the minute 52 mark of the match. The Panthers were never able to find the target.
Juniors Cole Barker and Zachary Kauffman split time in the net for Skyridge.
Skyridge 3, RSL Academy 1
The Falcons were in control from start to finish in this match. Junior midfielder Ian Nielsen pushed the visitors ahead with a quick score in the 11th minute. Junior forward Andrew Parra netted another in the 33rd minute to make it 2-0 for Skyridge at the break.
Warden extended the lead by adding a goal nine minutes into the second half. The Griffins finally got on the board in the 78th minute but the game was out of reach by then. Barker and Kauffman again took turns between the pipes.
Skyridge 1, Jordan 0
The Falcons got a quick-hitter to begin this contest as senior midfielder Austin Wallace found the target in the first minute of play. A tense 79+ minutes followed, but the Beetdiggers were unable to get anything into the net with the stout Skyridge defense and the tag team of Kauffman and Barker in the way.
"Having three games this past week made training and getting on the same page a little bit more difficult," said Coach Jerry Preisendorf. "Our practices were light or tactical-oriented. We could use some off days to look at film and to also discuss things as a team.
"I like the boys' work ethic and after our last non-region game (March 23), we can get down to business and get ready for region," he continued.
"If we can keep up our possession-oriented style, then we can dictate the pace of the game," Preisendorf said. "We do well at times, but I believe there is a lot of improving to do. We look forward to this next game and then some time off to get ready for region."
The coach is encouraged by the progress of his players so far. "Our three midfielders, Ian Nielsen, Austin Wallace and Jake Jensen are doing well with the control of the middle and our back four are starting to get more confident," he said.
"We have two very good keepers with Cole Barker and Zachary Kaufman and it's a nice problem to have with those two," the coach added. "We have a good rotation on the two outside forwards with Dallin Gentry, Jackson Warden, Andrew Parra and Coulson Klein. It should be a fun season."