Lehi football stars accept college offers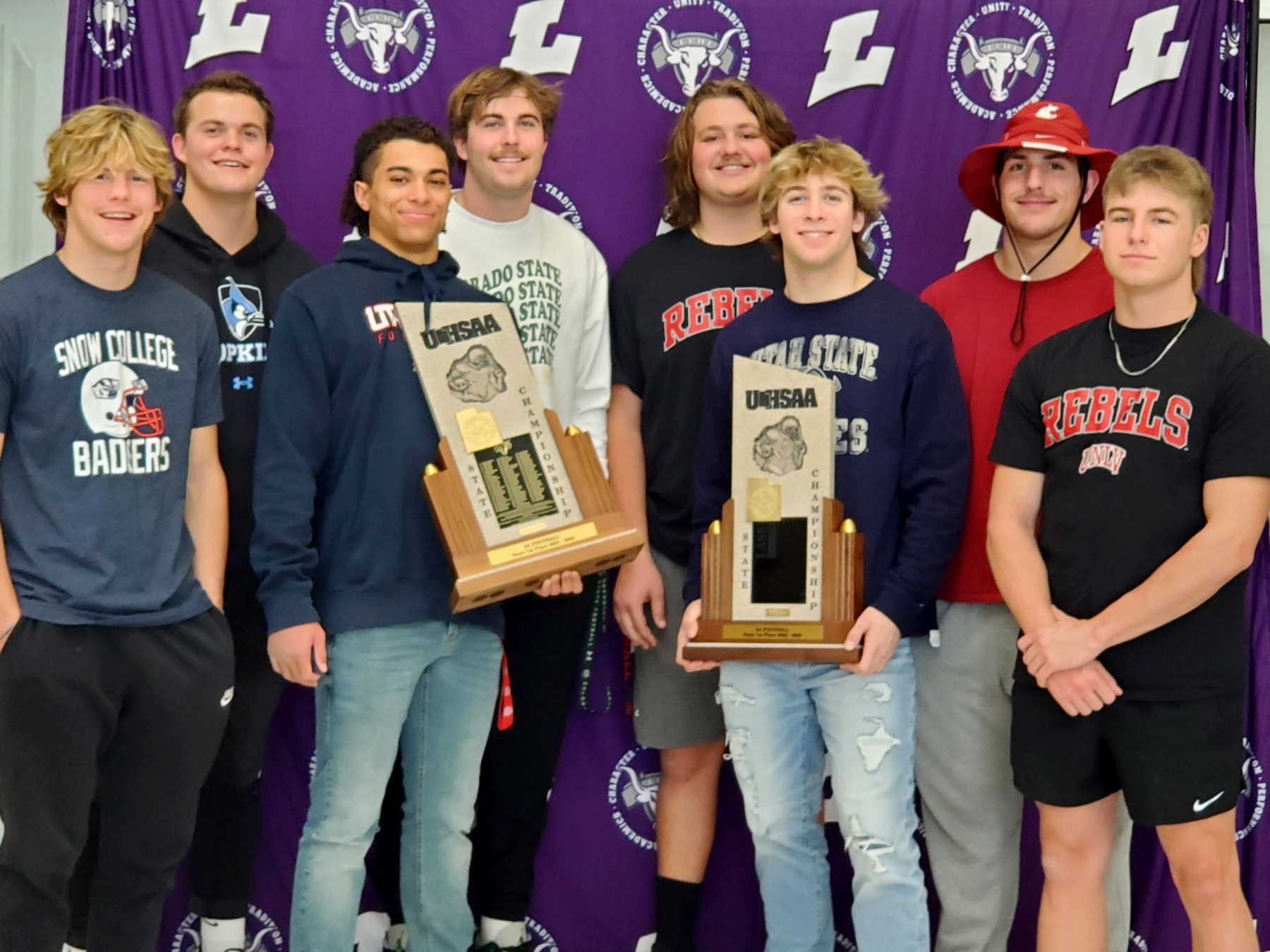 Eight senior members of Lehi's 5A state championship football team signed letters of intent to continue their playing careers at the next level in a ceremony at the school this afternoon. Several other players have received offers but are waiting to make their decisions at a later time.
Of those signing today, six will be entering Division I programs.
Nathan Anderegg, DB – Snow College
Made the most important single plays during the state tournaments two years in a row. Tallied 54 tackles, six interceptions, 18 deflections and blocked a field goal.
Boston Bingham, TE – Johns Hopkins University
Had his season cut short by injury this year but averaged 11.4 yards per catch during his career and made six touchdowns. Earned Academic All-State honors.
Auston Boyd, RG – University of Nevada-Las Vegas
Steady offensive lineman who took the job of protecting his quarterback very seriously. He often had to take on the opposing team's top defender.
Jackson Brousseau, QB – Colorado State University
The starting signal-caller for back-to-back state champion teams. He completed almost 70 percent of his passes, provided 3368 yards of total offense and 40 touchdowns this season.
Hema Katoa, LB – Utah Tech University
The tip of the spear for the linebacking corps, he had an instinct for where the ball was going. Made 94 tackles with 27 solo and scored two defensive touchdowns.
Kadiyon Sweat, FS – Utah State University
He was a threat to opposing teams whether he was tracking passes, shadowing receivers or returning kicks. Ten interceptions, 57 tackles, 876 all-purpose yards, four TDs.
Kolton Tanner, WR – University of Nevada-Las Vegas
The leading receiver in a group of 21, he made 40 catches for 627 yards and scored nine touchdowns. He had a talent for being in the right place at the right time.
Isaac Terrell, DE – Washington State University
Missed some time this season but still tallied 76 tackles with 10.5 sacks and 23 hurries. His were the footsteps that opposing quarterbacks dreaded, and usually heard.