Artist creates 200-foot mural on Lehi assisted living facility wall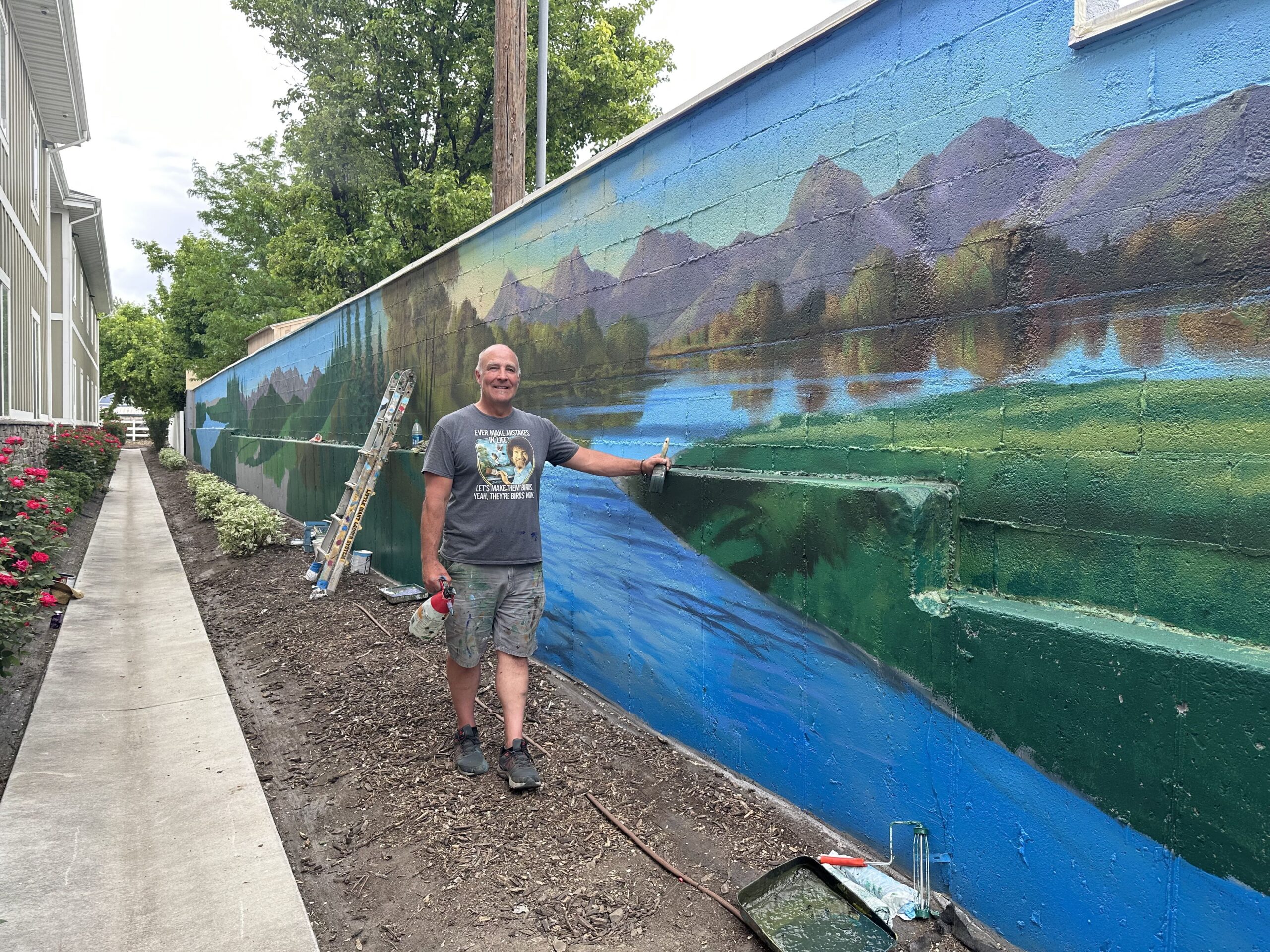 Megan Wallgren | Lehi Free Press
A new mural provides beauty and peace for the residents of Aspen Ridge Residences, an assisted living facility in Lehi. Mural artist Bille Hensler used local scenery as inspiration for the 200-foot-long artwork on a retaining wall of the property.
"Aspen Ridge wanted residents to not look out the window and see a cinderblock retaining wall, but wanted to bring Utah nature to their view," Hensler said. He looked to the local mountains to "create some beauty for the people who live there."
The mural is a mix of five Utah outdoor scenes and includes a stream, lake, pine trees, and the familiar mountain skyline. Hensler, a Utah County resident, took inspiration from the area's famous peak. "People love Timpanogos. It's a local landmark, and the facility is at the foot of Mount Timpanogos," he said. It took him around a month to complete the project.
Hensler has been a mural artist for 33 years. "Landscapes are what I get asked to paint the most," he said. Locally, he is the artist behind all the murals at the Living Planet Aquarium in Draper. He has also painted murals in several Cabela's stores across the nation.
Hensler has always loved to create art. He spent more time drawing on his papers in school than anything else. After high school, Hensler went to college then started a job in animation. After a layoff, he began painting murals for a living and is grateful to be able to make a living doing something he loves. Hensler gets most of his commissions by word of mouth. "I try to do the best I can on every project because you never know who will see it," he said.
When not working on murals, Hensler creates contemporary wildlife art. He's known for painting wild horses that live in the west desert and other types of Utah wildlife. He gives his paintings a unique color treatment and catches the energy and movement of his subjects.
Hensler's art can be found on his website, utahmuralartist.com. You can also follow him on Instagram at hensler_art.