Skyridge football wins first all-Lehi R3 game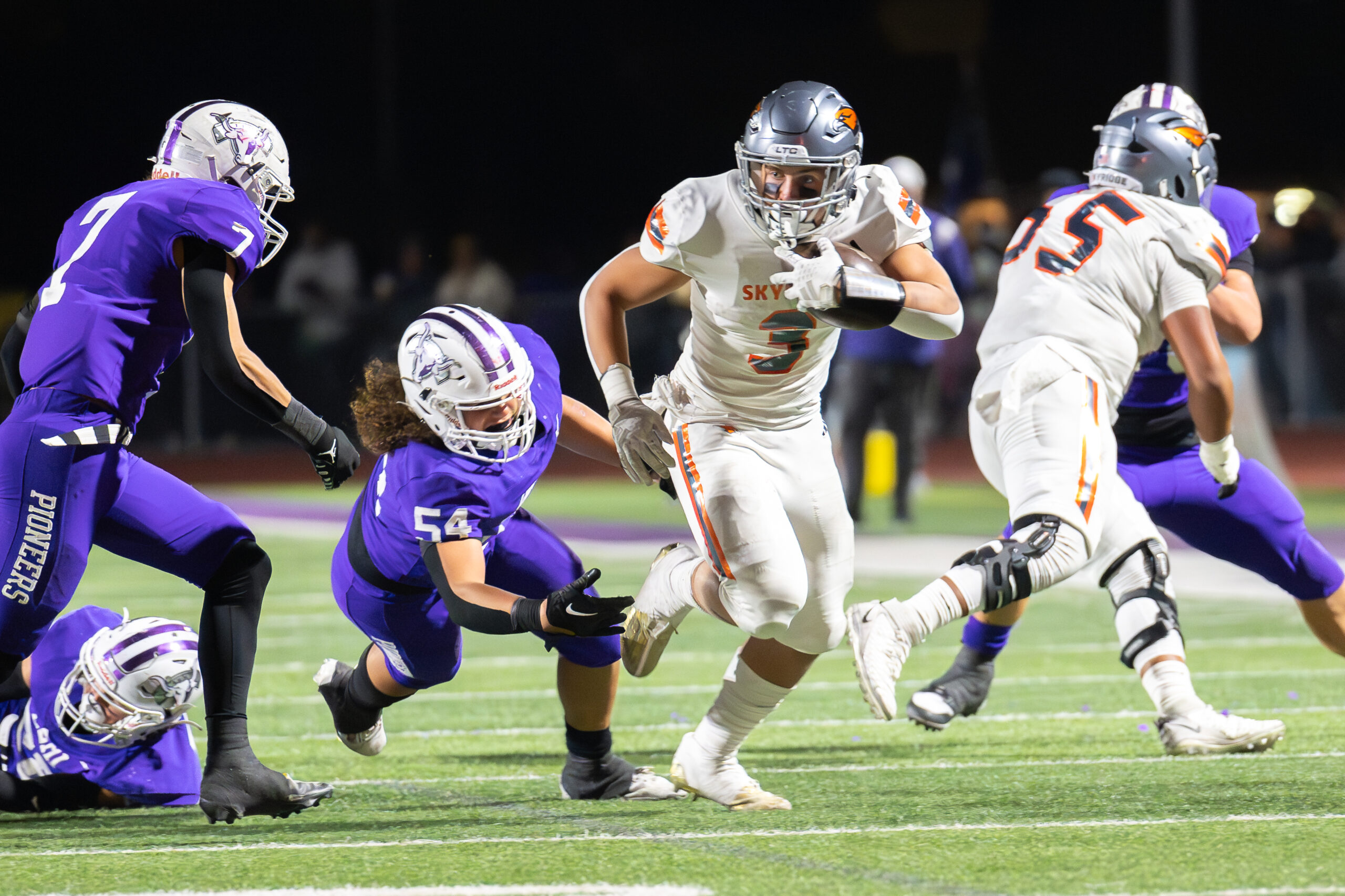 The Skyridge High School football team was effective on both sides of the ball as they earned a 35-17 victory at Lehi in the first Region 3 faceoff between the two defending state champion programs.
The Pioneers got the ball first and senior Boston Fabrizio madethe first of multiple big returns to set his team up at the 39-yard line.
Lehi moved down the field with some speed, keyed by rushes from sophomore running back DeVaughn Eka and connections between sophomore quarterback Kannon Whiteley and junior wide receiver Ezaiah Mama plus senior tight end Grayson Brousseau.
After just 2:07, Eka finished off the drive for the home squad by taking the ball across on the left side for the touchdown from the 10-yard mark. Junior kicker Gavin Fenn's PAT made it 7-0.
Senior running back Carter Sheffield had a monster night and got it started with a couple of chunk plays during the first Falcon drive. A pass from senior quarterback Jackson Stevens to senior wide receiver Trevan McClellan brought the ball to the Lehi 22.
On the next play, Stevens tossed to senior wide receiver Trent Call for the score with 5:47 remaining in the period. Junior kicker Blake Hester tied things up with the PAT.
The Pioneers were able to move the ball successfully during their next drive as well, with Eka chewing up real estate and a 16-yard reception by senior tight end Kaleb Moore.
However, the Skyridge defense stiffened in the red zone and Lehi had to settle for a Fenn 28-yard field goal at 11:08 in the second quarter to make it 10-7.
The Falcons got their next possession started with a 32-yard pass play from Stevens to senior wide receiver Jack Burke. McClellan finished the drive with a 2-yard run for the touchdown with 7:55 left in the half. Skyridge moved ahead 14-10 and never looked back.
Burke collected a 22-yard touchdown pass at the 1:15 mark to widen the gap to 21-10 going into the break.
Lehi forced a punt on the first Skyridge possession of the third quarter but then gave the ball right back when senior defensive back Fotu Moea'i made a pick deep in the Lehi end.
That later led to a 6-yard Sheffield rushing touchdown with 7:55 left in the period, and he added another one with 1:35 to go on a 4-yard run after the Pioneers were held to a 3-and-out and forced to punt. The Falcons then owned a 35-10 advantage.
Eka added a final touchdown for the home squad with 9:16 left on the clock to finish the tally for the night.
For more details and photos from this game, check out the Sept. 28 issue of the Lehi Free Press.