Lehi-area boys finish 2-3 in R3 cross country meet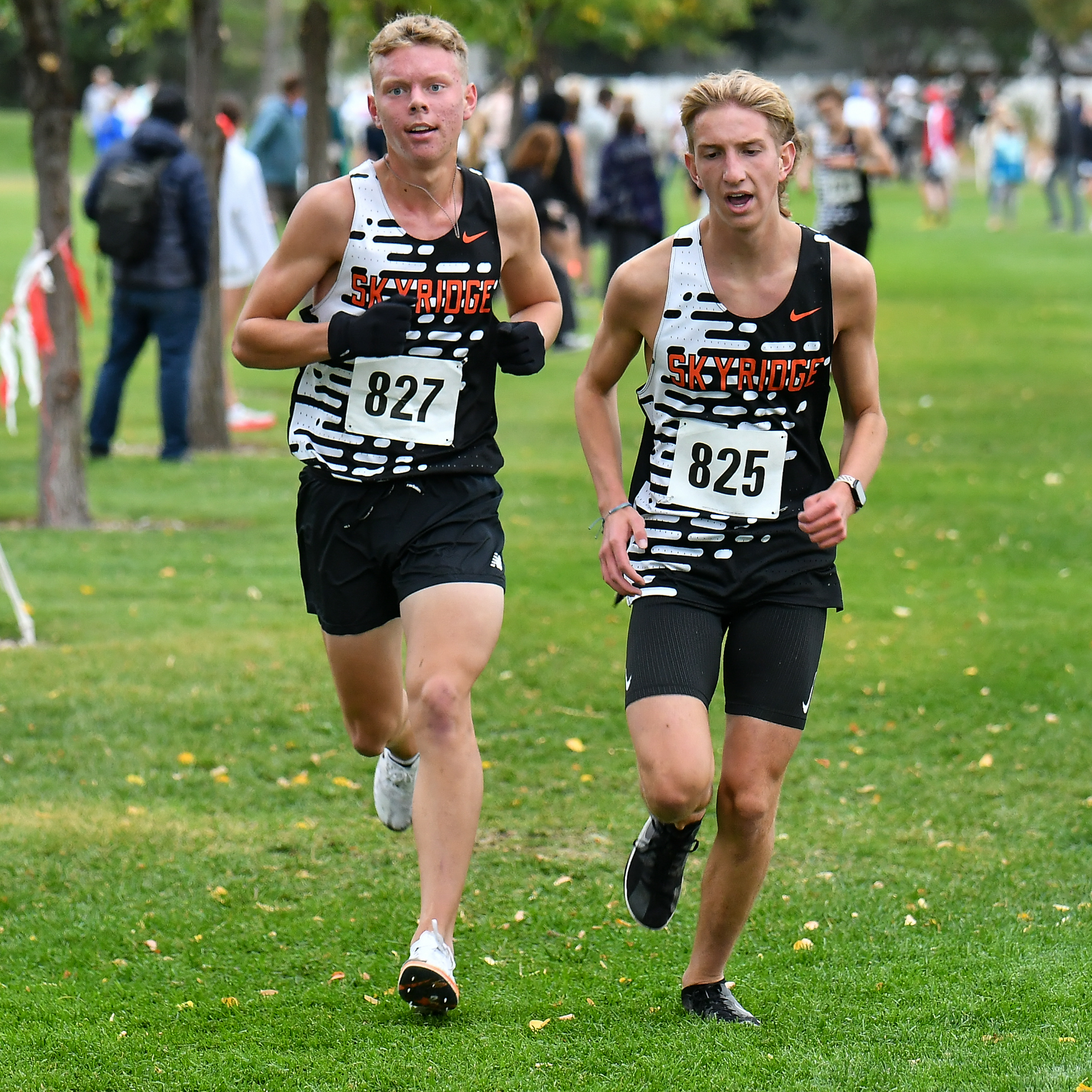 The cross country teams from Skyridge and Lehi finished second and third behind American Fork in the varsity boys event of the Region 3 meet on Tuesday (Oct. 3) at Art Dye Park in American Fork. In the varsity girls race, the Falcons came in fourth and the Pioneers sixth.
For the boys, the Cavemen swept the top five spots to earn the best-possible combined mark of 15. The Skyridge scoring runners all finished in the top 15 places and totaled 53 points. Lehi's entrants also ran in a pack, with the scorers coming in between 11th and 26th for a combined 99 points.
Lone Peak was fourth at 116, Westlake fifth at 132 and Pleasant Grove sixth at 166.
The Falcons were led in by Cooper Tripp in seventh place at 15:58.62 with Taylor Kjar right on his heels at 15:58.83. Ezra Nelson was 10th, Edward Fuller 13th and Aaron Caldwell 15th.Their other entrants were Grant Welsh and Alex Daniels.
Tops for the Pioneers was Benson Quist in 11th place at 16:10.98. Benjamin Knighton followed him in 17th, then Derek Sorenson 20th, Jaxton Wiltbank 25th and Carter Lanenga 26th with Parker Allred and Jamison Lowry also running that day.
In the girls division, Skyridge's Lucy Hawkins finished third at 18:43.22 and prevented the American Fork girls from duplicating the scoring feat of their male counterparts, but they still took five of the top six spots to post a near-perfect 18.
The Thunder were second at 61, the Knights were right behind at 68, the Falcons combined for 101, the Vikings had 167 and the Pioneers 187 with all but their first finisher completing the race in close succession.
The rest of the Skyridge girls also paced one another, with Ava Talbott in 20th place, Clara Madsen 22nd, Claire Wallgren 26th and Macie Wakely 27th. Ava Carter and Avery Gonzalez competed as well.
Lehi's squad was led by Remy McAdams, who was 23rd with a mark of 19:52.07. She was followed by Camree Kenison in 34th, Alivia Marchello in 36th, Liesel Ford in 38th and Halle Ellis in 39th to complete the score and Charity Whitehead right behind.
The teams will compete at Divisionals next week to try and earn spots in the state meet on Oct. 24 at the Regional AthleticComplex in Salt Lake City.