Falcon football wins big to open playoffs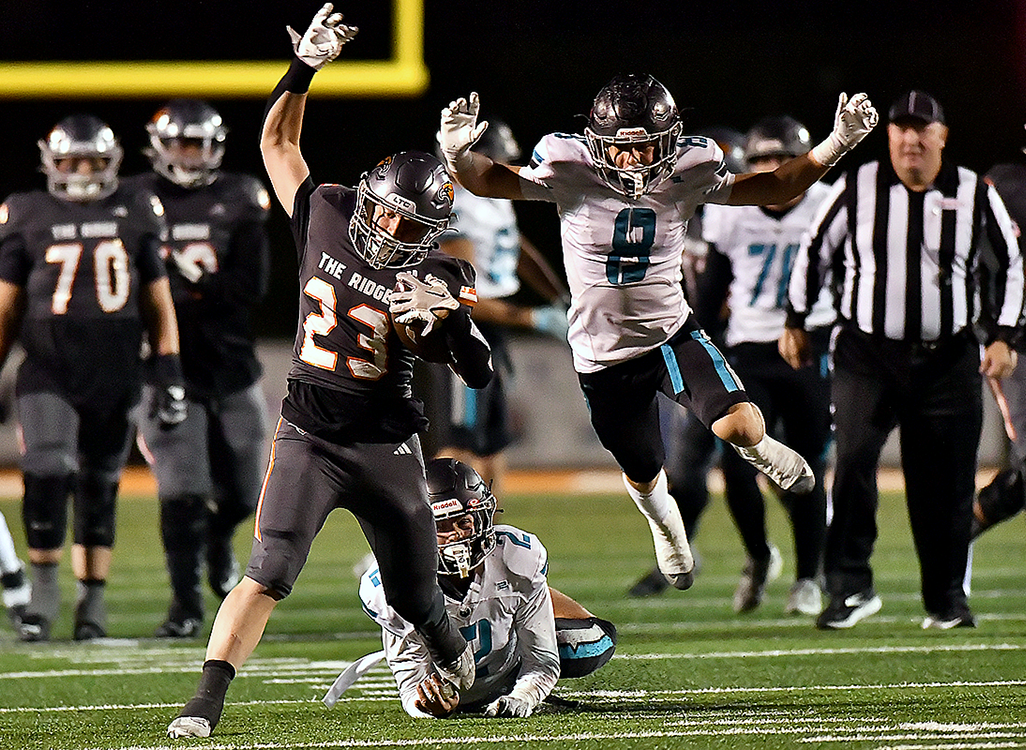 The Skyridge football team took care of business with a standout offensive performance against the Phoenix of Farmington on Friday night (Oct. 27) in the second round of the 6A state tournament. The Falcons grabbed an early 7-0 lead and never looked back on the way to a 49-14 victory.
Senior quarterback Jackson Stevens bolted three yards into the endzone for the first score of the game. Seniors Trevan McClellan and Brett Buhler each scored two touchdowns.
Buhler's second touchdown in the game came on a perfectly executed slip screen. Buhler has filled in seamlessly for the injured varsity starter Carter Sheffield, who returned in this contest, picking up 25 yards on the ground and 74 yards in the air.
McClellan scored on two short pinpoint passes from Stevens. Junior receivers Josh Hansen and Zaeden Selu rounded out the TD scoring for the Falcons' stellar offensive game. Junior kicker Blake Hester was 7-for-7 in PATs to complete the tally.
Buhler said, "I've had months of preparation and when it was time to step it up, I felt confident. I'm grateful to the team for trusting me. The team was able to execute at a high level tonight for a really good win."
The Falcon offensive line was effective, opening big holes for the running backs and protecting Stevens, allowing him to find the downfield receivers with ease.
Skyridge head Coach Justin Hemm said, "I thought we did a lot of good things tonight although we still have a few things to improve upon. Overall, we executed at a high level and made some big plays defensively and offensively.
"The offense was really balanced. When we look at the half, we had 16 pass attempts with 13 rush attempts. Executing, making the reads and doing what the numbers tell us, the guys did a great job of doing what they needed to," he added.
Juniors Deshawn Toilolo and Iakopo Malufau aggressively pressured the Phoenix offense throughout the game resulting in long yardage situations and made two sacks each. The Falcon defense registered five total sacks with 10 tackles for loss.Senior Mark Baird picked the Phoenix quarterback.
The Falcon defense gave up a few yards and two touchdowns but still dominated the field leaving the game out of reach for Farmington. The leading tacklers were junior linebacker Noah Bird and junior defensive back Tavian Edwards with four solo and six combined tackles apiece.
"Defense did some great things. There were some big plays made by Farmington, but our defense adjusted well and there were a bunch of negative plays, which is huge. We totaled a good amount of sacks and gave a full effort tonight," said Hemm.
Stevens said, "I am proud of this team. We got humbled with the last two losses, but we played with confidence tonight and gave a great team effort. I have no doubt we will work hard and be ready for the next one.
"Overall, we gave a dynamic performance by scoring on every drive but one. It is all due to our preparation this week. We really focused during practice to be ready for this game," he said.
Stevens finished completing 23-of-30 (77%) passes for 301 yards with three touchdowns and an interception, also running for an additional score. Buhler carried 12 times for 100 yards. Burke had six catches for 89 yards and McClellan had nine catches for 89 yards.
With the win, the Falcons stand at 9-2 overall. They will look to continue their journey back to the state title game when they host No. 5 Pleasant Grove (9-2) on Friday (Nov. 3) at 6 p.m. unless the schools agree to change the time. The Vikings edged Skyridge 34-31 in their Region 3 meeting on Oct. 6.
"We are ready for the state playoffs. We've worked hard and we were eager to get back at it tonight after the bye week. We had some of our injured athletes back on the field tonight and they looked good," Hemm said.
"Some were a little more limited in their play, but hopefully they will keep improving and we get them all back at full strength as we continue to play," the coach concluded.