Miss Lehi's Outstanding Teen 2021 crowned as Miss Zion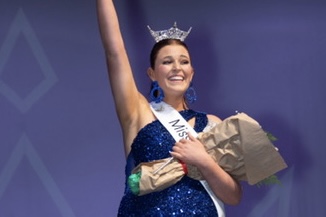 Miss Lehi's Outstanding Teen 2021 AnnaBelle McKinnon was crowned Miss Zion on Friday, Oct. 20, at the Liahona Theater in Pleasant Grove. The competition included 28 contestants who graced the stage to compete for the titles of Miss Pioneer Valley, Miss Legacy, Miss Rocky Mountain and Miss Zion.
The "quad," or four-title competition, is open to all females in the state of Utah to vie for the opportunity to serve within their communities, earn scholarship money and compete at Miss Utah. The competition is a part of the Miss America Organization.
All 28 contestants competed in various categories including private interview, health and fitness, talent, and evening wear and on-stage conversation.
McKinnon impressed the judges of the competition during the talent category with her vocal performance of "Everybody Says Don't" from Anyone Can Whistle by Barbara Streisand.
"My favorite part of the competition is talent. I have always loved performing. I am so grateful for the opportunities I've had to develop my love of singing. I have always enjoyed sharing my talent and that portion of the competition gives me the perfect platform to share my love for the arts and my talent," said McKinnon.
McKinnon's community service initiative, a requirement of the Miss America Scholarship Organization, is "Let's Get Creative – Arts Education."
"My community service initiative focuses on encouraging everyone in the community to get involved in the arts, especially children. I have seen the positive impact the arts have had in my life and in the community. I know the importance of having the arts included in education and the public schools. I want to help make sure everyone has access to the arts," said McKinnon.
McKinnon is a student at Utah Valley University working towards a Bachelor of Fine Arts in Musical Theater.
"I love the musical theater program at Utah Valley University," McKinnon said. "The program has taught me so much already about the art that I love, and someday I hope to be able to share my talents on a stage as a professional."
McKinnon also reflected on her time serving the Lehi community as Miss Lehi's Outstanding Teen. McKinnon enjoyed serving in Lehi City and loves the people.
"The Miss Lehi's Outstanding Teen organization taught me so much about myself and my community. I am so grateful for the people I worked with and for the many ways I was able to serve that year. That year of service truly helped make me the person I am today," said McKinnon.
The Miss America Organization has empowered McKinnon in a variety of ways.
"The Miss America Organization has given me an opportunity to learn about and make goals. It gives me a platform to truly make a difference. The Miss America Organization has shown me how far I can go and how much I can accomplish. It has really helped me to push myself to be the best me that I can be," said McKinnon.
McKinnon has spent many hours serving and promoting her community service initiative. She knew she wanted to compete at one of the scholarship competitions this year. When she discovered she was eligible for this competition, she decided to compete before the year's end.
"I found out about this competition and decided I might as well go for it, I had never stopped serving in my community and I felt prepared to compete. I had nothing to lose and everything to gain," she said.
McKinnon did gain — she won the title of Miss Zion and a $1,000 scholarship. McKinnon will also represent the Miss Zion organization at Miss Utah in 2024.
For updates on McKinnon's year of service, follow her on Instagram @misszionut.