It's Girl Scout cookie time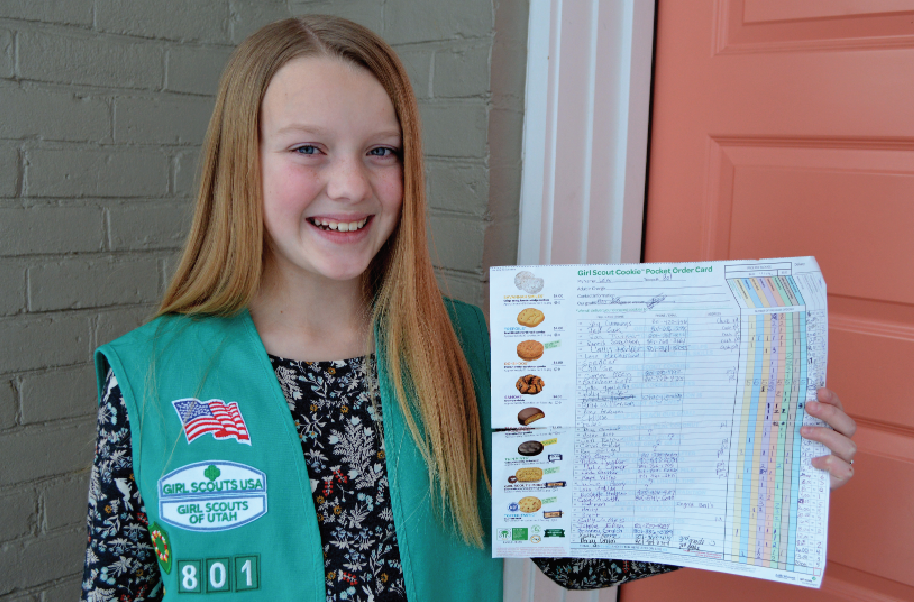 It's that time of year when Girl Scouts in badge be-decked green vests show up on our doorsteps and social media feeds to remind us it's time to order cookies. The iconic Girl Scout cookies are a time-honored tradition all over the country. Only the coldest heart can resist a neighbor girl selling the delicious treats.
Girl Scouts here in Lehi have made goals to sell as many boxes of cookies as they can to help pay for troop activities and Girl Scout Camp. These activities, according to the official Girl Scouts website, "broaden their worlds, help them learn essential life skills, and prepare them to practice a lifetime of leadership." Until February 5, Girl Scouts are taking pre-orders. People who are smart enough to order their Samoas, Thin Mints, Tagalongs, and the new cookie this year, S'mores, will get their boxes of cookies before anyone else can buy them.
Lola Goulding has been a Girl Scout for three years. She's part of a small, but strong troop here in Lehi. The first-year Lola went out to sell cookies, she was afraid and couldn't even speak to neighbors when they opened the front door. This year Lola has made calls by herself and gone to close neighbors to sell cookies. She has gained confidence and had great experiences that have stayed with her. Lola's favorite Girl Scout activity so far was touring the Provo City Center Temple with her troop last year. She loved seeing the light fixtures and historical elements of the temple that were beautifully restored.
Every Girl Scout sets a goal for how many boxes of cookies they hope to sell. Utah Girl Scouts who sell 1,000 boxes or more get to go to Girl Scout Lagoon Day for free. That sounds like a crazy number of boxes for a young girl to sell, but Lola Goulding has done it for two years in a row and plans to make that number this year too. Lehi residents are good to the Girl Scouts!