Sterling Scholars announced for Skyridge and Lehi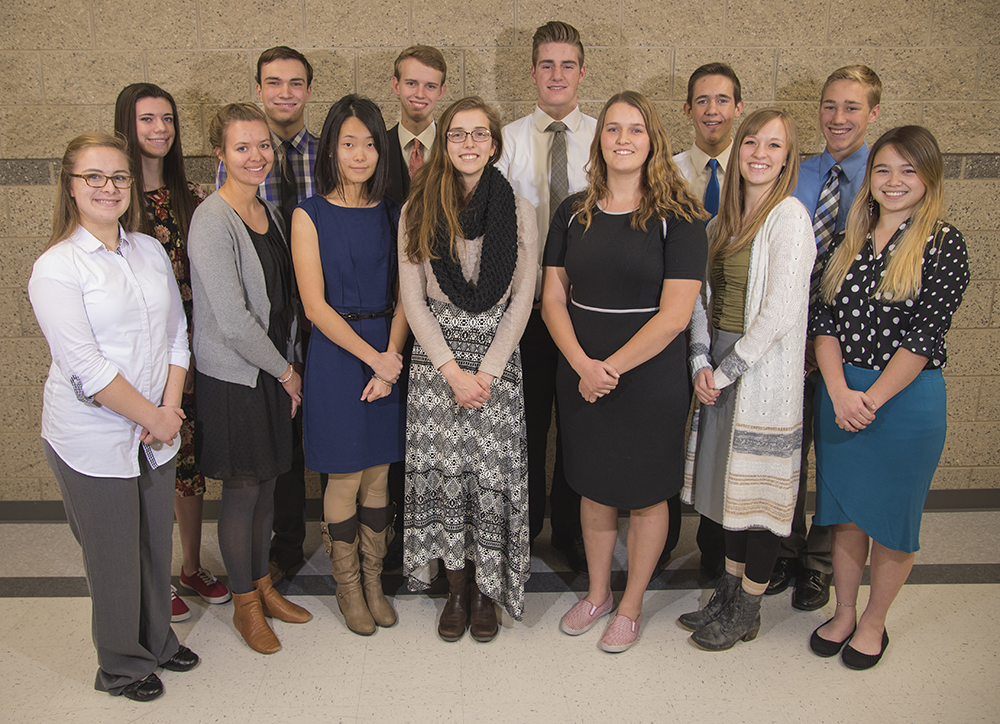 SKYRIDGE HIGH SCHOOL
Sterling Scholar Awards are sponsored by Desert News and Zions Bank and recognize high school seniors for the pursuit of excellence in scholarship, leadership and citizenship in the State of Utah. In the fall, students submit a portfolio of their work in a specific category and are interviewed by judges in that field. Sterling Scholar recognition is awarded at the high school, semi-final and final levels in 14 categories. An overall winner is also chose at the state level. The Sterling Scholar program aims to recognize these outstanding students and provides cash awards and tuition waivers from participating institutions.
Rachel Billings, an English teacher and the coordinator of the Sterling Scholar program at Skyridge High School, has released the winners of the school awards. The recipients are:
Business and Marketing- Caiwei Zhou, daughter of Jingxiang He
Computer Technology- Matthew Russon, son of Verlin and Kathy Russon.
Dance- Bryce Christensen, son of B. Corbin Christensen and Sarah Merrill
English- Mitchell Lott, son of Daren and Debra Lott
Family and Consumer Science, daughter of Joseph and Kathleen Harmon
Instrumental Music- Alyssa Buck, daughter of Jerry and Lorie Jo Buck
Mathematics- Giovanna Nuccitelli, daughter of Chris and Marie Nuccitelli
Science- Riley Eastmond, son of Scott and Christine Eastmond
Skilled and Technical Sciences Education, Caleb Walker, son of Andrew and Tamara Walker
Social Science- Allyson Crandall, daughter of Richard and Patrice Crandall
Speech/ Theater Arts/ Forensics- Natalie Lyman, daughter of Kendall and Donna Lyman
Visual Arts- Madison Rowley, Daughter of Justin and Jewel Rowley
Vocal Performance- Bradley Schoebinger, son of Chris and Jennifer Schoebinger
World Language- Emma Michelle Ainge, daughter of Bradley Ainge and Michelle Stewart
The semi-final and final rounds of judging will occur in February and the awards ceremony will be held in March. Congratulations to all of these outstanding seniors for their hard work.
LEHI HIGH SCHOOL
Lehi english teacher and Sterling Scholar advisor, Garth Gagnier, is pleased to announce this year's Lehi High School Sterling Scholars.
After compiling a portfolio that highlighted their achievements in the leadership, scholarship, and citizenship areas, and completing a personal interview, the students were chosen to represent Lehi as Sterling Scholars. Garth says that the scholars this are, "The cream of the crop." The honorees are as follows:
English – Emma Watts
Mathematics – Spencer Heath
Social Science – Kylee Haunga
Science – Madi Gray
World Languages – Nathaniel Hannah
Computer Technology – Travis Eggett
Skilled and Technical Sciences – Kadee Jo Jones
Family and Consumer Science – Jessica Cunningham
Speech/Theatre/Forensics – Gabe Gilbert
Visual Arts – JT Macedone
Instrumental Music – Collin Moore
Dance – Halee Nelson