Lehi crossing guard goes the extra mile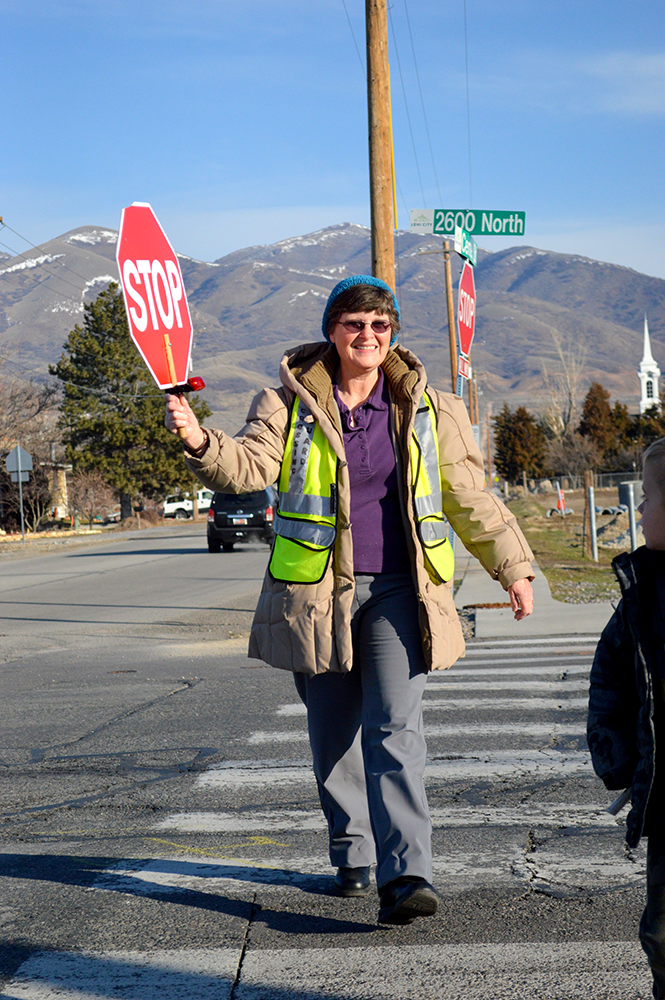 The intersection of 2600 North and Center Street is a busy one these days. Elementary students heading to Eaglecrest Elementary and Skyridge High School are walking to school at the same time drivers are on their way to work. Every weekday morning Kathy Hill is the crossing guard on duty at that intersection and she does a lot more than hold up a stop sign and wear a bright yellow vest.
Ned Cutler drives a school bus through Kathy Hill's intersection every day. He has noticed on cold mornings when the sidewalks were icy, Hill is spreading ice-melt with a spreader she brings from home. She doesn't just take care of the street corners, she goes a full block in three directions sprinkling ice-melt on the sidewalk. Hill brings her snow shovel and a broom from home as well and during lulls in the traffic she clears snow and debris off the sidewalk. When the snow finally melted, Hill picked up all the garbage that was under the snow as well.
Kathy Hill signed up to be a substitute crossing guard, but they needed a full-time person at this cross walk. Hill agreed to take the job as long as someone could cover for her on Friday mornings when she works in the Mount Timpanogos Temple. Other than Friday, Kathy shows up for work 20 minutes early because she noticed there were children crossing the roads before her shift started.
Kathy Hill worked in the commercial sewing industry for close to 30 years and she now works as a seamstress from home. She has 20 grandchildren and four and "a half" great grandchildren. She loves kids and wants to keep them safe at this particularly dangerous intersection. She says she has had to yell at drivers who are paying more attention to each other than the pedestrians at the four-way stop. Of the extra time and effort she puts in to her job, Hill says with a smile, "As long as I'm here I might as well be doing something useful."