Stan Wanlass — Lehi's true Renaissance man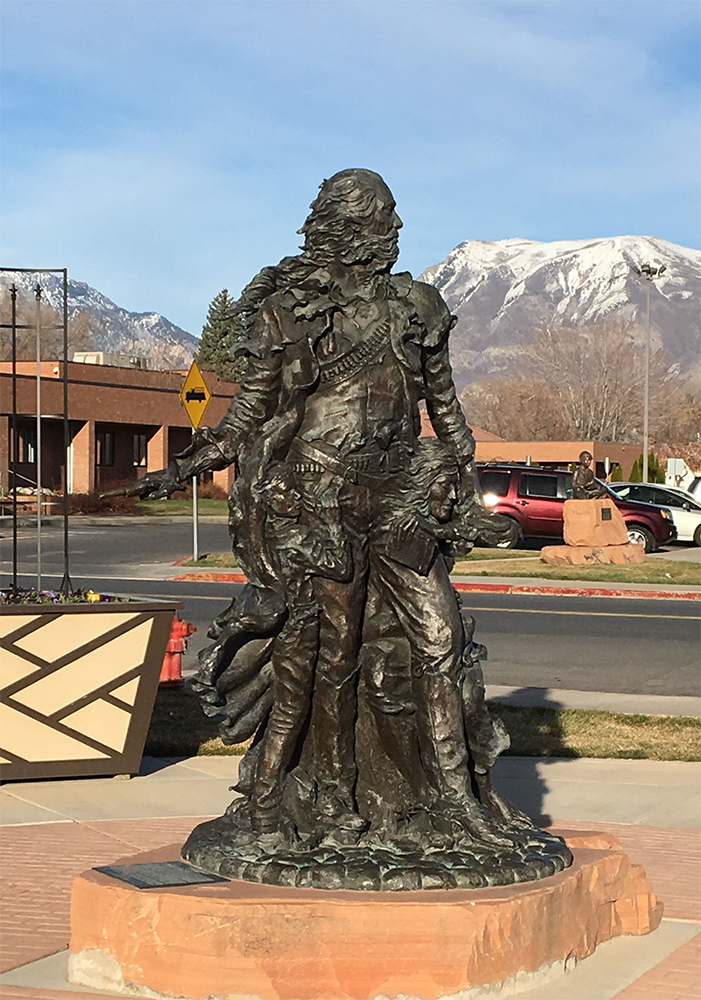 Standing as a symbol of strength, resolve, and courage is a bronze sculpture of a pioneer shielding his wife from the elements and dangers of frontier life. This statue is the work of former Lehi resident, Stan Wanlass. The statue was commissioned by Lehi City to be the focal point of Lehi City's municipal complex.
Wanlass, grew up in a white frame house on Center Street and 500 North in Lehi. He was surrounded by adoring neighborhood lasses and jealous young men. His mother and father, Alta and Glen Wanlass, were also the parents of three beautiful daughters, Rhea, Kathryn, and Lois. Wanlass' father, Glen, owned and operated a service station for many years on Main Street in Lehi.
Wanlass, recently completed an interview with Marcel G. Haan, for the Car Art Spot. The following is a condensed version of the interview:
Haan: "What is your story.? How did you become an artist?"
Wanlass: "I'm just an ordinary guy who happens to seek beauty, no matter where it is found. I'm also constantly searching for truth; but that's much harder to discern. I suppose I'm a hopeless idealist and a romantic. My goal is to aesthetically improve what I can and share my subjective vision of beauty.
When I was studying at the University in the late fifties and early sixties, it was almost impossible to make a living as an artist…so to be practical and to make a living, I went into my second interest at the time, medicine instead of art. It wasn't until a couple of years later that I finally realized that my real love was the art and I didn't care if I starved.
Indirectly, my childhood naturally lead me toward artistic endeavors. During the 40's and 50's I loved working with my Dad helping with his work as a semi-professional geologist. I spent a great deal of time in the west desert, the San Rafael Swell, and the Thomas Range. While combing the deserts, I ran across numerous old cars that were all rusted out and unusable. One thing that fascinated me with these old wrecks was that they had this beautiful cloisonné emblem on the front of the radiator. I started to collect and catalogue them wondering how many different ones that I could find and indeed, how many varied car companies there had been in America up to that time.
Years later, when I was working on my Master's Degree, the emblems became a large part of my 500- page thesis on automotive design. Most experts at that time estimated that there were 3000-5000 different car companies producing cars from 1900 to 1930 in American. My research revealed more than 12,000 during those years. My thesis has since been published by Dover Publications, New York."
Haan: "What kind of jobs did you have, or have you always been an artist?"
Wanlass: "I have always been an artist but not as a solo career until I ended my twenty plus years teaching as a professor at the University of Grenoble and European Art Academy in France. I also taught for six years at Brigham Young University and another ten or fifteen years at colleges and universities in Canada and Oregon. I was always sculpting and painting but when I quit, it really left me much more time to create."
Haan: "Cars are a recurring topic in your art, why is that?"
Wanlass: "My love for the automobile and history have been paramount in my life and led to my passion for creating historical monuments and automobile sculpture/paintings. I've always loved cars. I have built them and collected them all of my life. They are kinetic and to me they symbolize the ultimate expression of human freedom."
Haan: "Your art shows a 'joie de vivre' enjoying life, is that a reflection of who you are?"
Wanlass: "I'm mostly optimistic and try to have a positive outlook on life. And yes, I like to hide little "pearls" or "treasures" of whimsy as well as poignant gems of wisdom in both my paintings and sculpture; only to be found by those who take the time to participate in the work.
Every person born to this world has God-given gifts of genius (in varying degrees, of course) that are unique and different than anyone before or after him/her. None are the same…just as no two artists are equal in inspiration, technique, temperament, or vision. Too many artists believe they must compete with other artists, not realizing that it is impossible to compare. The truth is that each individual is so unique that they can only really be in competition with themselves."
Haan: "What are you most proud of?"
Wanlass: "My best creations are my children; which I couldn't have produced or been successful (as well as my career) without my lovely and talented wife, Joy. Actually, she does most of the work and I take the credit."
Haan: "What are you currently working on?"
Wanlass: "Automotive art and a historical monument. I am currently in the planning stages of a 40 foot "Seafarers Memorial" that will be placed at the confluence of the Pacific Ocean and the Columbia River near the tip of the Astoria, Oregon Peninsula."
Haan: "What is your advice for people who want to become an artist?"
Wanlass: "I would say to any artist: Plan, Simplify and Be Strong!" Simplicity is power. Our dignity lies not in who we are or what we do, but in what we understand. An artist asks the world questions and the world replies, "I hear you and I answer that I cannot answer, you must find out yourself…the resulting message becomes the art."
Wanlass currently lives in Salt Lake City.