Lehi Arts Theater workshops produce mini showstoppers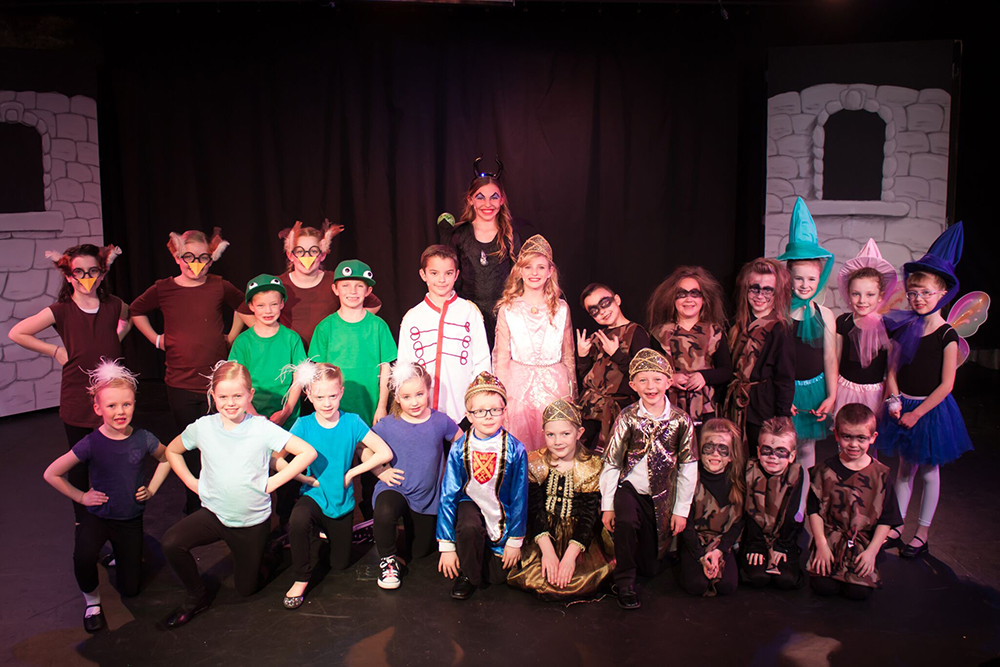 The Lehi Arts Center offered two Spring Theater Workshops for kids that culminated in two weekends of adorable shows in March. The Kidz Musical Theatre Workshop for ages five to eight, performed "Sleeping Beauty Kids" and the Junior Musical Theatre Workshop for ages nine to 15 presented "Singin' in the Rain Jr."
Rehearsals for the two shows began on January 9. Twice a week for the last few months, the casts of both shows came to rehearse at the Arts Center building. The kids who participated had to audition and make sure they could attend all the rehearsals and performances. Their hard work paid off in delightful and entertaining shows, as well as friendships.
Ashley McKinnon, Lehi Arts Council Workshop Director, said, "The great thing about Sleeping Beauty Kids in particular is that there are a lot of parts to spread out to the kids and the ensemble was very involved in it. There's very little down time for the kids backstage."
The cast of "Singin' in the Rain Jr" became a very tightknit group of friends. McKinnon says the directors and choreographer were able to sit back and enjoy the show because the kids took care of everything involving the sets, costumes and props. They were very responsible and stayed on top of their cues.
"Singin' in the Rain Jr" started with a duet between Brandon Saavedra as Don Lockwood and Rhett Crandall as Cosmo Brown. The two young men pretended to play violins while doing some fancy footwork, even harmonizing as they sang "Ready for Love." Saavedra and Crandall had adorable chemistry as the best pals, Don and Cosmo. Kaylen Shepherd as Lina Lamont nailed the screeching voice of her character, never failing to get laughs. From the moment she burst out of a cake and started singing, Annabelle McKinnon blew the audience away with her amazing voice.
The principle actors in "Singin' in the Rain Jr" were exceptional and the supporting cast was impressive as well. The "Singin' in the Rain" group number included most of the cast holding umbrellas or copies of the Lehi Free Press over their heads in the "rain." After the final bows, all the little actors gathered in a group hug and posed for photos with each other. Clearly they had a great time together. Director Paige Albrecht, Musical Director Ashley McKinnon, and Choreographer Jeanna Bronson, all volunteers, created a musical theater experience for the kids that they will remember and treasure for years to come.
"I don't know of any other program where parents can see such a drastic transformation in eight weeks," said Ashley McKinnon. "Theater is a wonderful way for kids to come out of their shells and become a person they normally wouldn't get to be. That's why I love this program and am proud to be a part of it."
The Lehi Arts Center offers musical theater workshops in summer and fall as well. Go to lehicityarts.org/workshops for more information.