Parents' cause leads to AED placement at local school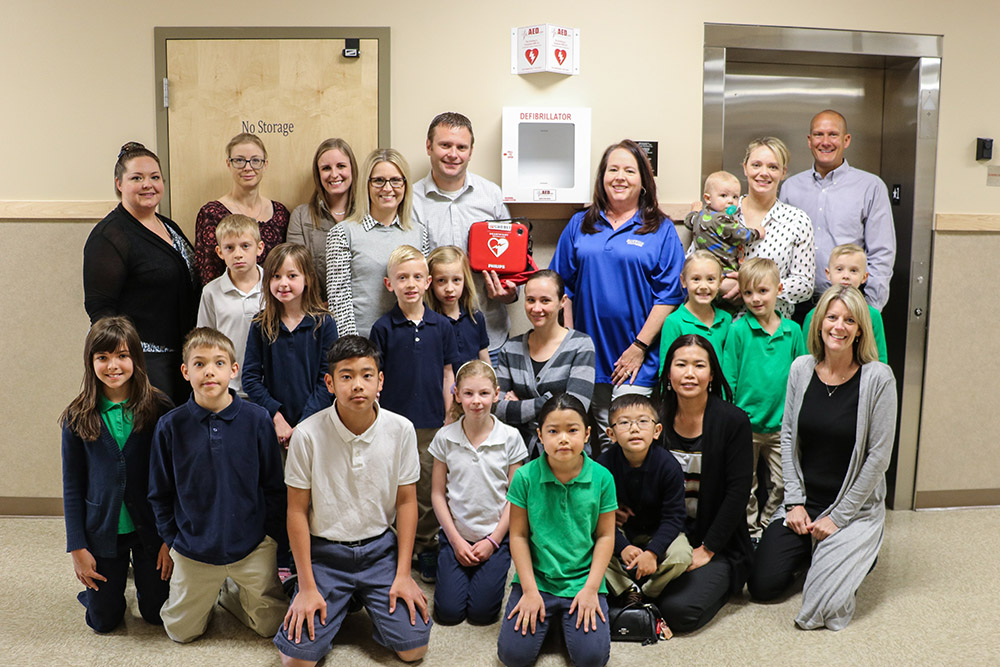 For Michelle and Mark Hiles, the placement of a new AED (Automated External Defibrillator) at Ascent Academy in Lehi was a very poignant moment. Their daughter Maddie, an eight-year-old student at Ascent Academy, was born with a heart defect and received a heart transplant at 18 months old. For the Hiles family, placement of AEDs in public buildings is an issue they are passionate about, and Michelle has personally led the charge to obtain the AED in their daughter's school.
Michelle Hiles and Diane Feinauer co-founded a local charity (501C3) called "Tender Heartbeats."  The mission of this charity to make sure schools have an AED on site, and to make sure personnel are trained in its use. Both are parents of children who were born with heart defects. According to Hiles, "It's so important to have an AED in all schools. There have been multiple incidents in Utah where these devices have saved lives."
On Tuesday morning, April 4, a group of volunteers, teachers, leaders, and donors, gathered at the Lehi charter school Ascent Academy to celebrate obtaining the new AED. The cost of new AEDs is about $1,100. Several local companies donated funds to purchase it, including Diamond Rental, Burt Brothers, First Capital Commercial, YBA Shirts, Robynisms, and Gavinci.
Hiles has contacted the Lehi Fire Department to arrange a time to visit the school and train personnel in the proper use of the AED. Hiles was also chosen by the American Heart Association to share her daughter Maddie's survivor story in a local gathering. "Maddie is a spitfire," said Tricia Remington, Ascent's principal. "We just love her."
According to the American Heart Association, AEDs and CPR greatly increase the odds of saving a life if a heart attack occurs. In 2007, Congress unanimously passed a resolution to set aside June 1-7 each year as National CPR and AED Awareness Week to spotlight how lives can be saved if more Americans know CPR and how to use an AED. In the declaration, Congress asked states and municipalities to make AEDs more publicly accessible. Tender Heartbeats is seeking to do just that.