Evelyn Woffinden reaches 102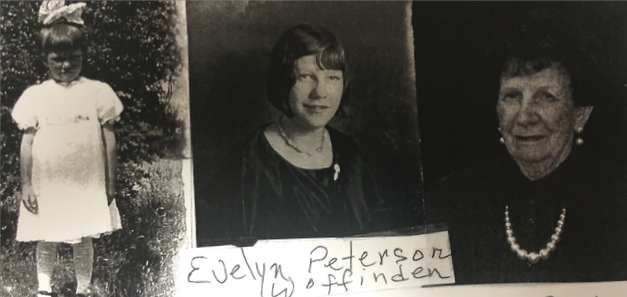 Evelyn Peterson Woffinden celebrated her 102nd birthday on May 23, 2017. She was born May 23, 2915 in Lehi and was the fifth child in the family of Margery Alice Smith Peterson and David Peterson. Evelyn has lived in the same Lehi family home in which she was born for all but eight years of her life.
As a child she was devoted to her mother and always attended to her needs before her own. She assisted her father on the farm gathering eggs, holding the horses, and feeding the pigs. Her best friend, Vera A. Trane, was always by her side and they were always in trouble. Dancing was a big part of their years together. They were always popular and friendly.
Evelyn had a very good alto singing voice and sang in many choirs with Vera and Zada Phillips. Eva Carson accompanied the group which was called the "Hi-Los." Together, with other Lehi women, they performed in many plays, churches, funerals, parties, and rest homes.
The movies were a favorite activity of Vera and Evelyn, and often boys would take them out to see the newest blockbuster. Not long after the movie started, the girls would ditch the boys and watch the movie together. They were inseparable friends for many years.
Evelyn met Duane Miller Woffinden in school, they were married on December 19, 1935. The couple have five children, Carma W. Jolley, Neil "D" Woffinden, David Lee Woffinden, Elaine W. Wright, and Larry Walter Woffinden.
Evelyn and Duane were very dedicated members of the LDS faith. They sang in the ward choir for 20 years. Evelyn has seen many wonderful changes in Lehi in the 102 years she has lived. She can't believe the growth of her tiny Lehi from the 20's-30's to now. From outhouses to pretty bathrooms, radio to T.V., and all the medical and technological changes
Evelyn still recalls the time Mayor Bert Wilson came to visit her on her 100th birthday and gave her a plaque and balloons from the city. Evelyn is the only one left in her family and has very large posterity and family support. Her family says they are grateful for her guidance and example. Happy Birthday Evelyn!