PulsePoint App launched at Mountain Point Medical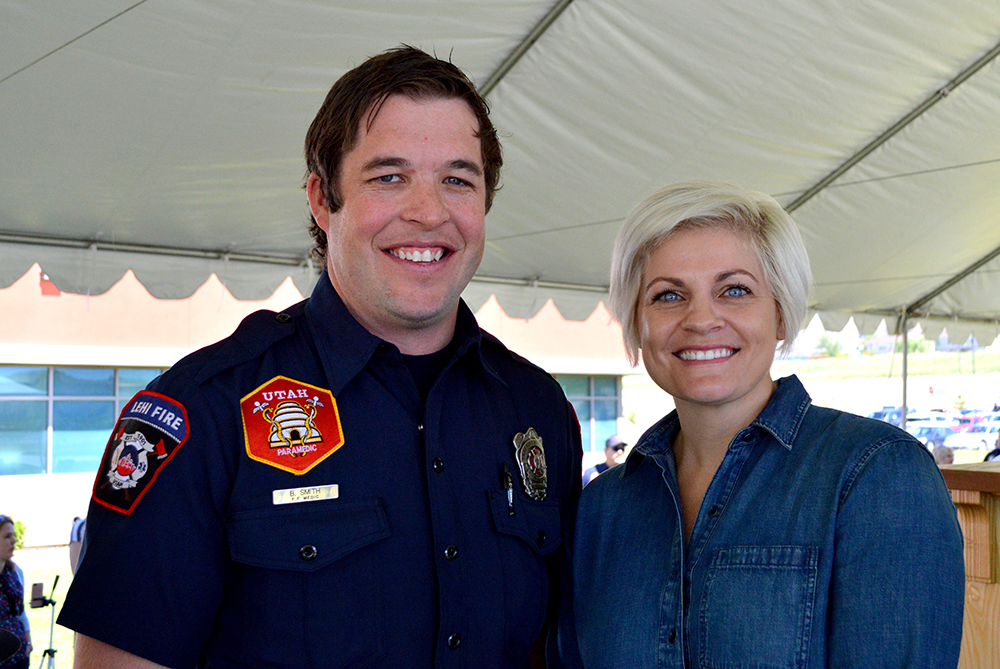 On Tuesday, May 22, Mountain Point Medical hosted an official launch for the smart phone app, PulsePoint. Utah County Fire and EMS Agencies were there to explain PulsePoint and share stories of CPR-trained bystanders who have saved lives.
Lehi Fire chief, Jeremy Craft, explained that 350,000 people have a Sudden Cardiac Arrest (SCA) outside a hospital every year. The survival rates decrease by 10% per minute before CPR is administered. PulsePoint can alert CPR-trained bystanders to cardiac emergencies in their immediate vicinity at the same time the professional responders are alerted. PulsePoint will also direct the user to the nearest Automated External Defibrillator (AED). Chief Craft likened the life-saving app to the days when volunteer firefighters wore pagers so they could be "on call" when a fire was close by. With PulsePoint, off-duty EMS and members of the general public trained in CPR can get to the scene of an emergency immediately.
Bronson Smith, a Lehi City Firefighter/Paramedic, has been working tirelessly and passionately to get the PulsePoint program here in Utah. He came to Chief Craft two years ago after hearing about the program in another state. Smith looked for a visionary to partner with and found that in Kati Price and Mountain Point Medical.
"Emergency services are always looking for ways we can be better. One thing we could never affect was the dispatch time. It takes us four to eight minutes to get to the scene of an emergency. We've found that 57% of CPR and AED-trained people say they're willing to help, but only 10% have had the opportunity to help," said Bronson Smith.
Dennis Hanks told of his experience having a heart attack when he was about to give a presentation at his work at Blender Bottle in Lehi. His co-workers, once they realized what was happening, took action and performed life-saving CPR on him during the four minutes it took EMTs to get to him. Hanks has been told often by his medical team that his recovery is miraculous and he attributes that to the quick response of his friends and co-workers.
Hillary Gorman talked with emotion about the near-drowning of her then-four-year-old son, Jude. They were at a friend's swimming pool and one of the other mothers, Kelsey Jorgansen, performed CPR on little Jude when he had effectively drowned. Gorman is confident that were it not for the quick action and the skills of her friend, she would be telling a very different story today. Jude is now a healthy, happy seven year-old thanks to a bystander performing life-saving CPR in an emergency. "PulsePoint will be the miracle for many moms in the future," said Gorman.
Mountain Point Medical and the Utah County Fire and EMS Agencies encourage everyone who is trained in CPR to download the PulsePoint App from the Apple App Store or Google Play today to get started. "Don't be helpless, be a life saver," counsels Bronson Smith.