Kadee Jo Jones wins Miss Lehi crown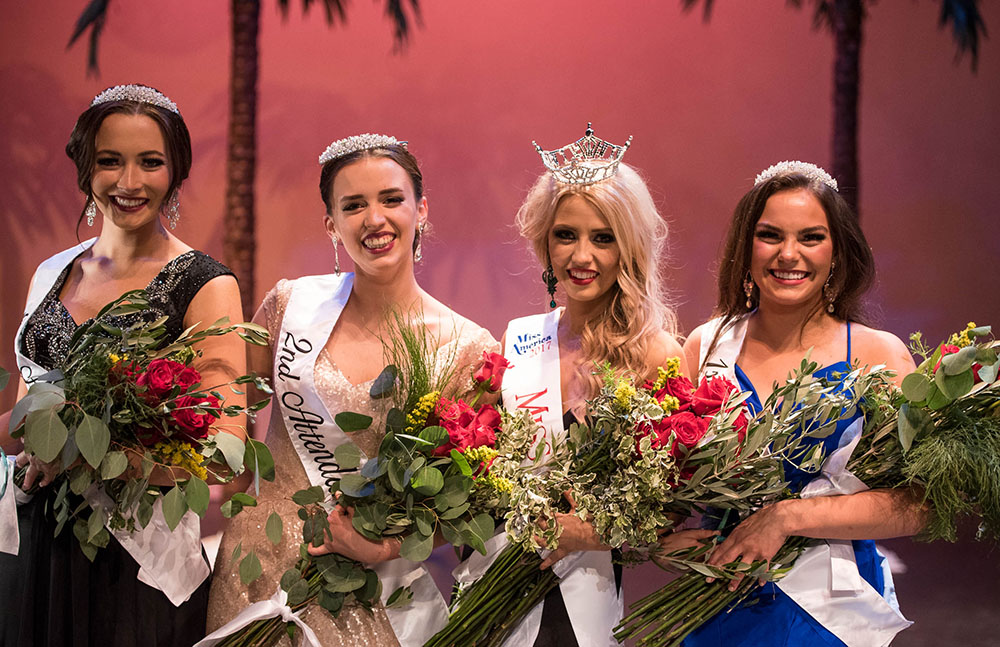 On Saturday night, June 3, Lehi's Kadee Jo Jones was named Miss Lehi for the 2017-2018 year. Jones won the swimsuit, evening gown, and talent portions of the contest as well. Jones earned a $4,000 scholarship as part of her prize package and plans to use that to continue her education at Utah Valley University. "It's exciting. That will pay for about a year of college," she said. Jones is the daughter of Kellie Jo and Darin Jones of Lehi.
Jones performed a piano solo for the talent portion of the contest. For her evening wear, she wore a stunning strapless black gown with a ruffled feature on the bottom which complimented her blonde hair and petite frame. "I'm so surprised, really. I'm so honored," said Jones after the competition.
Ten young women entered this year's contest. The first attendant was Aliese Bumgardner, who won $1,500, second attendant was Abby Garner, who won $1,000, and third runner up was Alexis Jensen, who won $750. Markell Woolstenhulme won the "Spirit of Miss Lehi" or Miss Congeniality award, and Alexis Jensen won the Director's award.
The theme of the evening was "Beach Party Beauties." Jackie Thacker, who was Miss Lehi for 2016-2017, along with Johnny Revill served as emcees of the event. Revill was a fun host, cracking jokes and keeping the pace of the show moving along. Thacker was poised and smiling throughout the event. She will represent Lehi by competing in the Miss Utah pageant at the end of June.
The Miss Lehi Pageant is affiliated with the Miss America Pageant, which is one of the largest scholarship organizations in the U.S. Over $45 million is given to contestants each year. In the Miss Lehi Pageant, this year's contestants donated over 1,500 hours or community service, completed 25 community service projects, and were awarded $15,000 in scholarships.
Each contestant was asked to choose a "platform" or cause, to which they devoted time, resources, and effort. Jones chose "Know Greater Heroes: Empowering the Leader Within," as her platform, which encourages youth to avoid looking to poor role models in society, but to look within themselves for strength and leadership.
In a poignant moment, two "Honorary Miss Lehi" winners were escorted to stage. These were young women with special needs. Hannah Payne was escorted by her father, and represented Lehi High School, and Liz Anderson, represented Skyridge High School.