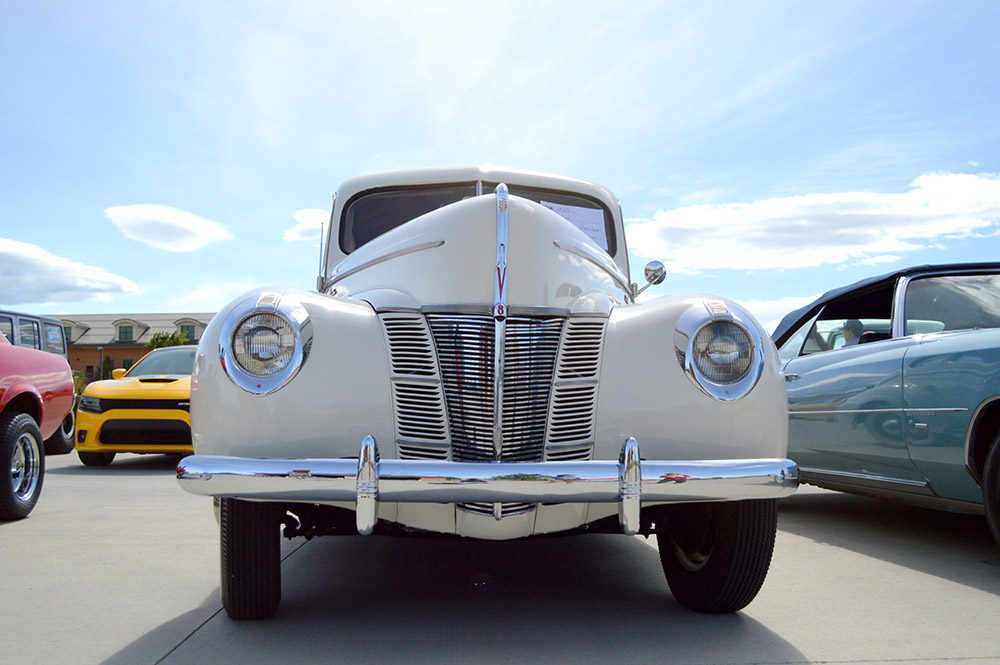 Car restoration enthusiasts came to the north parking lot at MLATC in Lehi last Saturday, June 17, to show off their vehicles and to check out others.
Mark Middlebrook, Director of Marketing for MLATC, organized the car show. Middlebrook observed, "Cars carry memories of experiences people had when they were kids all the way to adulthood. Football games, dances, dragging Main Street – in Spanish Fork in my case!" MLATC President Clay Christensen smiled in agreement. Christensen was there to give the "President's Choice Award" to one of the vehicles on display. When asked what he's looking for in his award winner, Christensen said, "I lean toward the cars that were popular when I was young in the '60s and '70s. I love trucks, too." Christensen ended up choosing Ben Valdez's 1951 Chevy Fleetline for the President's Choice Award.
There were a handful of beautifully restored Ford and Chevy trucks at the show. Rick Francom brought a creamy yellow 1955 Chevy Pick-Up that he spent four years fixing up. He had to take out every nut and bolt and get the truck down to the bare frame. The Chevy is back to its original glory and spotlessly clean. "I like clean," remarked Francom.
Evan Wandvik brought his 1981 Chevy truck even though he has only started to restore it under the hood. The truck belonged to his Grandpa, then his Dad, and now him. The Chevy has clearly been used for years of hard work and it has a great deal of sentimental value for Wandvik.
Joining the trucks in the parking lot was Layne Downs's 1940 Ford Super Delux in cream with red accented tires, which won Mayor Bert Wilson's "Mayor's Choice Award." A 1971 Chevy K10 Truck won the "Instructor Award" and the winner of "Best of Show" was Alan Johnson's impeccably restored 1927 Ford.