Lehi's Pioneer Milliner, Harriet Austin Jacobs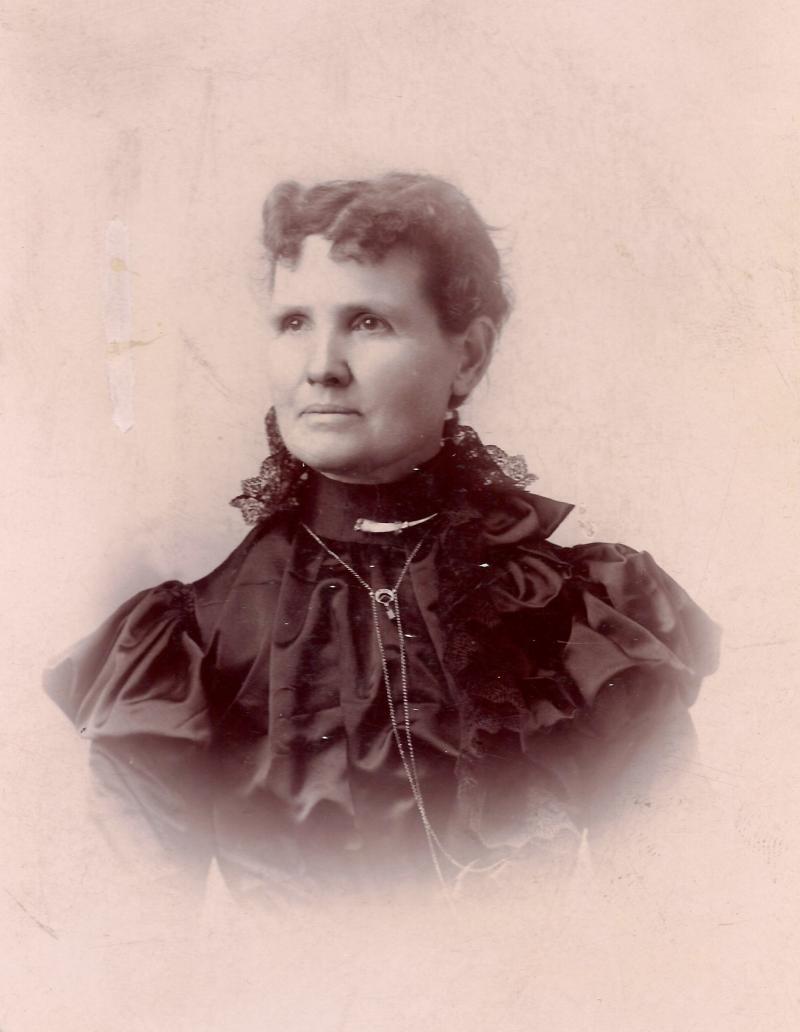 In 1866 when Lehi was still in its infancy, a 19-year-old English girl named Harriet Austin opened the town's first millinery (hat) shop. There were only a handful of places to shop in Lehi in 1866 and it was unusual to have a woman running a business anywhere. Harriet Austin was the definition of pioneer.
John and Emma Austin were living in Kinsmouth, Hartfordshire, England when missionaries from The Church of Jesus Christ of Latter-day Saints knocked on their door in 1854. The entire Austin family joined the LDS Church and they all wanted to immigrate to Utah to be with other members of the Church, but they didn't have the means. Another fateful knock at the door ended up being the Austin family's ticket to America. A salesman came by and convinced Emma Austin to invest in bundles of straw to braid and make into hats. Emma and her daughter, Harriet, learned how to make hats and sold them. Their business was profitable enough that Emma and John Austin were able to send Harriet and her brother, George, to America in 1866.
George Austin hired out as a farm-hand when he and his sister, Harriet, arrived in Lehi. Nineteen-year-old Harriet Austin opened a millinery shop and hired Mrs. Harriet Webb, Mrs. Sarah Gurney, Mrs. Ann James, and Mrs. Elizabeth Cutler to assist her. The hats were made with straw grown in Lehi. The straw had to be selected, cut, split, and braided by hand. Women didn't have the right to vote in 1866. "The Timeline of Lehi," a document based on the 1913 History of Lehi by Hamilton Gardner, mentions two women in the first 90 years (several pages); Azubia Deseret Cox, the first baby born in Lehi in 1850, and Pemelia Lott, head of the first settlement in Sulpher Springs (now Saratoga Springs). Harriet Austin, a young, single woman, had to have all kinds of confidence and faith to start her own business at such a time.
After living in Lehi for a year, Harriet married John Jacobs. Jacobs was one of Lehi's most prominent citizens and Harriet was his second wife. According to the U.S. Census, Harriet was the head of her own household throughout her marriage, Jacobs living in a different home with his first wife. Harriet gave birth 11 times, but only three of her children lived to adulthood. She continued to run her millinery business, advertising in the Lehi Banner regularly. According to one ad, "Mrs. Harriet Jacobs has just received the largest, prettiest, and best line of millinery goods ever brought into Lehi, consisting of hats, fancy braids, ribbons, flowers, laces, silks and veiling in all the latest shades and colors." In only two years, Harriet and her brother George saved enough money to bring the rest of the Austin family to Lehi.
In September 1906, the Deseret Evening News reported an incident of a bull visiting Harriet's shop. "Last week while some ladies were trying some hats on at the millinery parlors of Mrs. Harriet Jacobs they were horrified to see a large bull looking in at the door. It was about to enter when Mrs. Jacobs slammed the door shut. The bull, however, probably having seen something red on the ladies hats or in the window did not go for the door but started to go through the large plate glass window, breaking it to pieces. The marshal was notified and took the animal to the stray pound. The damage done amounted to about $25." Livestock in the streets of Lehi is a tradition that goes way back!
While Harriet Austin Jacobs was running a business and having babies, she was also serving faithfully in the LDS Church in the Sunday School, Primary, and as a member of the Stake Relief Society presidency. Her funeral was held in the American Fork Tabernacle in March 1916. "The large attendance, the many beautiful floral offerings, the resolutions of respect and the eulogies paid to her character attested the high esteem in which she is held by the community," reported the American Fork Citizen.