Highland youth with cancer receives support from Lehi businesses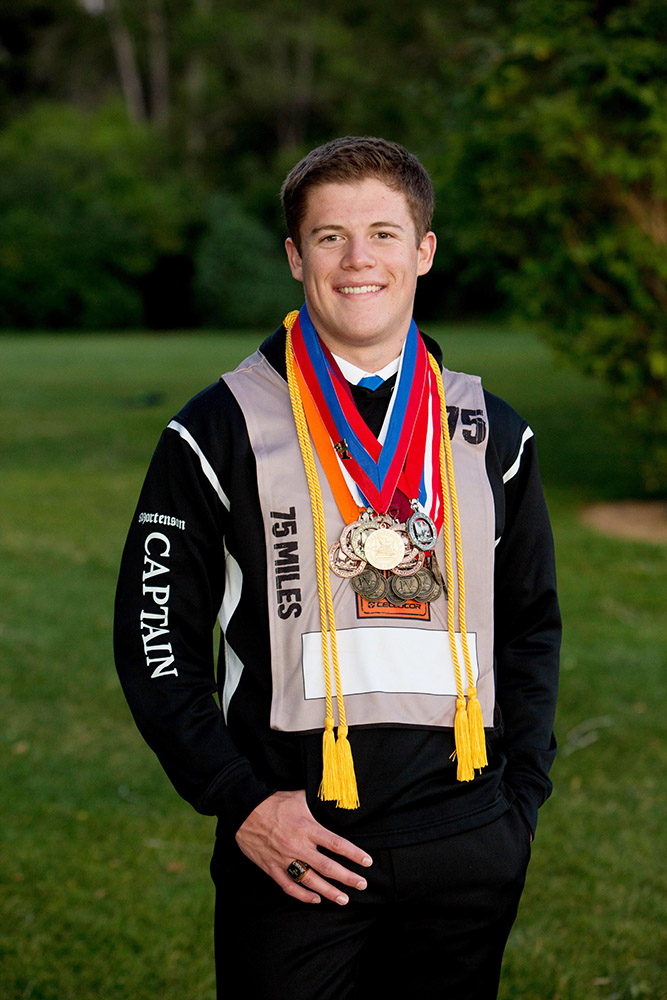 When Nick Mortenson received his LDS mission call to Chesapeake, Virginia, he was thrilled to be going to the same mission as one of his best friends. Scheduled to report to the Missionary Training Center on July 12, he would arrive in the mission the same day his friend was scheduled to depart.
But on June 22, those plans took a sharp detour.
That day, he had a headache. The next day, his usually-straight lawn-mowing lines were meandering. And by the third day, he was seeing double and triple.
A rugged, socially outgoing young man who was one of the select group nominated to the Naval Academy, Nick just graduated from Lone Peak High School after leading the Lone Peak men's swim team to the 5A championship title as senior captain. He loves competing in muddy obstacle course races, completing his first Spartan race when he was just 13 years old, and taking on the "World's Toughest Mudder" last November. It takes a lot to slow Nick down.
A trip to the local ER led to a transfer to the Neuro Critical Care unit at University Hospital, where the source of the problem was identified: a cancerous brain tumor. Specifically, a mixed-cell tumor: a Germinoma and a Choriocarcinoma.
Family and friends sprang into action to lend support. Neighborhood children "heart-attacked" his door, a friend came over to make him a pancake breakfast, and a friend arranged a personal call from Ken Niumatalolo, the Naval Academy Football Coach who was featured on "Meet the Mormons." Nick's mother, Jennifer Mortenson, described on Facebook how Niumatalolo had heard his story and wanted to tell him "the Navy Brotherhood are praying for him." Nick's career goal has been to become a Navy SEAL.
Then a couple of Lehi businesses got involved.
The first one was a former employer of Nick's. Ivory Ridge swimming pool, where Nick had worked as a lifeguard, organized "Swim/Strong" to raise funds. On July 12-13, two of Nick's friends who are lifeguards at Ivory Ridge swam 2400 meters in 24 hours, and two friends who are soccer players ran 26.4 miles in 24 hours. The swimmers swam 100 meters every hour, while the runners ran 1.1 miles every hour. People donated $5 for every 1000 meters swum or every mile run.
Ivory Ridge also dedicated its annual outdoor movie night on August 4 to Nick, donating all proceeds to his treatment.
When word of the Ivory Ridge fundraiser reached Gary Peterson, general manager at Gorilla Wash on SR92 in northeast Lehi, he recognized Nick as the brother of a former employee. He also had a personal connection to cancer after having watched a close friend's brother-in-law, Tyler Robinson, go through the battle and finally pass away at age 17. So he wanted to get involved, too.
Peterson and the owners of Gorilla Wash, Nick Bitton and John Cloward, have a long history of sponsoring fundraisers for community causes. Groups that have benefitted from Gorilla Wash's generosity and community spirit include various athletic groups from Lehi High School, Skyridge, and Lone Peak, as well as local club soccer teams and the American Cancer Society.
The groups come in and dry cars for patrons, who donate whatever they choose, and the groups receive the proceeds from that part of the day's car washes. "People are really generous around here," Peterson said. He also noted that people like the idea of raising funds while doing work.
Peterson said that the fundraiser for Nick, which took place on Saturday, August 5, was bigger than any they'd done before. He said they raised $10,000.
"With Nick, it was really kind of special," he said. "We reached out to the Lone Peak community and blasted social media. It was ten times what I thought it would be." The group that turned out worked all day, from 8:00 a.m. to 8:00 p.m. It included the Lone Peak swim team, Hilltop Aquatic swim team, and the Highland 40th LDS ward, Nick's home ward.
And Nick.
"Nick was there all day," said Peterson. "It speaks volumes to what kind of kid he is." At 6:30 p.m. he was still drying cars and talking to patrons, agreeing with his mother that his doctors wouldn't be too pleased with the sunburn he was sporting after spending all day in the sun.
Nick headed back for his second round of chemotherapy on Tuesday, August 8. His mother described his resiliency throughout the past months. She said, "When the Naval Academy didn't work out, he said, 'Okay, I guess I'm supposed to go on my mission now.' When he was diagnosed with cancer he said, 'Okay, I guess I'm supposed to go through this now.'"
With family and friends and a community behind him, it's apparent he won't be going through it alone. And even as he heads into unplanned territory, he's touching lives with his positive outlook and determination. There is also a  GoFundMe account. People can donate at https://www.gofundme.com/nick-mortenson.