Lehi Junior High attracts parent volunteers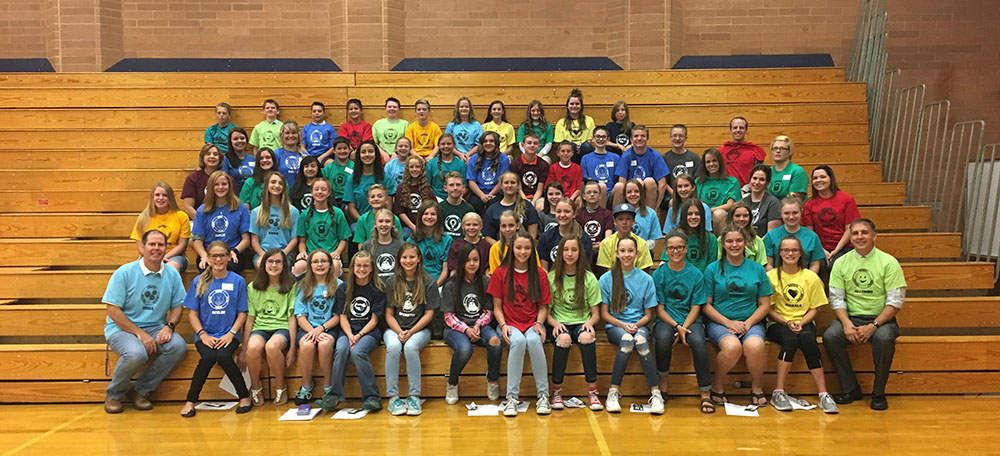 Lehi Junior High School administration and PTA have been working since early summer to come up with a way to for each of their students to have a positive connection at school. On Thursday, August 31, over 80 volunteer parents came to a meeting at the junior high to see how they might help.
Tricia Thorstrom, Assistant Principal at LJHS, explained that when a parent volunteers at their child's school it improves the child's academic achievement, school attendance, homework skills, and connectedness. Thorstrom pointed out that parents tend to stop volunteering at school when their children get to junior high, but parents are still very much needed during those years.
"We have almost 700 new seventh grade students this year. They come from five elementary schools, various charter schools and some are new to Lehi this year. With parent volunteers, we create a greater opportunity for every student to have an adult connection at school," explained LJHS Principal Kevin Thomas. Connectedness is very important to Principal Thomas. "We want all of our students to find someone who can reach out to them."
The administration of LJHS hoped to get about 50 people to their first ViPS (Volunteers in Public Schools) meeting, but Stacy Bateman, Regional Director of the PTA for Alpine School District, knew they'd get more. They had to keep bringing out more chairs, and members of the PTA frantically made more folders with all the information the volunteers needed. Lehi Junior High needs adult volunteers at lunch time, for cleaning and service projects in the building, to help with homework and motivation during flex time, as well as for many opportunities associated with the "house" activities. (LJHS students are divided into 12 houses, or groups. As members of a house, students participate in Friday flex-time activities, service days, field trips, and student recognition.)
Beginning in 2016, parent volunteers at any school in the Alpine School District are required to get fingerprinted at the district offices (575 North 100 East, Room 140, American Fork UT 84003). The cost is $55, but the fee covers all schools in the district and volunteers never need to do it again. Book an appointment for fingerprinting by calling 801-610-8586 (they do not take walk-ins), bring a picture I.D. and either your social security card or passport. Stacy Bateman reminded potential volunteers on Facebook and at the meeting that they do not need to have a student currently attending Lehi Junior High School to be a volunteer there. "I see people who are looking for ways to serve their community all the time. Come to Lehi Junior High!" said Bateman.