Chick-fil-A opens to camped out crowds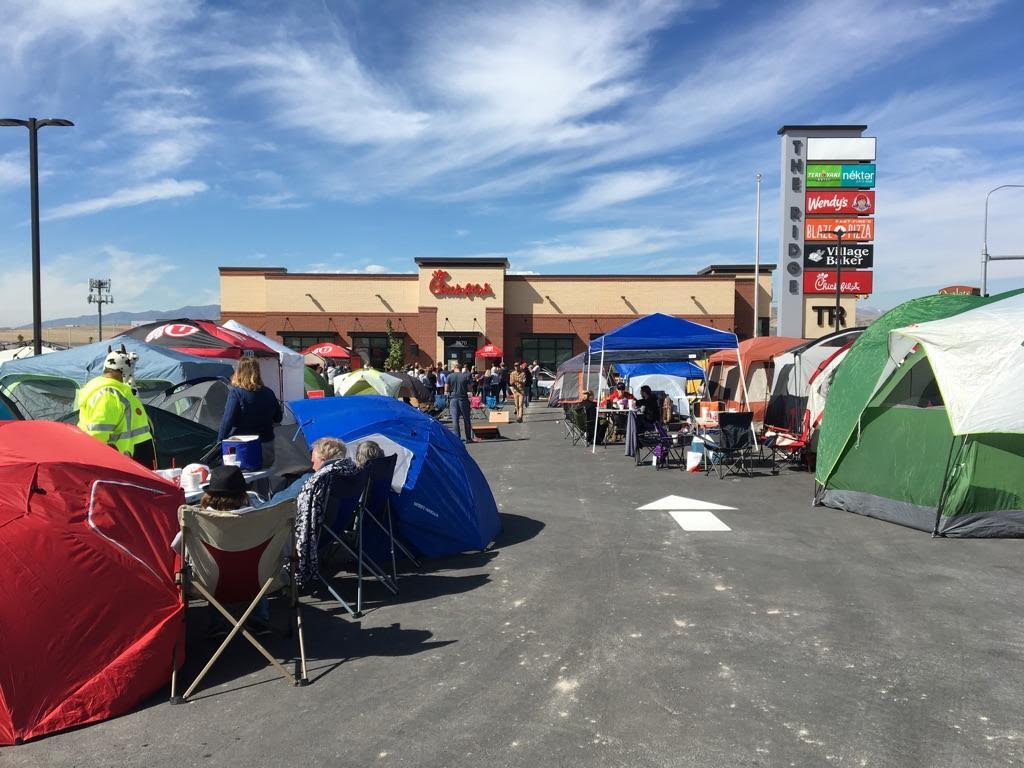 Chilly temperatures did not detour the first 100 participants from coming out early Tuesday morning to win Chick-fil-A for a year. The new Lehi Pointe Chick-fil-A parking lot has turned into a huge block party with over 150 participants lining up first thing to camp for the next 24 hours.
Tents popped up throughout the parking lot, air mattresses were inflated, sleeping bags laid out, TVs and more – as campers brought all the comforts of home. The campers were treated to Chick-fil-A food throughout the day, DJ and music, games, and prizes. Local franchise owner Dusty Pyne, joined the fun and camped with the guests.
The new Chick-fil-A restaurant will open on September 27. It is located at 3470 N Digital Drive in Lehi. Pyne is continuing to interview for full- and part-time employees to reach his goal of 100 new jobs with benefits including scholarships, flexible schedules, and Sundays off to spend time with family and friends.
About Franchise Operator Dusty Pyne
Pyne's desire to become a Chick-fil-A Operator began shortly after he started working for the chain at the age of 16 to make extra spending money. Pyne fell in love with the brand, environment, and opportunity to mentor others. He entered the company's interim manager program and within six months of managing his first location in Peabody's Northshore Mall restaurant, Massachusetts first Chick-fil-A, he was offered the Operator opportunity in 2006. Becoming an Operator is no small feat as the company receives 27,000 applications annually for about 100 locations.
Community engagement is a huge passion of the Pyne family and his efforts have resulted in numerous awards and recognitions. They are thrilled to expand their opportunity to make a difference and continue providing award-winning customer service and handcrafted menu items to the communities his family love.
"My team members and I have loved serving the community," said Pyne. "We're not just in the chicken business — we're in the people business. Our goal is to serve food our guests can feel great about enjoying in an environment that feels like family."
About Chick-fil- A, Inc. 
Atlanta-based Chick-fil- A, Inc. is a family owned and privately held restaurant company founded in 1967 by S. Truett Cathy. Devoted to serving the local communities in which its franchised restaurants operate, and known for its original chicken sandwich, Chick-fil- A serves freshly prepared food in more than 2,222 restaurants in 46 states and Washington, D.C. Chick-fil-A system sales reached nearly $8 billion in 2016, which marks 49 consecutive years of sales growth. In 2017, Chick-fil- A received the top score among fast food brands and one of the top 10 scores overall for customer experience in the Temkin Experience Ratings survey. In 2016, Chick-fil- A was named the Technomic Consumer's Choice for "providing value through service," named the "the most polite restaurant in the country" in QSR Magazine's annual drive-thru report and was the only restaurant brand named to the Top 10 "Best Companies to Work For" by 24/7 Wall Street. More information on Chick-fil-A is available at www.chick-fil-a.com.