Jim Crittenden and Phil Oyler – Two remarkable Lehi coaches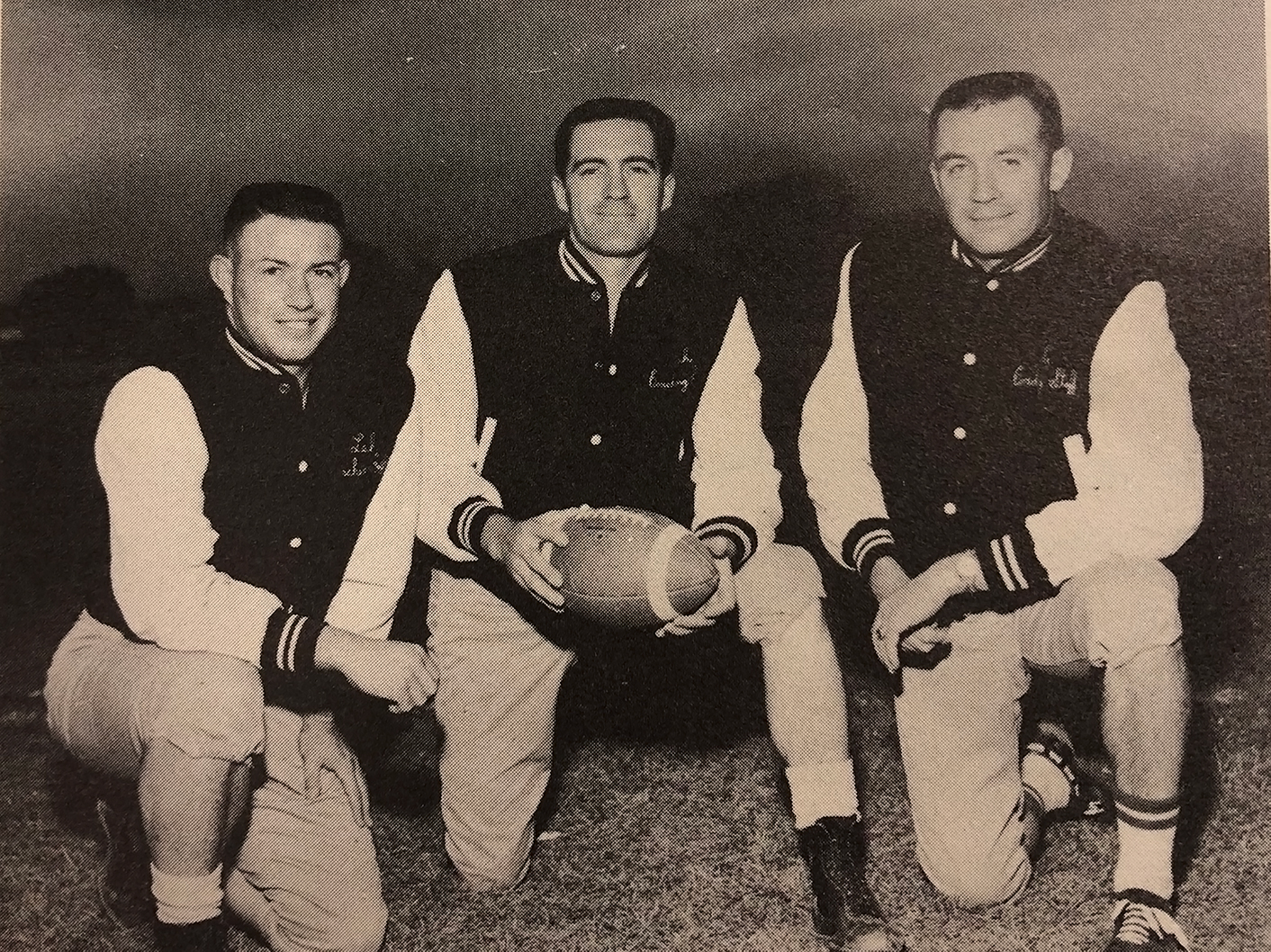 Both Jim Crittenden and Phil Oyler came to Lehi High School fresh out of BYU to coach men's sports and teach scholastic coursework. For over a decade in the 1950s and 60s, they led Pioneer men's sports to Utah high school stardom. They chose to coach and teach because these two stellar mentors had been influenced by excellent coaches and teachers during their high school and collegiate experiences.
Crittenden attended South Summit High in Kamas, Utah before beginning his athletic career at BYU. His accomplishments at the "Y" had been outstanding. He was a superb running back, great basketball player and track star for the "Cougs." Oyler came from Box Elder High. He played football and baseball for BYU where he was on the All-Conference team before putting in two years of army service prior to joining Crittenden at LHS.
The impact of these two devoted coaches at Lehi was immediate. As a young head football coach, Crittenden often showed proper technique in running, blocking, and tackling…by example. He challenged the defense to tackle him, then challenged the offense to block him, and when he was tackled or when he shed blockers, all players involved saw his strength and tenacity.
One day in practice as we prepared for our rival game with American Fork, Coach Crittenden took the ball and said, "You patsy's couldn't tackle me for a loss if your lives depended on it. Pretend I am Steve Smith! This is live….let's see who can even touch me!"  We were a little stunned. We were in full pads and helmets,  and he just had on khakis, no helmet, a cotton shirt, and cleats. Coach took over for quarterback Mike Cooper, and when the ball was snapped, linebacker Alan Gardner shot between the guard and center and slammed him to the ground before he could take two steps. The young coach jumped to his feet glaring at Alan who thought he might be in for a fist fight. "Huddle up," Crittenden demanded. He called another play and this time his speed and agility were amazing. He sliced through a hole in the line and was outside the defensive end, but once again Gardner took him to the ground as a pile of tacklers helped subdue his attempt to jump up. In moments he was literally throwing players off his tackled body. Gardner held fast to both feet. Finally, he jumped to his feet facing Alan. "Good job Gardner!" he yelled, and practice continued. "You've got a lot of guts," I laughed as Alan walked back to the defensive huddle with a wry grin. Many of Crittenden and Oyler's boys went on to become outstanding coaches and teachers. Gardner was certainly one.
When I was going into my junior year, we were being issued football jerseys and as I approached the table where all the game jerseys were being handed out, Coach Oyler asked me what number I wanted. "Number 44," I stated hesitantly. He sat back and looked me squarely in the eye and said, "that number is very special Bill. It has been worn by many great athletes in the history of Lehi High. Last year it belonged to Stan Smith, one of the finest players Lehi has ever known. Are you sure you can fill the expectations for what that number represents?" "I'll sure try," I said. He handed me the jersey and I walked away determined to play harder than I had done in my whole life. I had idolized Stan and knew he was one of Lehi's greatest student athletes. Both Crittenden and Oyler knew the history of Lehi and the importance and accomplishments of Lehi's outstanding athletes of the past.  "Keep your grades up boys" was a daily statement from both head coaches. They valued academic achievement as did the assistant coaches, Neil Manning, Newell Sargent, and Kent Day.
One evening at the dinner table my sister Janice said, "Bill, you are spending more time with Coach Crittenden and Coach Oyler than you are with your own dad!" Dad looked up and immediately replied, "fine with me. He couldn't be with better men." Everyone around the table nodded.
Lehi teams fought hard and we soon learned that although our numbers were few, our skills matched our opponents and we were always well-prepared for each game. We knew these men believed in us and had complete faith in our ability to win any and all games. All teams in the region were scouted, analyzed and strategic plans were designed for each contest in both football and basketball. We played for the state football title against Judge Memorial that year and lost the game by a touchdown. I always wished that we had one more chance to play those guys on a dry field. We relied upon our speed to win games. It seemed like all we could do that day was slip and slide against the heavy Judge linemen who had been recruited from all over the nation. "We gave it our best shot….and I am proud of you boys," Crittenden said with stoic pride after the battle. "I think we could have won the championship on a better day. I love what you did out there today, and don't ever think the better team won in that mud bowl ." His strong jaw was set and we all knew we could have won the game.
All of us wanted to win it for Lehi and Coach Crittenden more than for ourselves. Building character, integrity and a tenacious will to win influenced every single athlete who had the privilege to play for Crittenden and Oyler.  Just a few months later, we were in another state championship game. This time it was for the Utah State basketball title against number one ranked South Sevier. We wanted desperately to win but lost to the talented Rams for the gold trophy. Head basketball coach Phil Oyler had designed a perfect game plan, but their ace scorer Lynn Parson (BYU fame) was almost unstoppable. We lost by nine points. Oyler coached golf and baseball in the spring often joining with the players in all practice events to demonstrate how to hit and field the baseball and how to play the sophisticated game of golf. Under these two superb coaches, we played for state championships in four sports that year, taking second place four times. Indeed, the level of play at LHS was elevated by these two remarkable coaches.
When track season started, Crittenden challenged all athletes to select their event. I asked him what he thought I should do. He said, "well, you're a sprinter, but you might have enough strength and speed to run the 440, which is my favorite race," he concluded. "Okay," I said.  The word "might" was a pretty direct challenge. He was good at that (challenging us). He made it clear that his preferred event was the gut-wrenching 440-yard dash or more importantly, the mile relay (4 relay men running a 440-yard dash each). This grueling race was (and still is) a reflection of basic character traits of both Crittenden and Oyler. The race required speed, endurance, tenacity, and determination. If I had to use four words to describe Coach "Crit" and Coach Oyler, those four descriptors would about sum it up. As a sophomore participating in track at the state championship meet, I had witnessed Lehi's mile relay team (consisting of Ken Dubois, Lee Woffinden, Randy Holmstead and Stan Smith) win the region championship. It was the last event of the State Meet and the whole stadium at the University of Utah was focused and excited to witness the relay race of the day. The Millard Eagle team had posted the best time in the state, but the Pioneers had won the event the year before. The relay pitted Lehi against teams from Richfield, Millard, American Fork, Pleasant Grove, Gunnison, Cedar City and Wasatch.
Speedster Ken Dubois took the lead baton for the Pioneers and sprinted to the front of the pack. Lee Woffinden raced around the oval maintaining the lead for the Pioneers and handed the baton to Randy Holmstead, who stayed a step ahead of the stunned Millard runner. As expected, the race turned into a two-team nail-biter between Lehi and Millard. The other teams were far behind.  The Golden Eagles had saved the open 440 winner (by the name of Lon Day) to anchor their team. Lehi's Stan Smith took the final baton a step ahead of Day. They ran neck and neck for 420 yards. Everyone expected Day to overtake Smith and give Millard  the prestigious victory, but with 20 yards to the tape, Smith forged further ahead of Day and hit the finish line first to win the title for the second year in a row.
The "will to win" and fight with every ounce of determination and muscle in your body was what both Crittenden and Oyler instilled in Lehi athletes. As Lehi's team fought to victory in the mile relay that day so many years ago, I witnessed an athletic feat that personified greatness. It was the pinnacle of success reflecting the "will to win" as I had never seen before. But, even more than winning, it was the fighting spirit of Lehi's runners that inspired me more than anything I had ever witnessed in a sports event. Oyler and Crittenden both knew how to teach us how to fight with every fiber of our heart and soul against an opponent. If the win came–so much the better, but they also taught us to lose with dignity and respect if our foes defeated us.  On that sunny spring day in 1963, I looked over at Coach Crittenden. With tears in his eyes, he threw his clip-board in the air shouting for joy and hugged every boy on Lehi's relay team.
Win or lose, both Crittenden and Oyler always inspired and praised their boys. There was an indescribable element in the teaching and coaching style of these two men that made us all believe in ourselves. It is a rare teaching quality that is hard to find. It is equally difficult to describe because it is conveyed in a "feeling" more than a descriptive trait. It is defined by the spirit of a person who cares about you and brings out the best in you. Both of these men had the ability to bring out the best in young men. And they did!
With only beautiful daughters, but no sons, Lehi athletes probably somewhat filled that role for coach "Crit." Coach Oyler was single, but married a Lehi beauty, Linda Edwards soon after my senior year. Both men were brutally honest if you made a mistake, and they certainly let you know when that happened, but always gave every athlete a second chance and championed all under-dogs. They taught us to be honest, hard-working, and instilled Lehi pride in every boy. Both coaches became very successful Alpine School District Administrators and highly respected football and basketball officials, where they were invited to officiate many prestigious Collegiate Bowl Games. Their influence upon young men was profound. When you spend 4-5 hours every day with coaches during such formative years of your life, you learn philosophy, mental and physical toughness, moral integrity, honesty, pride, proper vocabulary (mostly), loyalty, friendship, self-esteem, respect, dignity, sacrifice and positive values.
I always thought no one loved Lehi more than my mom, Betty Fowler, or Eva Oxborrow, but a close second would have to go to these two iconic mentors. When legendary high school coaches are mentioned in Utah history, Jim Crittenden and Phil Oyler will always jump to the forefront of my mind. There may be those who did not know these men as I did and may not share my feelings about them, but my experience was filled with adoration and devotion that was never tainted in any way.
I heard coach "Crit" was thrilled for the Pioneers as they won the state football championship this year and loved that two Lehi teams played for the trophy. Both men passed away recently and I feel that I would be remiss if I did not pay tribute to two of Lehi's most memorable educators. For those of us who were fortunate enough to play for Coach Crittenden and Oyler, life became a more positive experience. We will never forget their devotion to Lehi High School and each of us. We grew into better men because of them.