City disagrees with infrastructure cost reimbursement at Thanksgiving Point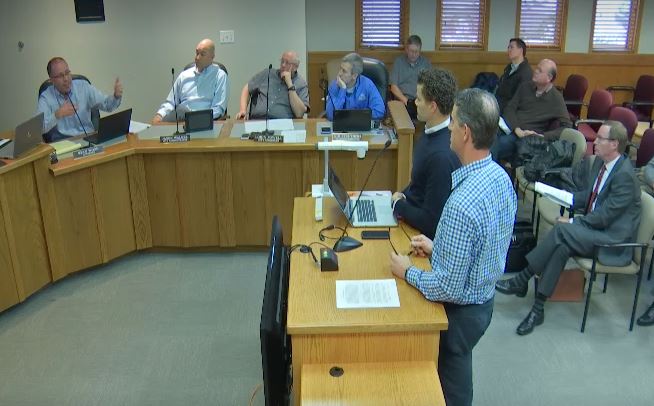 Work Session: Nearly two hours spent debating financial responsibility of improvement in Thanksgiving Point
Last Tuesday, Lehi City Council, Mayor Mark Johnson and City staffers spent almost two hours discussing the Thanksgiving Point development agreement with the City. The area within Thanksgiving Point discussed was the southeast portion called Mountain Pointe Development. Thanksgiving Point was represented by Andrew Bybee and Nathan Ricks along with attorney, Kevin Anderson.
In 2011, a development agreement was written and signed by Thanksgiving Point Development, (now referred to as "STACK") and Lehi City, in anticipation of the construction of a WinCo grocery store in the southeast corner of their property. The grocery chain decided not to build in the area, but the developer believed the agreement should remain intact. Initially, Lehi City had offered some redevelopment money in an effort to attract the popular grocery store to the area and expedite the process. Now, eight years after the agreement was signed, STACK is demanding reimbursement for infrastructure put into the development.
Bybee addressed the City Council saying, "We have been patient. We have not been reimbursed for improvements. We have done what we felt we needed to according to the agreement."
City Attorney, Ryan Wood, explained, "This is not a reimbursement agreement. Lehi City had to look at costs before the improvements were in."
Mayor Johnson, a Lehi City Council member when the agreement was inked, explained, "We were looking at sales tax that would be generated by WinCo." Johnson asked, "What has the City contributed? What have we left to do?" Lehi City Head Engineer, Lorin Powell, disagreed on the amount of money owed the development group. After looking at figures, Powell said Lehi City had contributed $14 million to Thanksgiving Point to date.
There was disagreement among the group about the amount Lehi City promised to pay and what the actual costs have been. Staff pointed out that Lehi City paid for a traffic study to determine what road improvements needed to be done. The study showed traffic in Thanksgiving Point was problematic and in "failing" mode.
Johnson said, "Since the 2011 development agreement the area plan has changed."
Bybee responded, "We could not have contemplated all that has been done at Thanksgiving Point." Bybee disputed the traffic was all the fault of the development in Thanksgiving Point. Powell disagreed, "The area plan was changed and that changed everything. It went from commercial to a business park. The traffic is to and from your properties."
Ricks replied, "We totally disagree we are generating the majority of traffic. We don't think it is our responsibility to pay for these roads."
Johnson, "This is your area plan. We gave you many alternatives for your area plan. The traffic is internal to your area plan. As a developer, you have the responsibility to designate how the traffic will move as part of your area plan."
Kim Struthers, head of the Lehi City Planning Department, explained, "Chapter 15 of the development code says a developer has to provide information on the impact of development. It has to be a self- supporting system. A fiscal analysis is part of any plan. Impact fees are part of the balance. The original plan was based on retail space, not office space."
Johnson said, "I don't like area plans. You are operating like your own city within a city. You do have the responsibility to provide infrastructure."
Ricks responded, "The City was aware of what we were doing. Nobody has an issue until one day there is a fire alarm and people say they want a moratorium."
Anderson reminded the Council, "You have a myopic view of sales tax. The value of the property has escalated immensely."
Ricks concluded, "This development will be here for a long time. We want to do better. We want to do what is sustainable. We aren't doing a great job in some cases. We need to get to a point of agreement."
Mayor added, "We want you to be successful. We want Thanksgiving Point to be successful, but we don't want Lehi taxpayers helping fund this situation. A funding analysis has to be done. We have to know how to deal with traffic. We have to get it right."
City Council Member Paige Albrecht added, "Nothing has been kept from the Council."
Council Member Paul Hancock said, "We should have policed this better."
Future meetings between Lehi City and the developer are planned.
The two remaining items on the agenda were the discussion of the expansion of the Hutchings Museum and the adoption of Ranked Choice Voting.
Daniella Larsen, Director of the Hutchings Museum, presented to the City Council all the activities planned at the museum. "We have outreach programs at schools, retirement centers, and have night programs for youth groups. We are currently working on our website. We want to digitize everything. We have seen increased attendance at the museum."
Larsen, introduced Oscar Covarruvias, a Lehi resident who works with an architectural firm. He said, "We have history in Lehi. Having amenities is important in attracting people to move here. We can help with fundraising for the expansion."
Johnson said, "We have three groups who all have Lehi's history as a priority. This can generate some friction."
Larsen replied, "These are separate entities with different goals. The Archives want to maintain their autonomy."
Rebecca Beck, Director of the Lehi Historical Commission said, "Buildings are what we are concerned about. We do not want the look of the Memorial Building to be changed. We must preserve the old building."
Larsen complimented Lehi City for helping maintain the building.
The final agenda item discussed was Ranked Choice Voting. There were several citizens in attendance. Two spoke in opposition to RCV and two in favor. Stan Lockhart explained that the purpose of the RCV was to increase voter participation in elections. He said Utah used to be among the states with the highest voter turnout and now it is one of the lowest.
Lehi resident Michelle Stallings spoke in opposition to RCV. She said this violates the 14th amendment, peoples' right to vote and is unconstitutional. Stallings quoted examples of cities that have tried it and have gone back to the traditional method of voting.
All City Council members agreed that a primary election is valuable in vetting candidates.
During City Council meeting on March 12, a resolution was presented to the City Council to vote to withdraw Lehi City from becoming a pilot city in RCV voting.