Lehi Advances in 4A State Tourney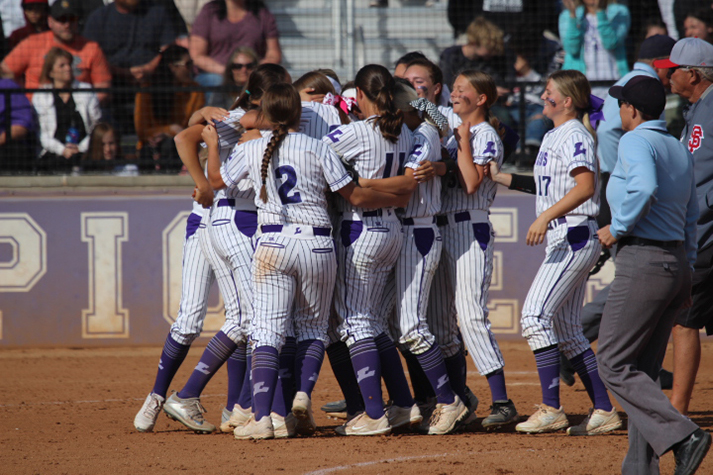 Lehi crushes Park City, falls to Mountain Crest
After finishing in third place Region 10, Lehi's softball team traveled to Cedar City for the first round of the 4A State Tournament to face second-place Mountain Crest.
Lehi looked to get things going early when Savannah Heaton got on base on an error as two Mountain Crest outfielders tried to reel in a towering fly ball. That error scored Avery Takahashi and Lehi took an early 1-0 lead.
The lead didn't last long though as Mountain Crest got a solo home run in the second inning to tie the game. However, Lexi Butterfield drove a changeup deep to left center for a solo home run of her own to put the Pioneers up 2-1.
With two outs in the fourth inning, Mountain Crest capitalized on a Lehi error to tie the game at 2 apiece.
Mountain Crest broke the 2-2 tie when their leadoff hitter reached on an error followed by a home run to go up 4-2. This lead proved to be enough for a tough Mountain Crest pitcher who retired 6 of the next 7 batters for the win. Lexi Butterfield pitched well, going the distance only allowing 5 hits and 2 Earned Runs while striking out 4 batters.
Lehi beats Park City 13-3
With a quick turnaround, Savannah Heaton singled to score Avery followed by a sacrifice fly by Lexi Butterfield scoring Mckenna Rich to put Lehi up 2-0 after one inning.
Jamisyn Heaton lined a shot over the left field fence for a solo home run to get things started in the second inning. Kylie Takahashi and Savannah Heaton both had singles to score one each to give Lehi a 5-0 lead after two innings.
Miya, Ellie, and Avery all had RBI's in the 3rd to give the Pioneers an 8-0 lead but Park City cut the lead to 8-3 in their half of the fourth.
Kayli Child blasted a home run and Avery, Savannah and Laynee Carter each had RBI's to put the Pioneers up 12-3.
After the Pioneers held Park City in inning five, they only needed one run to win the game. Lexi Butterfield made quick work as she smashed a pitch deep over the left-center field fence for a walk-off home run to give Lehi a 13-3 victory. Butterfield also got the "W," pitching all five innings, only allowing 4 hits while striking out 7.
Lady Pioneers Softball celebrate seniors with a win over Spanish Fork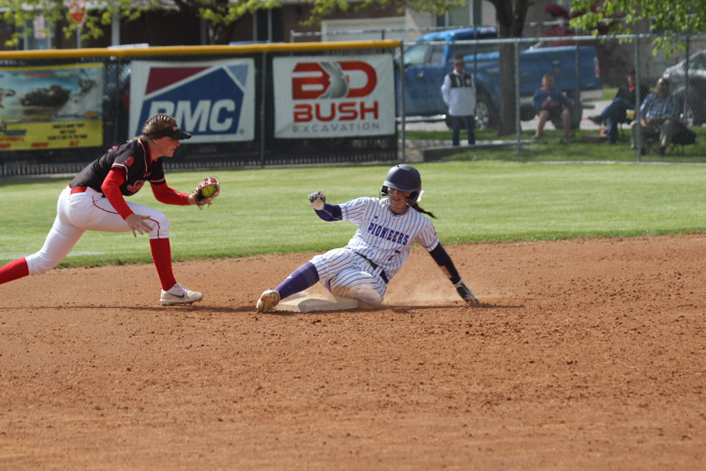 Most athletes lay in bed at night dreaming about going out on top.  Often it is the hope of that dream becoming a reality that pushes them through the blood, sweat, and tears of preparation.
This year's LHS Softball Team senior class is comprised of Mckenna Rich, Kayli Child, Morgan Rohletter, Kylie Takahashi and Savannah Heaton. Each hoped for one of those "dream come true" moments in their last home game.
The last home game also created poignant moments because it was the last game ever to be played on a field that has seen it's fair share of great softball over the last 25+ years. Three State Championship teams (2007, 2014, 2015) have called this field home. Countless hours of practice, bruises, raspberries and other character-shaping moments were worn well by the hundreds of girls and dozens of coaches who have graced the field.
On top of all of that, perennial softball powerhouse Spanish Fork came to town with another Region Championship in their sight.
In the first matchup of the season, Lehi was only able to squeak out a single hit, so things were looking good in the first inning when Savannah Heaton grounded into a fielder's choice that scored Avery Takahashi for the first run of the game.
That excitement quickly turned to despair when Spanish Fork scored 5 runs in the 2nd and 1 more in the 4th inning to take a 6-1 lead.
Things were looking bleak for the Pioneers going into the bottom of the 4th inning. Senior Kayli Child wasn't about to go down without a fight when she lined a shot in the gap for a double and Freshman Jamisyn Heaton drove the next pitch over the left-center field fence and just like that the Pioneers only trailed by 3 runs.
Spanish Fork started the next inning hot when the first two hitters safely reached base. However, Avery Takahashi was able to induce a couple of ground balls and a pop up to get out of the inning unscathed.
Lehi found themselves down to their last 6 outs when Lexi Butterfield and Kayli Child both singled to start the 6th inning and Miya Ockey reached safely on an error to load the bases. Avery Takahashi then reached on an infield single that scored one run to cut the lead to 6-4.
With Lehi trailing 6-4 with 2 outs and the bases loaded, Mckenna Rich came to the plate. In that pressure-packed situation dreams quickly became reality as she drove a ball up the middle that scored all 3 baserunners and Lehi took a 7-6 lead. Spanish Fork didn't go down without a fight as they were able to get a runner into scoring position with 2 outs in the 7th inning. When Lexi fielded a grounder and tossed it to Savannah for the final out, celebration quickly ensued. At that moment, any senior night sorrow was lost in the thrill of victory and a memory that will last a lifetime!