Golden Spike celebration kicks off summer at Shay Park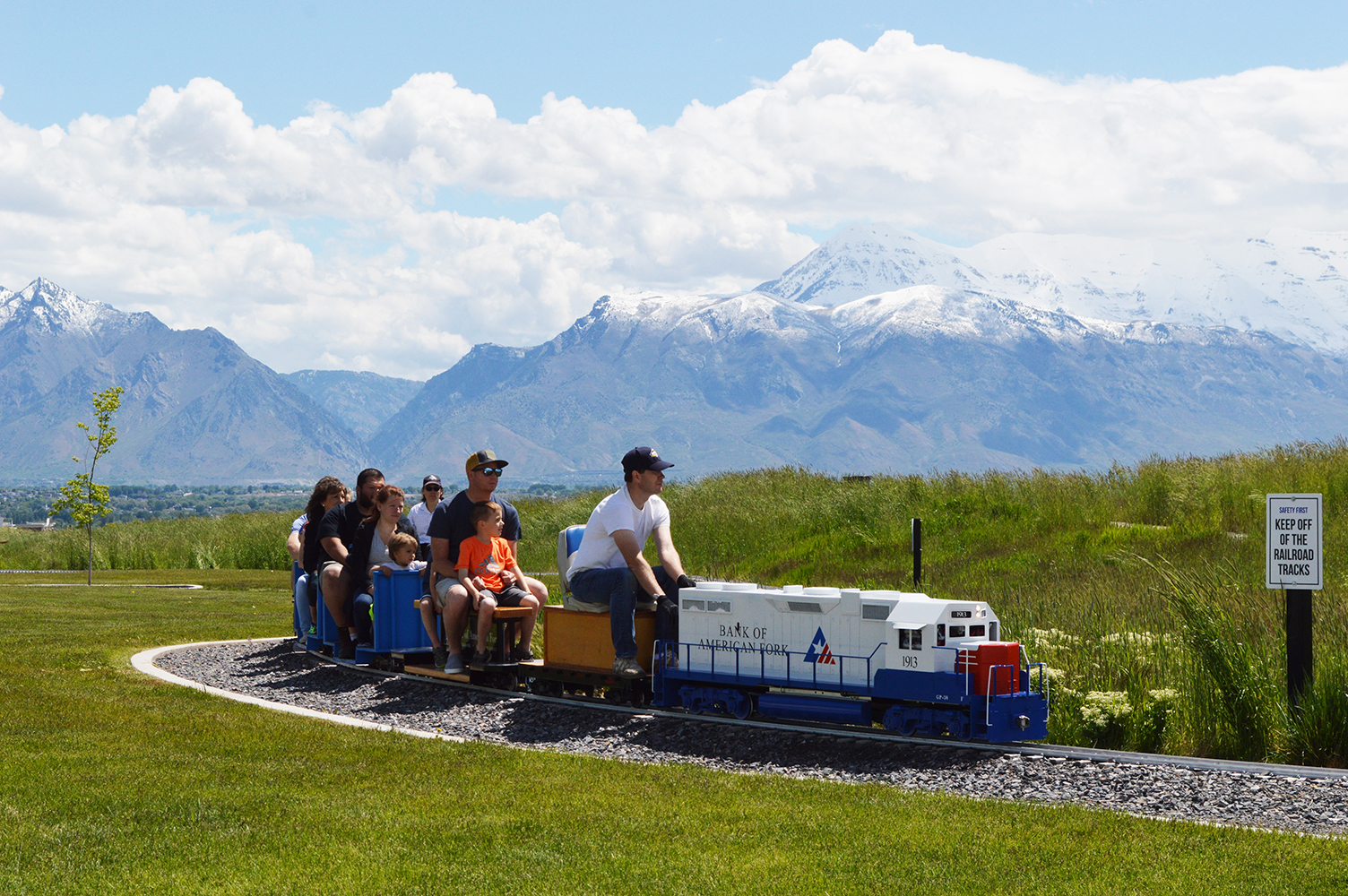 The train is back at Shay Park, 516 Aspen Hills Boulevard in Saratoga Springs, for the summer. Every third Saturday through October, except during bad weather and Saratoga Splash, members of the Utah Live Steamers Railroad Club haul their train cars and engines to the park for free rides.
About four years ago, Mike Hansen was approached at a train show at Thanksgiving Point by a member of the Parks Department for Saratoga Springs. The Parks Department was looking for something extra special to add to Shay Park and Hansen's large train model ended up being just the idea they wanted. All the materials for the construction of the 2000-foot track were donated and all the labor was done by local volunteers.
The train cars were handmade Paul Smeltzer, a member of the Utah Live Steamers Railroad Club. The cars are about 13% as big as a real train car, but no one is too big to ride. The engine pulling the train, donated by the Bank of American Fork, weighs 700 pounds and has a 16-horsepower gas motor. Kids and adults enjoy riding on the small train cars.
"Right now, it's one of only two train-themed parks in Utah," explained Mike Hansen. There are half a dozen members of the Utah Live Steamers who come operate the trains and do maintenance on the tracks, but they're always looking for new members.
On Saturday, May 25, Shay Park hosted a Golden Spike 150th anniversary celebration with cake, free train rides, and a live band, Aspen Gold. A small golden spike from the Tintic Mining District was driven into a black walnut railroad tie donated by Dave Ekins.
The Utah Live Steamers Railroad Club has even bigger plans for the future of the railroad-themed park. Hansen envisions a Christmas train during December, complete with a village. Eventually, they'd like to have a replica of a train depot with a museum as well.
"For me personally, this is a dream come true to have a running train at a park. I know it's the same for all the members of our club. It's a fun, family-oriented activity," said Hansen.