Skyridge Falcons soar to victory in season opener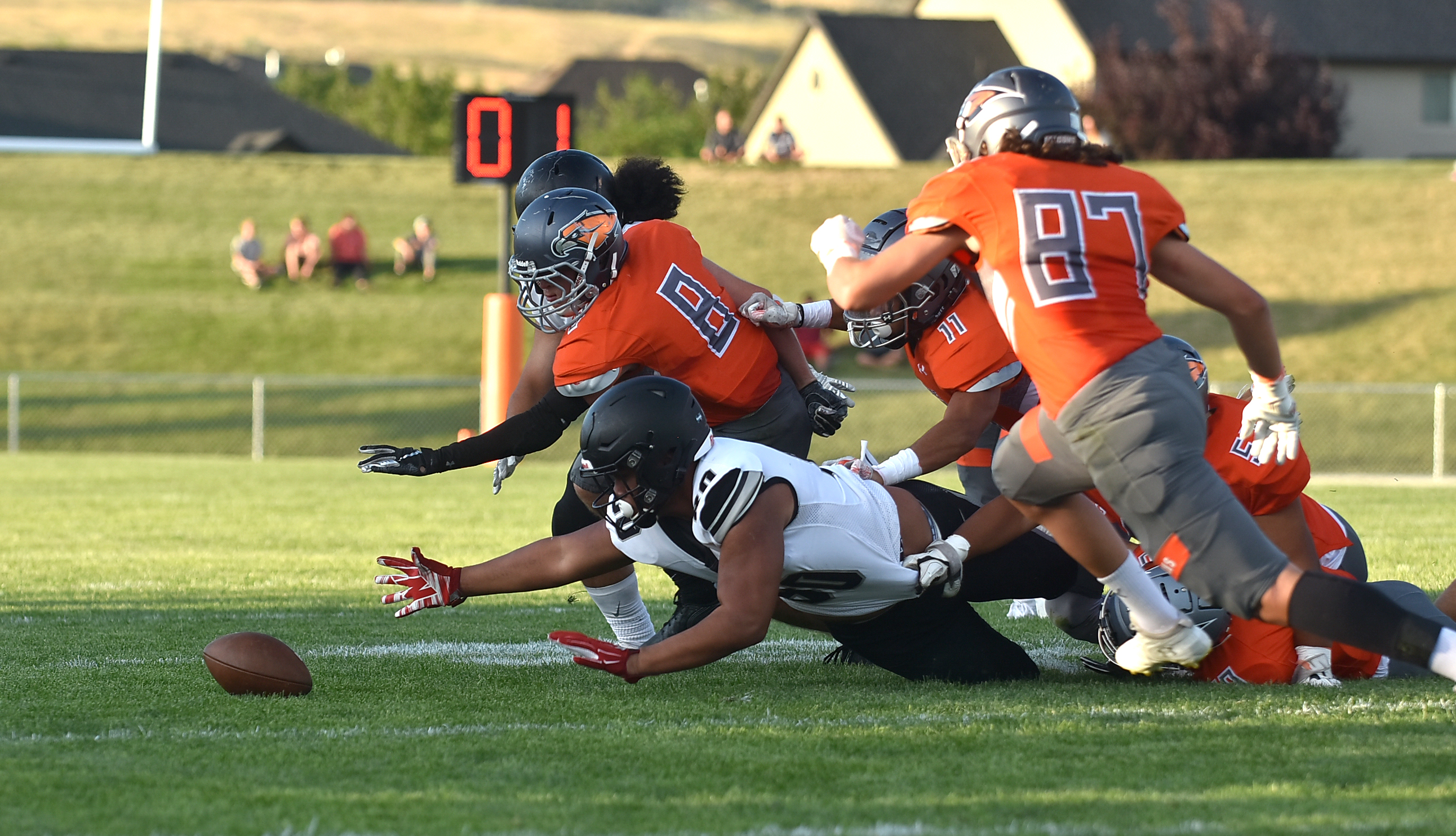 The Friday night lights shone brightly on the Skyridge football field for the battle of the birds as the Falcons took on the Alta Hawks to kick off the 2019 football season. This year's Falcon football team got off to a good start as quarterback Emmett Call passed for 146 yards and one touchdown and rushed for 117 yards and two touchdowns. Call ended the game with 9 for 21 as the Falcons soared to a 28-14 victory in a non-region game.
"We came and we executed well. Emmett played a good game," said head coach, Jon Lehman.
The energy of the Falcons started with Call, he got Skyridge off to a good start with a 26-yard run that resulted in the first touchdown for the Falcons. "It feels good to come out and win the first game. The team played well. We've got a lot to work on and we've got a lot that's looking good," Call said.
Offensively, the Falcons played hard. Jackson Lambert made a crucial play with a 23-yard catch early in the first half of the game and receiver, Dylan Samuels made several great catches as he ended the game with five receptions for 45 yards receiving. Malae Tanuvasa also played well, ending the game offensively with four carries for 25 yards. Noah Erickson scored a touchdown late in the first half with a 39-yard catch.
"We won the take-away battle and the defense played so well. The defense really showed up tonight, communicated well and executed tough plays," Lehman said.
Linebacker Carson Baker ended the game with five total tackles and three TFLs (tackles for loss). Defensive end Ioholani Raass had three sacks, and safety Bowen Thomas forced and recovered a fumble. Overall the defense played from beginning to end with strength and skill.
The Hawks were prepared for the battle as Cinco Lucero scored their first touchdown with a 26-yard pass from D'Andre Randolph. The Hawks' second touchdown came from Daniel Thomason on a 25-yard pass from Cinco Lucero. The Hawks fought hard to put more points on the board but could not overcome the strong Falcon defense.
The battle of the birds was a great way to kick off the football season for the Falcons. Skyridge linebacker Carson Baker said, "It felt good to play and win our first game. We have worked hard in the preseason and we will work harder to do even better."
The Falcons will next play at the Skyridge Homecoming game as they take on the Sky View Bobcats at 7 p.m. tomorrow, Friday, August 23.