Saying goodbye to the Nook and Cranny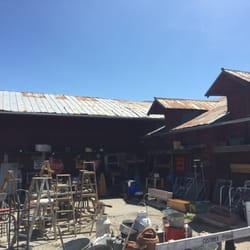 For Lehi antique junkies, the Nook and Cranny has been a beloved one-stop-shop for all things vintage. The beloved store is closing its doors after 14 years of operation to move onto new ventures.
Tim Casey, originally from Canada, married a woman from Lehi, then they settled down and began sourcing vintage and antique goods in homes before opening a storefront. They were able to rent a space in what used to be Peck's Hardware and lumberyard on the corner of East State Street and North 100 East Street. Casey built all of the shops himself and the Nook and Cranny opened its doors in 2005.
Those who visit the store are treated to memorabilia from furniture to toys. Everything in the store is vendor owned, most items being sourced from estate sales. According to Casey, people will sometimes call and ask for a vendor to visit their home to appraise and buy their items.
Unfortunately, the increase in internet shopping has made things difficult for this favored store. Anyone can now go online and shop vintage yard or estate sales through online auctions or through Etsy. What used to be a rare find in the corner of an old shop is now easily accessible through a few searches online. While the staff at the Nook and Cranny are sad to part ways with the store, the general feeling is that the time has come to move onto new adventures.
This store always welcomed kids to the shop and employees loved seeing kids' reaction to typewriters, telephones, and records. "It was an education piece of sorts," said one former employee, "you hear people laughing everywhere as they see memories come to life. It's a fun place full of memories." According to Casey, "the business of antiquing is something you have to really enjoy as it isn't always the most lucrative job. You have to get out there and dig for hidden treasures and items that will bring meaning and joy to future customers." Shoppers sometimes have to look through a lot of unwanted items to find the good pieces. There is little that can compare to seeing the dollhouse your grandmother had when you were growing up or stumbling upon the first vinyl record you ever bought. These vintage stores are keeping those memories alive.
The tentative close date for the store is New Year's Eve. Promotions have already begun with items marked down anywhere from 20-75%. The Nook and Cranny of Lehi is open from 11 a.m. to 6:30 p.m. Monday through Saturday. Casey is not aware of the owner's new plans for the building.