Online learning extended to May 1 as ASD adjusts to new model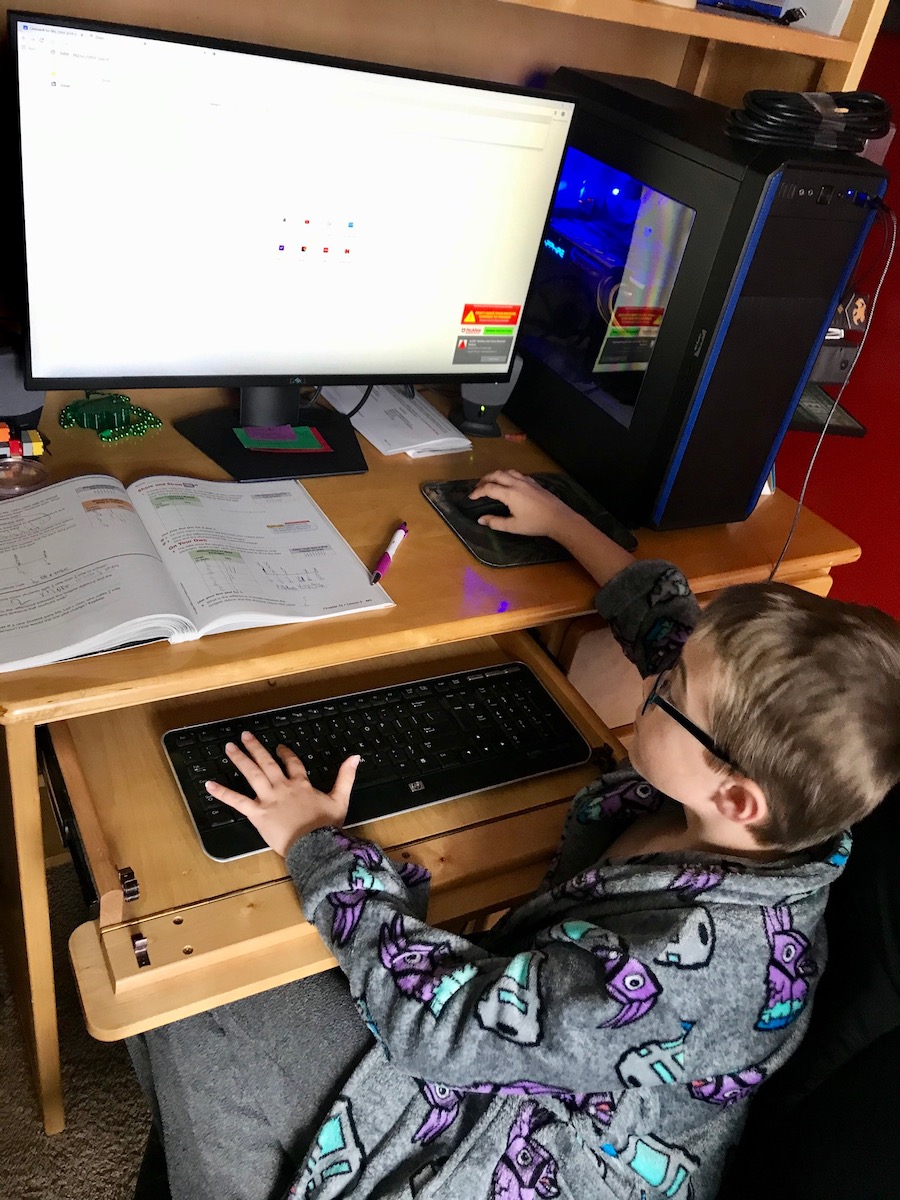 Holly Jean Burton's fourth-grade son started crying when she told him he'd be learning online and from home for the foreseeable future.
"He was very upset, because he genuinely loves everything about school," Burton said. "He loves his teacher, he loves hands-on learning. It hit him really hard."
Alpine School District's more than 80,000 students have transitioned to online learning as schools were shut down for what was initially announced as a two-week closure, with the potential for that timeline to be expanded. The soft closures have been extended to May 1, according to a March 23 announcement from Gov. Gary Herbert and State Superintendent of Public Instruction Sydnee Dickson. Employees are being limited at school buildings and meal services are still being provided.
ASD has checked out more than 12,000 Chromebooks to students and anticipates that number could reach 15,000, according to Kimberly Bird, a spokeswoman for the district.
Teachers underwent two days of training on the new learning model before it was launched on March 18. The transition wasn't entirely new, Bird said, because teachers have previously used technology to expand and enhance education.
"Our teachers, they stepped up to the plate and they are hitting it out of the park," Bird said.
The transition has also come with hiccups. Bird said ASD has never deployed this many devices outside of its network and had at least 16 hours of no connectivity during the adjustment. They've also faced challenges with available bandwidth.
"We didn't know what we didn't know," she said.
Bird said the district isn't expecting parents to teach the curriculum.
"This has been a steep learning curve for parents, and we are so grateful with the partnership they are engaging in with us," Bird said. "Our parents have been just awesome."
Statewide testing has been canceled for the year, as have many proms scheduled for early April. Advanced Placement tests will be administered online.
Graduation services have not been canceled, as of March 24.
Spring break will still occur from April 6 to April 10. The snow make-up day scheduled for April 6 has been canceled.
Bird said continuing to have teachers connect with students has been crucial as students begin missing social interaction. Teachers are checking in with students, doing read-alouds, and hourly employees are calling students to see how they're doing.
Bus drivers are undergoing mandatory training during the soft school closures and custodians are fulfilling work orders that are difficult to do during the school year when students and teachers are inside buildings. The district is also seeing a decrease in costs since the mostly empty schools are being more energy efficient.
The number of children in ASD who are being fed meals provided at schools has grown from 2,000 to 9,000, according to Bird.
She said students have been adapting well to the online learning model.
"Luckily we live in the 21st century, where kids have naturally been learning their numbers and their sounds already on apps," Bird said.
COVID-19, a novel strain of coronavirus, continues to spread in Utah as residents are being encouraged to practice social distancing, self-isolate and gatherings — including churches and the performing arts — have been canceled.
More than 250 people in Utah have been diagnosed with COVID-19 statewide, as of March 24, including 11 confirmed cases. The state has seen one death attributed to the virus.
Burton's son, a fourth-grader at Burton Elementary School, has understood why he now has to do school work from home.
"I have actually not had a problem with it, not only because my son loves school and his teachers have been amazing, and I have been really impressed with the school," Burton said. "They literally had a weekend to set this up. That's it."
She has another son at home after his preschool shut down. Burton, a restaurant manager, is currently not able to work due to COVID-19 closures.
The Burtons have tried to maintain a sense of normalcy during the changes. Her son wakes up in the morning, has breakfast, watches cartoons and then completes classwork, which takes two and a half to three hours. From 1:30 p.m. to 3:30 p.m. he either builds with Legos, looks up videos online or works on science projects. After that, he's able to play video games online with his friends in order to maintain social contact.
Burton said the hardest part for her son has been missing out on regular social interactions. He sees his teacher online during morning lessons and students send messages to each other while they're doing homework. They've video chatted with family, and his teacher has started doing a virtual recess on Zoom so all of the students can see each other at the same time.
Picking up registration packets for kindergarten, she said, was seamless. She drove up to the school, spoke with teachers who were on walkie-talkies and was able to drive off with the paperwork within five minutes.
At this point, she said, she'd prefer if the soft closure extended to the end of the school year instead of having students get readjusted to another routine.
Burton said she knows the transition is hard for parents, but she encourages them to relax, know they don't need to take over their child's learning and can do things on their own timeline.