Skyridge boys basketball posts four impressive wins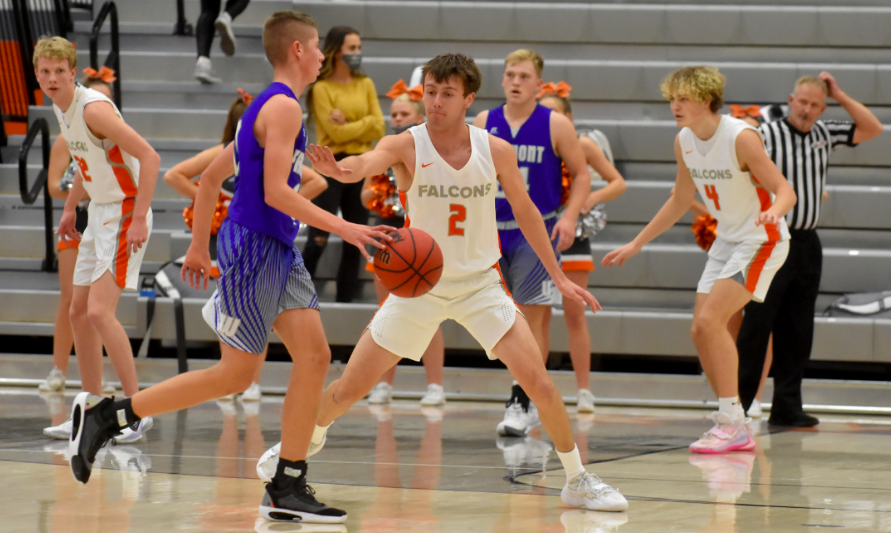 The Skyridge boys basketball team won its own tournament over a three-day stretch Dec. 10-12 and followed up with another victory on Dec. 14.
Skyridge 73, Wasatch 54
The Falcons used a hail of 3-pointers to top the Wasps on Dec. 10. Junior guard Nick Holland and senior guard Duncan Reid each tallied five treys of the 11 total and finished with 17 and 21 points, respectively. Senior guard Parker Christensen added 11 with six assists.
Senior forward Dallin Yates led the 43-23 rebounding dominance with 10 boards and junior forward Colby Carter grabbed nine.
Skyridge 76, Copper Hills 51
A dominant first quarter was the key for the Falcons against the Grizzlies. They worked for a 28-12 advantage in the first stanza and the lead was never threatened the rest of the way.
The four players in double figures included Holland with 24, Christensen with 21, Reid with 19 and Yates with 12.
Skyridge 80, Corner Canyon 70
The Falcons upset the top-ranked, 6-0 Chargers to close out their tournament, despite giving up 32 points to their big center. Yates turned in a key double-double with 19 points and 13 rebounds to spark the effort.
Reid added 22 points and Christensen scored 21. Holland contributed 15 points, including three triples, and also had seven assists.
"It was a great thing for our program to host our first annual Falcon Classic," said Skyridge Coach Jeff Gardner. "We had eight great programs in the tournament ,and we were fortunate to win the championship.
"I was so pleased with how our kids played and adjusted to our three opponents," he continued. "Having short turnarounds tested our conditioning levels and also our mental ability to move on to the next opponent quickly.
"Beating the No. 1-ranked Corner Canyon team will give our team confidence moving forward," he added.
"I was really pleased with our balance on offense. We were very efficient and played very unselfishly. We were able to score in the 70s or 80s in each of the games."
Reid, Christensen, Yates and Holland all averaged double-figure scoring for the three contests.
"I was very pleased with our defense in the championship game," Gardner went on. "We were able to hold Corner Canyon to 20 first-half points and limited their leading scorer to 3 points on 1-of-16 shooting.
"I was pleased with our leadership all weekend, led by captains Duncan Reid, Parker Christensen and Dallin Yates," the coach concluded.
Skyridge 68, Fremont 36
Coming off their successful weekend, the Falcons blitzed the Silverwolves. Reid scored 21 with four assists to lead the effort, while Christensen added 15 and Yates 11.
"We had another great start, getting out to a quick 8-0 lead," Gardner said. "I was pleased with our second unit who played major minutes. Hunter Anderson did a nice job off the bench contributing five points.
"We were plus-10 on the boards and forced 18 turnovers, which helped us take control of the game. It was a good win against the defending state champions," the coach concluded.