Top Lehi stories of 2020: (#5) New Lehi middle school construction continues, boundaries finalized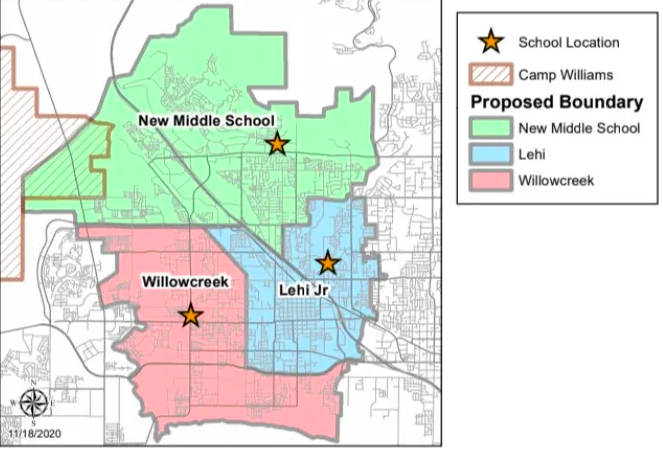 The Alpine School District (ASD) is building a new middle school in Lehi just north of Timpanogos Highway. The ASD held open houses early in November 2020 to get feedback on proposed boundary changes that would affect several elementary schools and the three middle schools going into the 2021-2022 school year. The ASD Board voted on Nov. 24 on boundaries that had been adjusted based on Lehi parents' input.
The original proposed boundaries split students attending Dry Creek Elementary down the middle, with half attending Lehi Junior High (LJHS) and half attending Willowcreek Middle School (WMS). A handful of Eaglecrest students would have gone to the new middle school while the rest of their classmates went to LJHS.
Before the board voted a few weeks after the open houses, the boundaries were changed so that all Dry Creek and Eaglecrest Elementary students will stay together as they move into middle school.
"It's a good sign to the district that people are connected to their schools, the principals and teachers. If no one was showing up to the meetings and making comments, that would mean they don't care. People are passionate about their schools and change is always hard," said David Stephenson, Administrator of Public Relations for Alpine School District (ASD), at the open house at Willowcreek on Nov. 4.
The yet-unnamed new middle school, under construction near Micron in Lehi, will be closed to students who live outside its boundaries and is expected to open near capacity with 1,659 students in the fall. Lehi Junior High is expected to have 1,186 students and Willowcreek estimates 1,429 students next year.
Aaron Barth, the new school's principal, said he was excited for a boundary to be in place, even if it means the school will open at its capacity.
"Yes, it does have my school opening at 1,600, which, it is going to be a big school, but it is going to be an exciting challenge, and we will make it work. We will give those students some of the best education they are going to get in Lehi because each school is amazing, and we are going to continue to support these students at every level," he said.