Lehi High graduate: Jay Hill, head football coach at Weber State University earns honors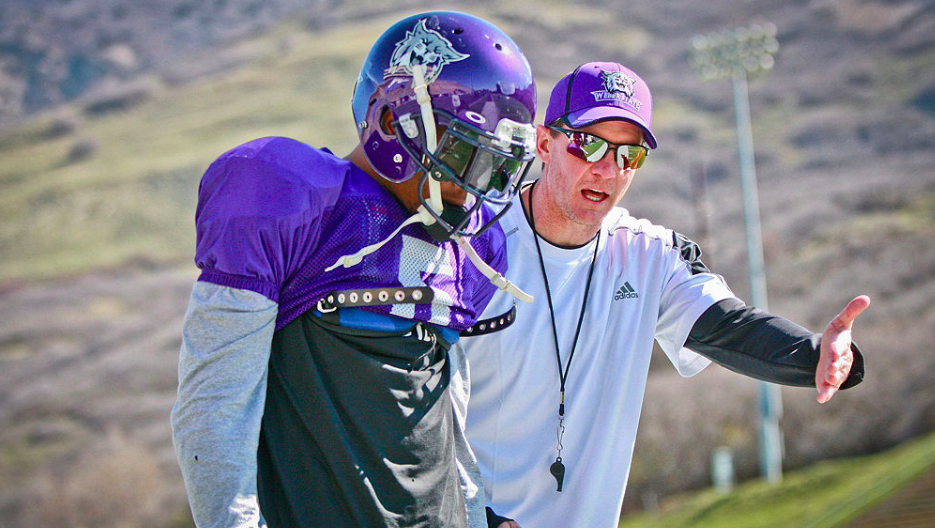 "I went to school to be a doctor. After I finished my playing career, I found that I just missed the game, the competition, the growth, the relationships, the battle," commented Weber State University head football coach, Jay Hill. Hill graduated from Lehi High School in 1993.
Hill is the son of Venda and Farrell Hill, longtime Lehi residents. The older Hill was a much- loved seminary teacher at Lehi High School for many years. Jay played football and baseball at the high school level under the capable direction of Lynn Allen, Everett Kalepolo, and Tony McGeary. "These men were some of my favorite coaches, but that would be unfair to only mention those few. My experience at Lehi definitely molded my future. I had so many great coaches and teachers from little league and grade school all the way to college," added Hill.
Hill played college football at Ricks Junior College (BYU-Idaho) where he earned junior college All-American honors at cornerback. He went on to play two seasons (1998-99) at University of Utah under coach Ron McBride. As a senior, he led the Mountain West Conference in interceptions, and was named Utah's Defensive MVP, earning second team All-Conference honors. He later played briefly in the XFL and signed free agent contracts with the Buffalo Bills and New York Giants.
Hill went back to school to complete a masters degree and the best way to pay for his schooling was to become a graduate assistant coach. "I fell in love with the profession," said Hill. "I have always loved sports and dreamed from a young age of playing sports professionally but, if you can't continue to play, the next closest thing is coaching."
Hill was a longtime assistant coach at the University of Utah, including nine seasons as a full-time assistant coach under Kyle Whittingham. Prior to that, he spent four years as a graduate assistant and administrative assistant with the Utes under legendary coaches Ron McBride and Urban Meyer.
Hill is entering his seventh season as the head coach at Weber State. He has transformed the Weber State program and has led Weber State to four-straight FCS Playoff appearances, three-straight Big Sky titles and three straight 10-win seasons. The Wildcats under Hill have been ranked as high as third in the nation, all WSU school records. In 2019, he guided the Wildcats to another Big Sky title and a trip to the semifinals of the FCS Playoffs for the first time in school history. The Wildcats also finished third in the nation's final polls. Hill was named AFCA Region 5 Coach of the Year.
In 2018, 45 Wildcat players were awarded Academic All- Big Sky honors. The team had 19 players earned All-Big Sky honors. Seven players earned All-American honors, the most ever. Josh Davis won the Jerry Rice Award as the National Freshman of the Year. In 2017, eight Wildcats earned All-American honors. Taron Johnson was drafted in the fourth round by the Buffalo Bills.
Hill is loved, respected, and admired by his players. His recruiting expertise is legendary in coaching circles. He currently has 45 Utah players listed on the Weber State roster. His record testifies of his coaching greatness. In 2014, his record was 2-10 and in 2019, the record was 11-4, making it to the FCS semifinals.
He is married to Sara Hill, and they have four children.