Lehi girls basketball starts region with two big wins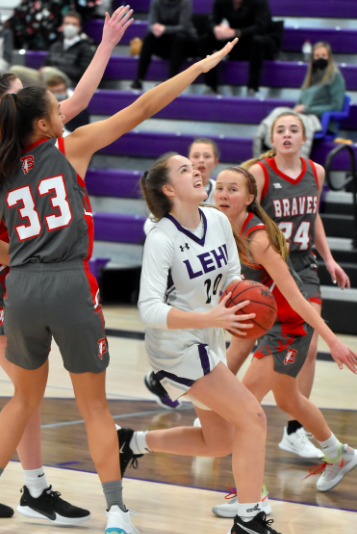 The Lehi girls basketball team thrashed their opponents in the first two Region 7 contests of the season, topping Orem on the road Jan. 5 and outdistancing Mountain Ridge at home on Jan. 8.
Lehi 60, Orem 26
The Tigers just never found an offensive rhythm against the stifling Pioneer defense. They trailed 10-18 at the end of the first quarter and were held to single digits in each remaining period.
Junior wing Jamisyn Heaton had a fine outing, scoring 23 with six rebounds, two steals and two blocks. Senior guard Maddie Warren added 15 points, including three treys, to go with five boards, four steals and three deflections. Senior guard Macie Warren scored 10 with eight rebounds and five deflections.
"It was great to start off region with a road win," said Pioneer Coach Sean Seastrand. "Our defense was really good in this game and Orem has had some injuries and some girls that are just getting back into rhythm.
"Region road games are important to win so I was happy about this one," the coach added.
Lehi 53, Mountain Ridge 25
The Pioneers got contributions from all 11 players who saw action as balanced offense and stiff defense after the first quarter propelled them to victory. The Sentinels were ahead 10-8 after the first stanza but were held to 15 points for the rest of the game.
Maddie Warren finished with 13 points including three triples with four assists and three steals. Macie Warren added 10 points, five boards and seven steals, while senior guard Gracie Hinckley also netted 10 and junior wing Maci Wall had five rebounds.
"It was a rare Friday home game for our girls team and it was fun," Seastrand said. "Mountain Ridge is much improved from last year and came out with a great plan mixing up defenses.
"It took us a little while to adjust to that, but we started to get stops and play in transition to get our second region win," he said.