Skyridge boys basketball wins two close contests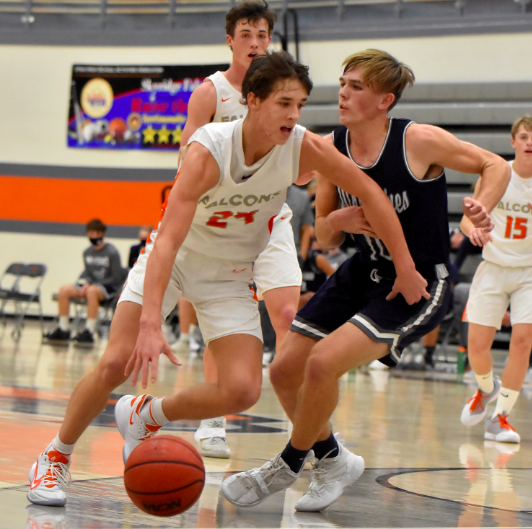 The Skyridge boys basketball team found a way to close out two exciting contests last week, topping Herriman on the road Dec. 5 and then outlasting Hunter at home on Jan. 8.
Skyridge 64, Herriman 60
The Falcons used a fast start and a strong finish to edge past the talented Mustangs, who got 36 points from star Bodi Nageli, but Skyridge was able to hold the rest of their players in single digits.
The road team got a superlative effort from senior guard Duncan Reid, who finished with 27 points, six rebounds and five blocks.
Senior guard Parker Christensen added 14 points and four assists, while senior forward Dallin Yates chipped in 11 points with eight boards.
Skyridge 70, Hunter 65
An 18-12 edge in the third quarter helped Skyridge to secure this win. Yates was the lead engine in the battle with the Wolverines, posting a double-double of 22 points and 13 rebounds.
He had plenty of help though. Christensen scored 18 with six boards, junior forward Colby Carter had eight rebounds and four steals, and junior guard Nick Holland dished out 11 assists.
"It was good to get two wins against 6A programs," said Skyridge Coach Jeff Gardner. "We are continuing to work to get better on the defensive side of the ball.
"After a poor performance on the boards on Wednesday at Herriman, we came back Friday and outrebounded Hunter by 13 and had 14 offensive rebounds," he went on.
"We have one more non-region game at Jordan before we go to Corner Canyon next Friday for our region opener," Gardner said. "To win our third consecutive region championship, we are going to have to continue to improve our defense and rebounding."
The Falcons are going to get tested during the league run. At this point, the top six teams in 6A poll rankings and the RPI list all compete in Region 4.