Sinners & Saints brewing delicious beverages on Main Street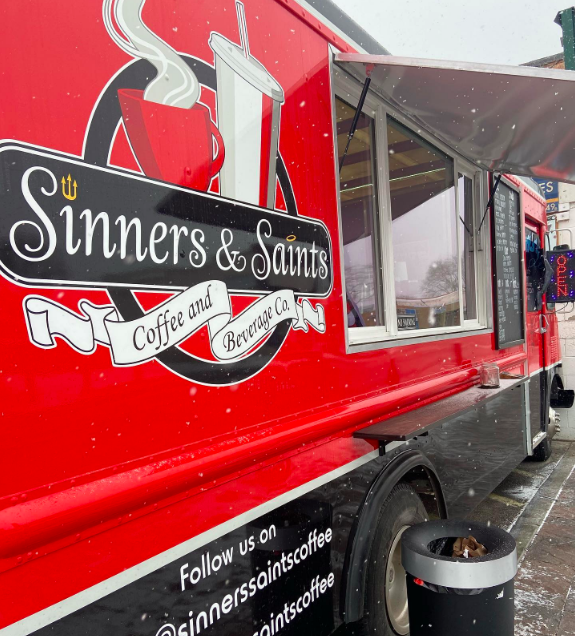 Delicious drinks are brewing right next to the historic Lehi Bakery, and they are hot! Many may have noticed the new red food truck that has a name you cannot forget: Sinners & Saints Coffee and Beverage Co., here to cater to the needs of all those who are coffee and soda enthusiasts. Mother and daughter dynamic duo Marianne and Lauren McRaney, from Pleasant Grove, have mastered the art of lattes, chai tea, espresso, and the popular Utah "dirty sodas" and have put their beverages on wheels.
Almost a decade ago, the owner and creator, Marianne McRaney, had an idea to start her own coffee business. At the time, she was a mother to three children and worked several jobs, which prevented her from opening the beverage business, but she kept the dream alive and made it a reality in September of 2020. Despite the obstacles and complications created by COVID-19, the red truck with the catchy name still made its debut. Daughter and co-owner of the business, Lauren McRaney, said, "Sinners & Saints is perfect for any season and good for COVID-19 season with our contactless payment methods and little physical contact." 
The McRaney ladies practiced and experimented with drinks for years through the dedication and practiced palate of family members and friends who sampled the drinks. "It took a while searching, crafting, YouTubing, and experimenting to perfect these drinks and make them what they are today," said Lauren. The most popular drink on the menu is the Dirty Chai, a Chai Latte hot or iced with a double espresso shot. Sinners & Saints also offers various coffee blends, seasonal add-ins, non-dairy options, frappuccinos, and personalized custom sodas. 
Sinners & Saints Coffee and Beverage Co. can also cater company events, parties, and any special occasion that deserve a little sweetness. Anyone can order online for easier pick-up and contactless payment. They also have a rewards program for frequent customers to save money and earn free drinks. 
Sinners & Saints red truck can be found at 172 West Main Street in Lehi and is open Monday through Saturday 6 a.m. to 2 p.m. and Sundays from 8 a.m. to 1 p.m.