Alan Matheson, executive director of Point of the Mountain Land Authority shares goals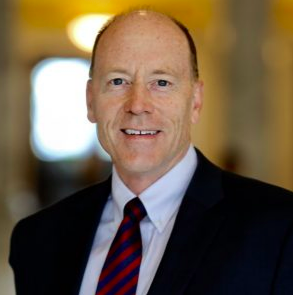 Editor's Note: In December, the Lehi Free Press interviewed Alan Matheson, executive director of the Point of the Mountain Land Authority. This entity has been charged with the planning and redevelopment of the former Utah State Prison site.
Matheson was previously Executive Director of the Utah Department of Environmental Quality and the senior policy adviser to former Governor Herbert. Matheson has a bachelor's degree in international relations from Stanford University and a law degree from the UCLA school of law. He is also related to former Utah Governor, Scott Matheson
For several years, Envision Utah has held meetings and conducted surveys to gain input from citizens about ideas for the development of the 600 acres located at the Point of the Mountain. In May of 1918, The Utah State Legislature established an 11-member board composed of state legislators, agency executives, local elected officials and business leaders. They were given a mandate to plan, manage and implement development at The Point of the Mountain.
Lehi Free Press: When were you appointed to this position and what are your responsibilities?
Alan Matheson: I was hired by the board in July of 2019. I am a Utahn and care very much about this place. Because this is state-owned land, we've got a responsibility to make sure that we're providing the benefit to all the people in the state. It was very clear that when the legislature created the authority, they set out a number of objectives for us to meet. Those objectives came from the public process. More than 4,000 people have been involved with the Point of the Mountain development commission process.
The people have identified about 12 different objectives. These objectives were put into the legislation. It's the people of Utah who have been driving the goals for this site and we're very much committed to develop it in a way that helps us address some of these challenges—traffic, air quality, energy use, water use, and creating a place where people can gather. We want to create a place where they can enjoy time together, a place where we can have great economic development so that our children and grandchildren will be able to have a world-class career here in Utah without having to move somewhere else. We want to keep families together. We can generate revenues that provide resources for education, healthcare, social services, and infrastructure. Unlike maybe a private developer, our bottom line is much more than money. It's quality of life and helping to solve challenges in our region.
LFP: We know there has been a lot of public input. People care about that space.
Matheson: We know how incredibly rare to find 600 acres of undeveloped land in a growing metropolitan area, especially one served very well by transit, one that's close to regional trails, that's in the heart of a burgeoning high-tech sector. It is really a remarkable opportunity, so we are committed to take advantage of that opportunity.
LFP: The public wants to understand the process and as it continues, they want to continue to have input into each step.
Matheson: This is really an important stage in the development process because we're taking concepts that have been gathered from the public, the legislature, and others for years and are now going to turn those concepts into a specific plan. That will take place over the first half of 2021.
Our planning team and our local team will be working very closely to gather information upfront, then develop different scenarios for how this site could develop. We'll go through careful analytics on all of them to see how do they perform relative to traffic, to air quality, to economic development, the amount of open space, how long it takes people to get to various places. We will analyze them carefully and identify the direction that seems most promising. We will refine it until we can get to this framework master plan and a set of guiding documents that will guide the development process over time.