Pioneer swimmers post state times in relays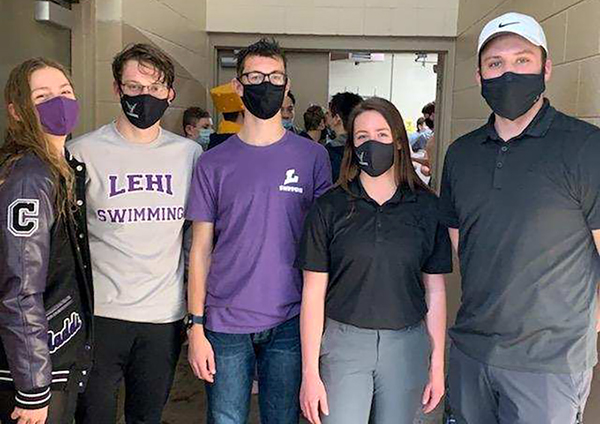 Beky Beaton | Lehi Free Press
The Lehi swim team competed against Westlake, Skyridge and Cedar Valley in the Senior Recognition Meet for all four schools on Jan. 20.
During the event, the Pioneers posted state-qualifying times in three relay events and some swimmers earned top medals in their individual events as well.
"It was exciting, and a little bittersweet, to celebrate our seniors Brandon Bennett, Nate Soderquist and Maddison Burnham," said Pioneer Assistant Coach Tyra Anderson.
"Maddi and Nate have done great work as captains this year, and they have all contributed in positive ways to the team by making everyone feel welcome, being great friends and leaders, and by giving it their all in the pool," she said. "We are really going to miss them!"
With three other teams competing, it was a bigger meet than is usual during the regular season. "We saw a lot of great swimming from our team at this meet, and energies were high," Anderson said.
The Pioneer girls got the meet started right by capturing gold in the 200-yard medley relay. The mark of 2:00.13 ranks them 12th, putting them in position as an automatic entry into the state meet. The swimmers were Burnham, Madelyn Wilkinson, Addi Zobrist and Sydney Zurmely.
They finished in bronze position for the 200-yard freestyle relay with Zobrist, Jana Patlan, Zurmely and Burnham. The 1:50.33 time ranks them 15th.
On the boys side, Lehi's Bridger Smith, Jacob Logsdon, Bryce Broadhead and Andrew Pulham captured silver in the 200 medley relay at 1:44.24, moving them to seventh place on the state list.
In other notable achievements, Smith earned silver in the 200-yard individual medley and 100-yard backstroke, while Pulham was second in the 50-yard freestyle. Matt Pendleton, Logsdon, Ashton Hellwell and Damian Brown teamed up for silver in the 400-yard freestyle relay.
For the girls, Wilkinson took gold in the 100-yard breaststroke and Rilynn Smith collected silver in the 500-yard freestyle.