Skyridge girls hoops split region pair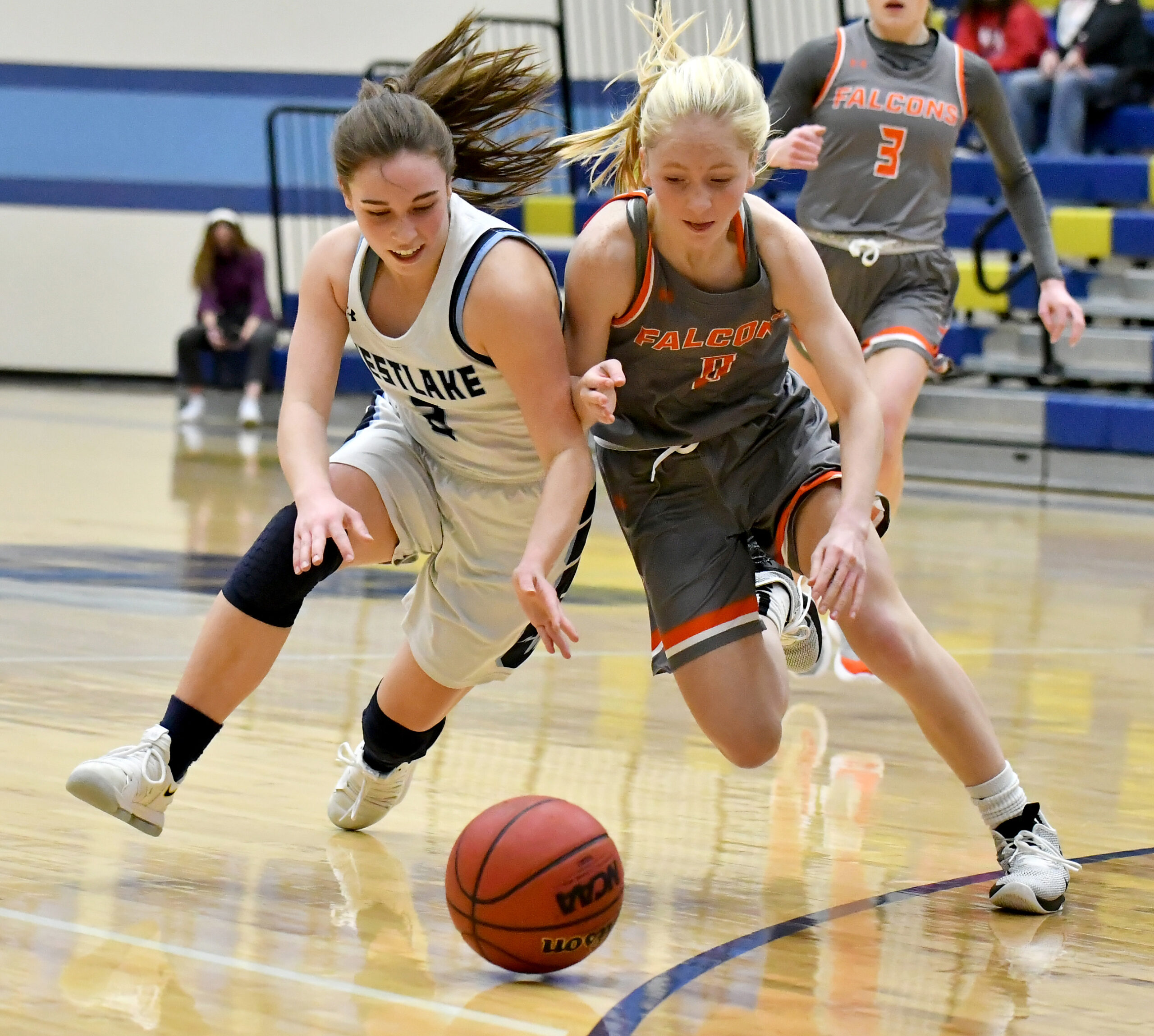 Beky Beaton |Lehi Free Press
The Falcon girls basketball team earned mixed results this past week, posting a comfortable home victory over American Fork on Feb. 9 but falling at Westlake on Feb. 12.
Skyridge 50, American Fork 34
This game was sluggish for both sides the entire first half, which ended with the Falcons ahead just 15-11. However, they returned from the locker room with energy and mounted a huge surge in the third quarter which carried them through to the victory.
"We had a slow start against American Fork but came our strong in the third quarter and scored 25 points," said Skyridge Coach Shaylee Nielsen.
"Teagan Gray was a huge spark for us with her hustle plays," the coach continued. "She is such an amazing leader for this team and plays her heart out each game. It is so nice knowing that every night we are going to get consistent energy and effort from Teagan and all our girls."
Freshman guard Cambree Blackham led the scoring with 17 including a pair of treys. Gray added 10 points, senior guard Jade Wallace netted eight with two 3-pointers and senior guard Ally Blackham had seven.
Westlake 49, Skyridge 42
The teams dueled basically even through the first half of this contest, with the Thunder owning a slight 22-19 edge at the break.
It was virtually all Westlake in the third quarter however, as the Falcons could only manage to put two points on the scoreboard. Another wild swing of momentum ensued as the visitors outpaced the Thunder 21-14 in the fourth period but ran out of time to overtake them.
Cambree Blackham again had the top tally for Skyridge with 11 points and also had three assists and a pair of deflections before fouling out. Ally Blackham scored nine with a pair of 3-pointers and made five rebounds, five assists and seven steals.
Gray netted three triples for nine points as well and also had three steals. Senior guard Taylor Arnell added eight points.
"Westlake was a tough, physical game," Nielsen said. "We got in a big hole in the first four minutes and our girls fought back and made it a 2-point game.
"We had a hard time scoring and couldn't get our 3s to fall," she went on. "I couldn't have been more proud of the resiliency our girls showed and the fight they had. We were very outsized and battled hard all night."
Heading into the final week of the regular season, the Falcons are in good shape. "Region 4 is incredibly competitive this season and with two games left, the title is up for grabs," Nielsen said.
"We are in a good position where we can control our own destiny. We have to go win a tough game on the road at Pleasant Grove and then beat a solid Lone Peak team on senior night for the region championship," she concluded.