Twins mark milestone as Lehi girls sweep region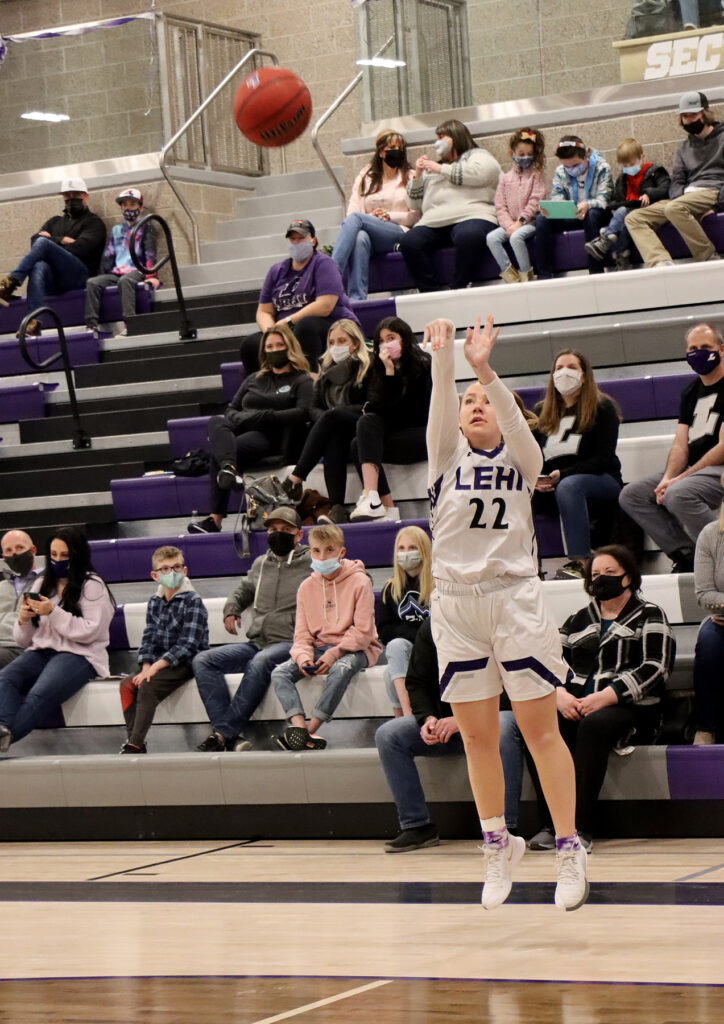 The Lehi girls basketball team finished the Region 7 season undefeated on Feb. 18 as the Pioneers topped Timpanogos 50-34 on Senior Night.
In addition to that notable achievement, senior guards Maddie and Macie Warren celebrated passing the 1,000-point milestone in their careers. Maddie actually got there a couple of games earlier but Macie did it during this contest, so they celebrated together.
The twins started the game on the bench as senior reserves Gracie Hinckley and Sesly Fowler were given the opportunity to start the game in tribute to their contributions to the program.
Senior guard Lizzy Rees opened scoring with a triple and later passed to junior wing Jamisyn Heaton for another one to give the home team a 6-5 lead.
That's how the scoreboard read when the Warrens entered the game at the 3:08 mark of the first quarter. The Pioneers finished the period on a 13-4 run to make it 19-9 entering the second quarter. It was 36-20 at the half.
The turnover-laden third quarter also included a lot of misses by both sides and resulted in only 10 points combined, with Lehi ahead 40-26 heading into the final stanza.
With a comfortable lead, the Pioneers spent a lot of the period working time off the clock and playing reserves. The Timberwolves got as close as 11 points halfway through the quarter but weren't able to reduce the gap any further against Lehi's defensive pressure.
"Tonight was wild," said Lehi Coach Sean Seastrand. "No other words to describe it. We started with Senior Night, recognizing all the seniors who have done such a great job and have contributed so much to this program.
"Then the actual game seemed like a side note, even though Timpanogos played great and hung around all game long," he continued. "Fortunately we pulled off the win.
"Afterwards we got to celebrate our region championship by cutting down the nets in front of our awesome student body," Seastrand said.
"If that wasn't enough, we were able to celebrate Macie and Maddie Warren, who successfully reached 1,000 career points tonight. What an incredible achievement for them," he added. "Overall it was a great night!"
The Pioneers had eight players register baskets as they spread the ball around. Heaton had a terrific outing and led the team in scoring with 14 points to go with nine rebounds and a pair of impressive blocks.
Maddie Warren finished with 12 points, seven boards, four assists and three steals, while Macie Warren netted 10 points with six assists and two deflections. Senior wing Brinly Whiting snagged seven rebounds and Hinckley and Fowler grabbed four apiece.
The final RPI rankings were revealed Saturday morning after all regular-season games were completed. The Pioneers (18-3) earned the No. 2 seed, which gives them a bye in the first round and home court through the quarterfinals as long as they continue to win.
Their first game will be Thursday, Feb. 25, at 7 p.m. against the winner of No. 15 Wasatch (9-11) vs. No. 18 Bonneville (6-10).
"To be honest, I haven't looked at the RPI once this season," Seastrand said. "I really don't care. Tell us who we're playing and when and we'll be ready, but it sounds like we've got a solid side of the bracket.
"We'll play the winner of Wasatch and Bonneville, so we'll try our best to be prepared to host one of those teams," he continued.
"If we win, the quarterfinal could be fun too. Another rematch with Timpview possibly, or a game against Viewmont. Viewmont has a girl on their team that is our assistant coach's sister, so that could be intriguing.
"If we win that and everything else happens as planned, we're set for a rematch with Springville in the semis. Either way, we're just excited and ready to go," he concluded.