Pioneer boys secure 5A hoops crown with mental toughness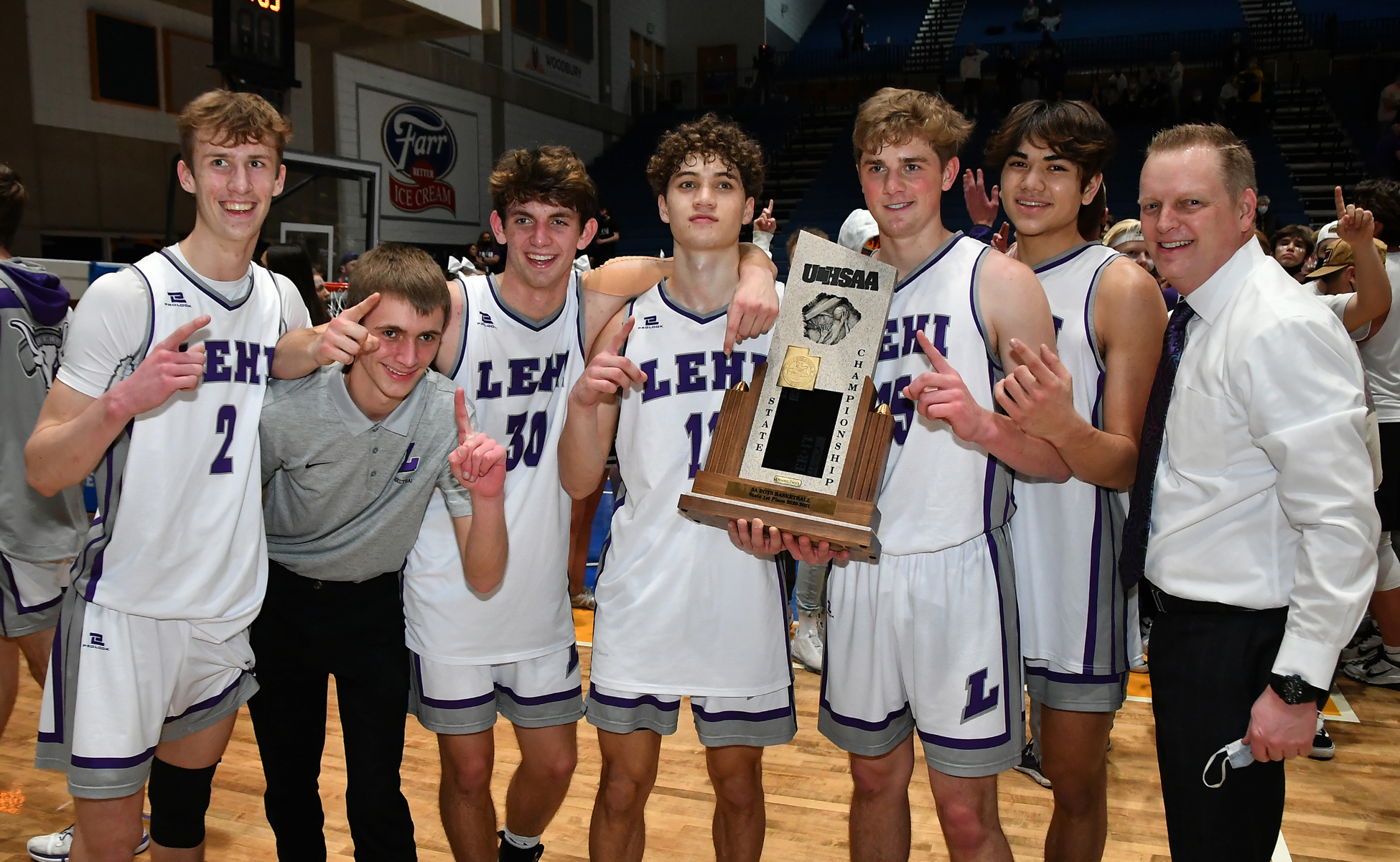 They just refused to lose.
With the Lehi boys basketball team trailing by four points early in the fourth quarter, it was starting to feel like the momentum was shifting in the direction of Farmington after a third-quarter surge had led to a 10-point turnaround on the scoreboard.
But the Pioneers had been down this road before, both during the tournament and during the regular season. And once again, they answered the bell.
Freshman center Grayson Brousseau hit a free throw, then took a charge on the other end to force a turnover.
On the next possession, senior guard Noa Gonsalves willed his way into the paint and finished a shot while being fouled from both sides. He made the free-throw too, and just like that, the score was tied at 43-all with 5:51 left on the clock.
The Phoenix scored on their next turn to briefly retake the lead, but Lehi answered right back when senior wing Blake Hill, who hadn't been able to find the net all night, took a give from senior guard Tyson Hawkins and swished one of his trademark triples.
He then grabbed a defensive rebound. The ball eventually found its way into the hands of Gonsalves, who finished that chance with another tough mid-key jumper.
Gonsalves collected the next board and sent it Hill's way. This time he drove through opposing defenders and went right to the hoop like Moses parting the Red Sea, finishing the layup to push the margin to 50-45 with 3:16 to play.
That was the key stretch as the Pioneers never trailed again. Farmington continued to score but Lehi converted 9-of-10 free throws in the final minute to preserve the victory.
"That was a tough, tough battle," said Lehi Coach Quincy Lewis. "We were able to win because of our perseverance and tenacity. What you saw tonight was heart, not just from the starters, but from everyone on the team. I couldn't be prouder of what they were able to achieve together."
Senior forward Peter Amakasu kept the team afloat during a stretch when his teammates were having trouble getting shots to fall. He finished with a team-high 21 points and five rebounds.
Gonsalves posted a double-double of 19 points and 13 rebounds and also made seven assists. Hawkins scored nine with four assists and Lewis praised him for doing a great job of managing the game.
Check back later for more coverage and be sure to snag a copy of the March 11 Lehi Free Press for more stories and photos.