New principals named at two Lehi schools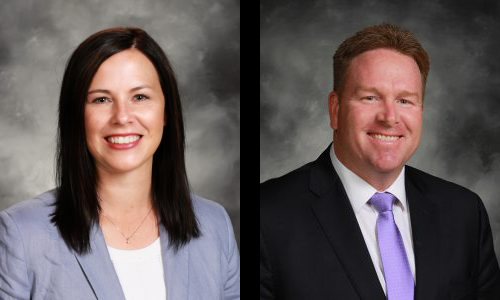 Lehi Junior High School and Belmont Elementary will have new principals beginning this Fall. At LJHS, Matt King will take over for Kevin Thomas, who is moving on to be the director of the Human Resources Department for Alpine School District. Misty Rocha has been named the new principal of Belmont Elementary.
Matt King was raised in Provo, Utah, and in 2006, received a bachelor's degree in Earth Science Education from Utah Valley University. He began his career teaching science, health and math to at-risk youth in the Jordan School District in 2007. King came to Alpine School District in 2009 where he taught science at Timberline Middle School.
In 2012, King began his school leadership experience while still at Timberline and earned his master's degree in Educational Leadership from Southern Utah University. He is currently in his fourth year as an assistant principal at Lehi High School, where his oldest daughter is a senior.
Matt King has been married to his wife, Mary, for 19 years. They live in Eagle Mountain with their four children. He enjoys working in the yard and being outdoors, hiking and camping with his family. King is passionate about learning and the value of education and is excited to continue his support of Lehi students as principal of Lehi Junior High School.
Misty Rocha's teaching career began in Alpine School District in 2002 where she taught first grade at Foothill Elementary. Ten years later, she moved to the Wasatch County School District in Heber City, Utah, for a position as the district elementary math specialist. During her time in Heber, Misty earned a master's degree in Educational Leadership at Brigham Young University.
"It was a joy to return to Alpine School District as the assistant principal of the new Belmont Elementary School, which is where I have been for the past three years. I am absolutely thrilled to stay at Belmont as the incoming principal," said Rocha. "My love and concern for the students, families, faculty and staff is strong, and it will be delightful to continue working with all of them."