Grade school penny drive produces meals for neighbors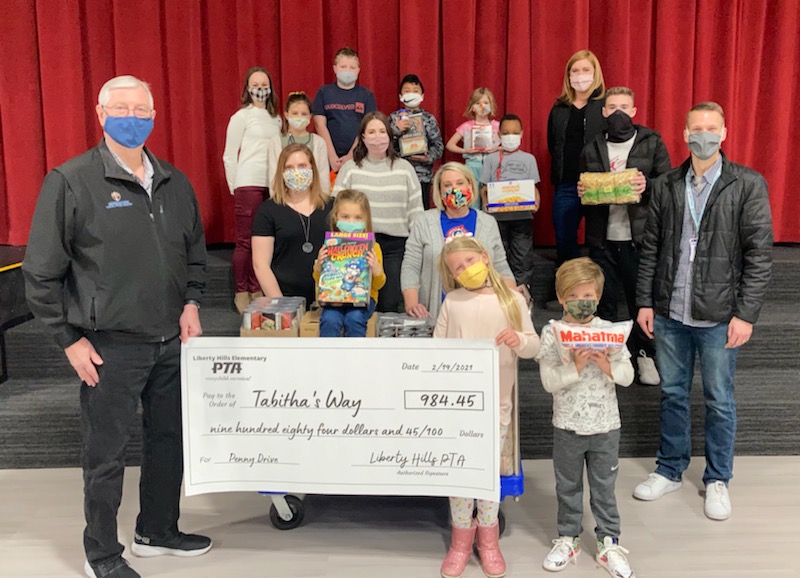 For three days in February, students at Liberty Hills Elementary in Lehi collected canned food and coins for Tabitha's Way in a drive to support neighbors experiencing food insecurity. "We had no idea the kids would respond the way they did," said Karen Russell, PTA president at Liberty Hills Elementary. After just three days, the school donated 772 lbs. of food, more than two weeks-worth of hygiene kits, and $984.45 in pennies, nickels, dimes, quarters and three $50 bills.
Months ago, during a particularly difficult quarantine time at home, Russell decided to do a food drive for a local non-profit to teach her children to serve the community. She found Tabitha's Way in American Fork and learned that the most significant food insecurity in all of Utah is right here in North Utah County. Before the pandemic started in March 2020, Tabitha's Way was feeding 3,000 individuals a month from their food pantry. Just over half of those individuals are children.
"We explained that every 20 cents to Tabitha's Way is a meal for someone in need. That's an attainable goal for kids. Then we made it a contest, and the students really got into it," said Russell.
Each grade got an empty milk jug to collect coins and bills. Every penny was worth one point, and every paper dollar was worth 100 points. Russell added the twist that nickels, dimes, and quarters would deduct points equal to the coin's value. "We had siblings going to each other's classrooms and dropping in quarters and dimes and nickels so they could take away points. It got pretty crazy!" remembered Russell. Three classes had $50 bills appear in their buckets from an anonymous source. The first grade ended up winning the most points. "They have so much school spirit, and they were 100 percent invested in this activity," said Russell.
Al Switzler from Tabitha's Way came to Liberty Hills on the final day of the drive to thank the students and tell them that the money alone would provide almost 5,000 meals to people here in North Utah County.
"I hope this becomes a tradition. We did it right before Valentine's Day to show love for our community, and the kids really responded to that. They want to help their neighbors so much," said Russell.