Veteran coach comes out of retirement for Jr Jazz team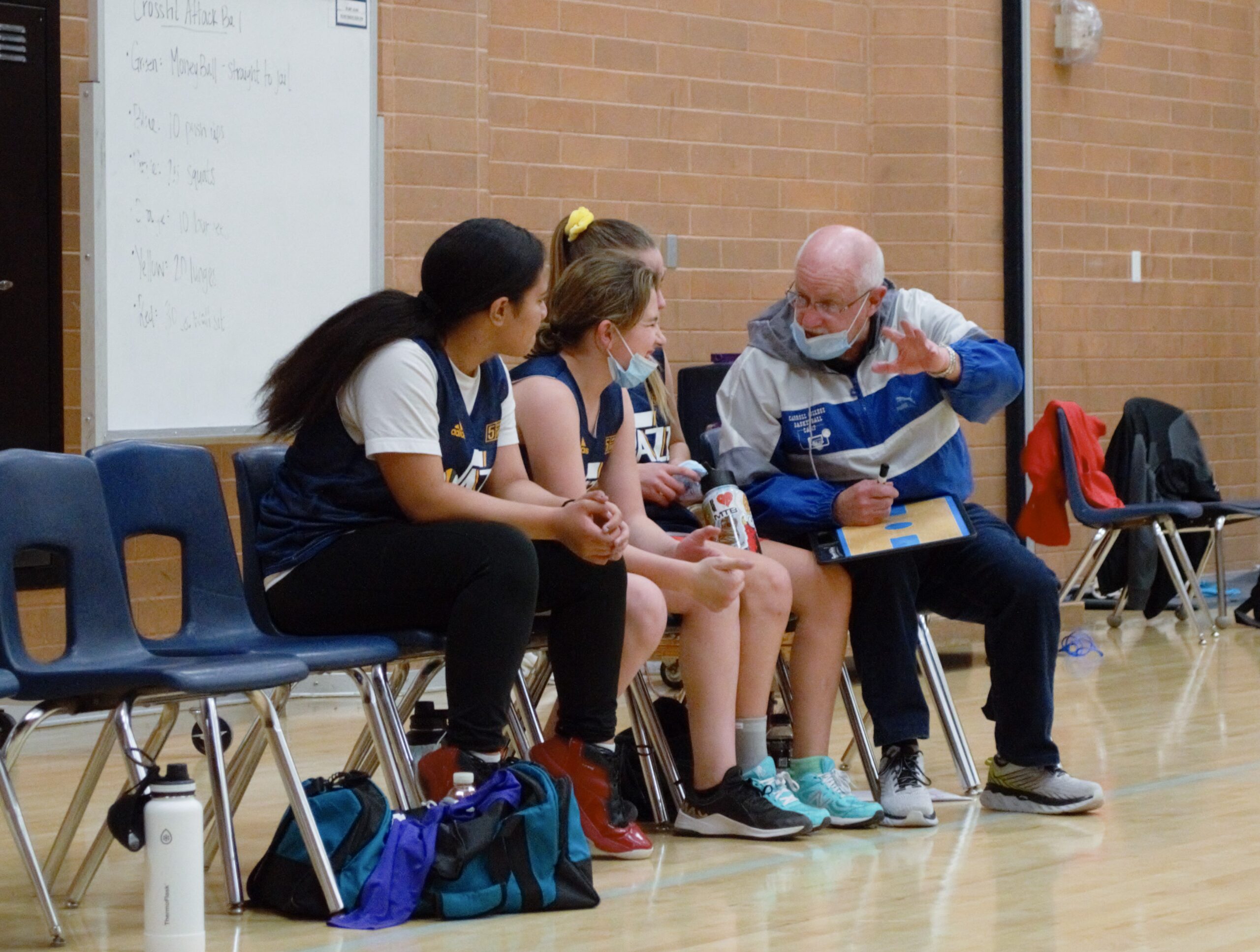 "You're a winner," Coach Bob Zentner said to each of his players as he placed a silver medal around their necks. His scrappy Junior Jazz basketball team, made up of eighth-grade girls, had only been together for a few months, but Zentner taught them to play as a team and have a great time as he led them to a second-place finish.
"The girls have come a long way. Some of them had never played basketball before. He's just so proud of them," said Vyonne Zentner, Bob's wife. She attended most of the games and cheered them on during a double-header that decided the championship for their age group at Lehi Junior High on Thursday, March 11. "Bob loves working with junior high-age kids. They're enthusiastic, very teachable and a lot of fun. Girls give their all when they're participating. They will always try hard."
Bob Zentner retired three years ago after 41 years in education. He taught earth science and P.E. and finished as a junior high principal. Throughout his career, Zentner was always coaching – everything from football to track to boys' and girls' basketball. This is his first year coaching a Junior Jazz team through the Legacy Center. Zentner works out at the Legacy Center several days a week and is on a first-name basis with everyone who works there. He decided coaching a basketball team would be a fun winter activity for him, so he told the program director to call if they needed a coach. It didn't take long before Zentner got a call.
"He volunteered to coach for no other reason than he loves it. He has mentored and taught the girls so much," said Harmony Hatch, whose daughter, Grace, is a member of Zentner's Junior Jazz team. After he placed a medal around each player's neck, the team gave Zentner a medal and had a group hug.
"Once a coach, always a coach. He takes this team just a seriously as he did the high school boys' team, who took third in the state in Montana years ago. He wants the girls to have fun, but he wants them to learn," said Vyonne Zentner. Bob Zentner has seen how playing on a team can affect a boy or girl for the rest of their lives.
"The confidence they gain from doing something well is with them through their whole life. Whether they end up playing on a school team or not, they'll know the game. They know how to play basketball now, and that opens them up to a whole world – they can join a pick-up game at the park or even just enjoy watching the game," added Vyonne.