Lehi Couple surprised with $10,000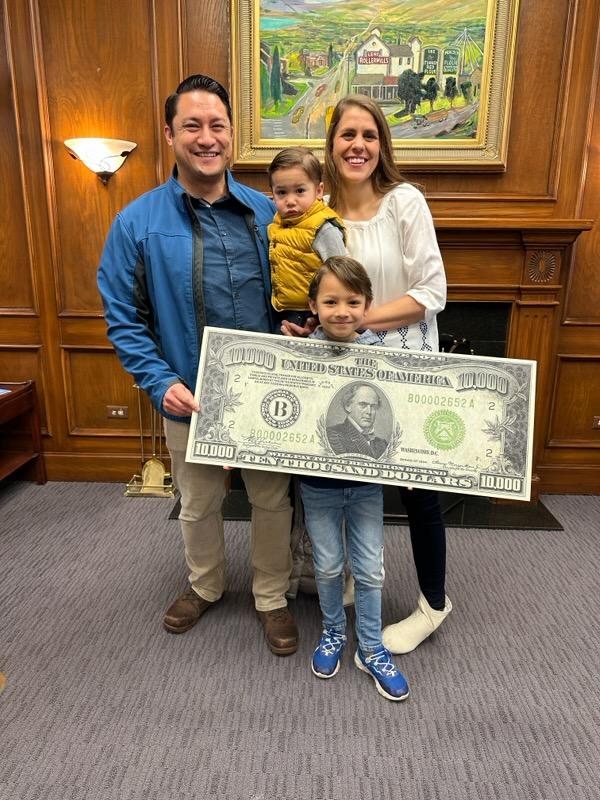 LEHI, Utah; January 27, 2023 —A Lehi couple was surprised with $10,000 on Friday, January 27, as a winner of Zions Bank's Holiday Bankcard Sweepstakes.
Kyle and Kate Grotegut were told they had won a prize as part of the sweepstakes and were invited to come to Zions Bank in Lehi to collect their winnings. They had no idea how large the prize was until branch manager Paul Bradshaw presented them with a giant $10,000 bill.
"We thought maybe it was a couple hundred dollars," Kate Grotegut said.
The couple plans to use the large sum to pay off debt, make memories with their five children, and build emergency savings.
The Groteguts were entered into the contest by using a Zions Bank debit or credit card during the holiday season. Clients received an automatic entry into the sweepstakes every time they used a Zions Bank debit or credit card between Oct. 24, 2022, and Jan. 8, 2023. Anyone could participate in the sweepstakes by mailing in an entry.
Kyle Grotegut was one of three winners whose names were randomly selected from among millions of entries into the sweepstakes.