Lehi Cheer places at State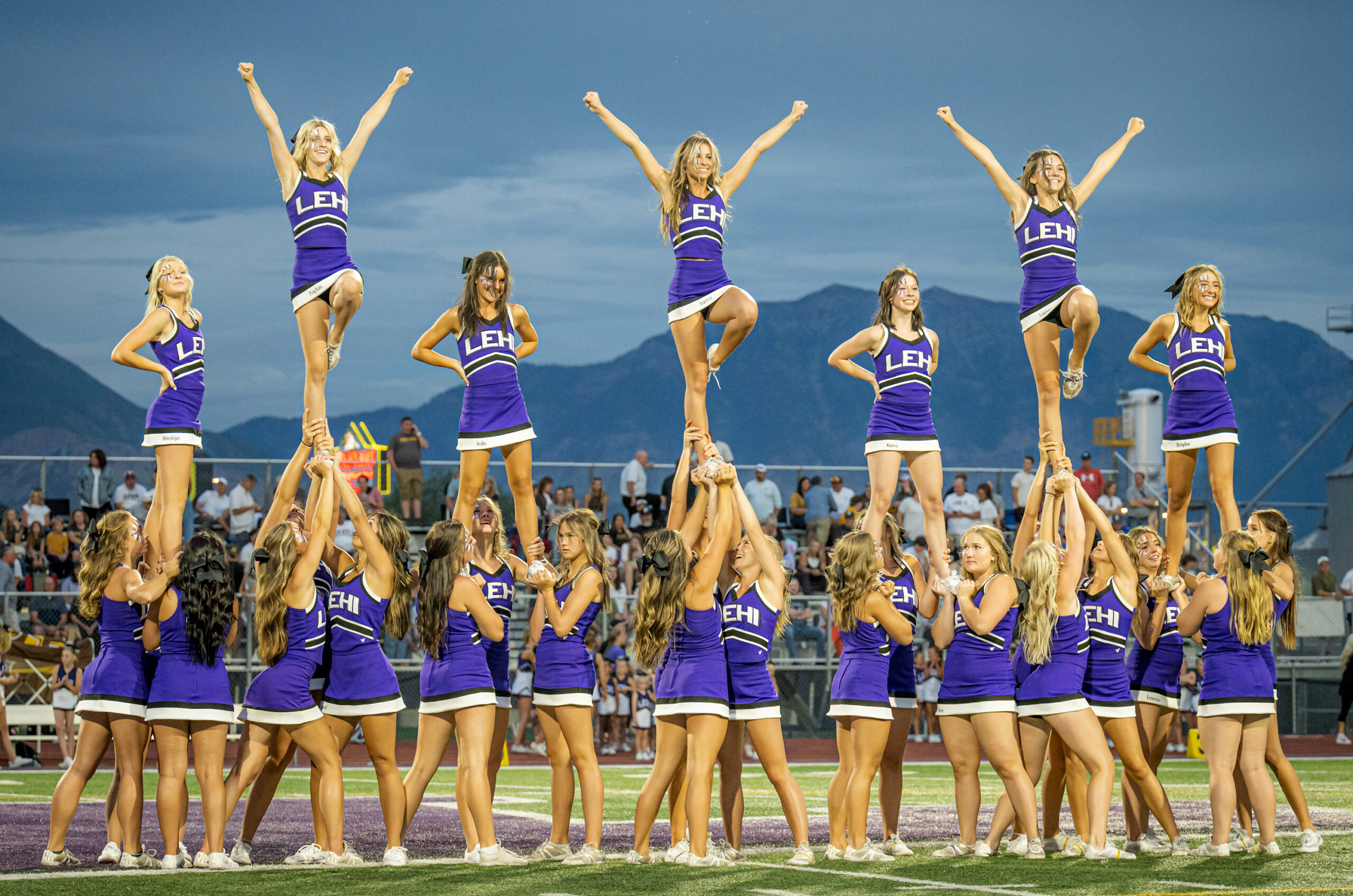 The Lehi High School cheer team competed at a high level and clinched third place in the 5A all-girl division in the first year of competitive cheer as a state-wide sport sanctioned by the Utah High School Activities Association (UHSAA). Salem Hills was first and Olympus second.
This season has been different, filled with new opportunities and challenges, but the Pioneer cheerleaders have worked hard to overcome all difficulties and do their best.
Teams were judged on four criteria: a combination of stunts and pyramids; jumps, tumbling and dance; cheer for show; and cheer, dance, and fight song criteria, combining for a game time score.
The Pioneers earned first place in the Sideline/Timeout Dance category. They finished third in the Combined Game Time and Show categories, fourth in Sideline/Timeout Fight and fifth in Sideline/Timeout Cheer.
Lehi head coach Jena Anderson said, "This group of cheerleaders is special. From the moment we had tryouts in March of last year they set a goal to make this year the best. They wanted to be the best cheer team and they also wanted to be a family.
"They came together, worked hard, and set out to win. Every practice has been a unique thing as a coach to watch because they came ready to work and had fun while they were working,"she continued.
"These girls know how to encourage each other on and off the mat, which has made them a family. It has been an amazing thing to experience and to watch these athletes become one."
The competition was grueling as each team performed four routines. Anderson said, "This year at state there were so many talented 5A all-girl teams. We had tough competition but that did not stop them. We wanted to be one of the top teams."
"The biggest strength of our team is hard work," said Catelyn Stubbs, Lehi cheerleader. "We have worked so hard this year with endless amounts of reps and full outs. Hitting the mat at UVU was something I will never forget."
After winning the region championship in the show category, Lehi was confident and ready to compete for the state title.
"We felt excited and really good going into state. These girls left their hearts and souls on the mat as they performed four perfect routines and were a crowd favorite," said Anderson.
"I'm proud of these girls who gave everything they had to each routine, proud of these girls who constantly encourage others, and proud that they had fun while doing it," added Anderson.
The Lehi cheer squad also has assistant coaches Emily Whitney, Desi Larson and Valerie Finlinson. The team captains are Rachel Hoopes, Skyley Royce and Braylee Christensen.
Stubbs said, "Cheering with this team is so unique because we all have such a love for each other and for the sport. Everything we get to do together is super fun and always enjoyable."
"Lehi Cheer took third place at state and as their coach, I am beaming with pride," Anderson said. "I am grateful that I have the opportunity to coach and be a part of these girls' lives."