ASD selects LHS principal Doug Webb to direct secondary schools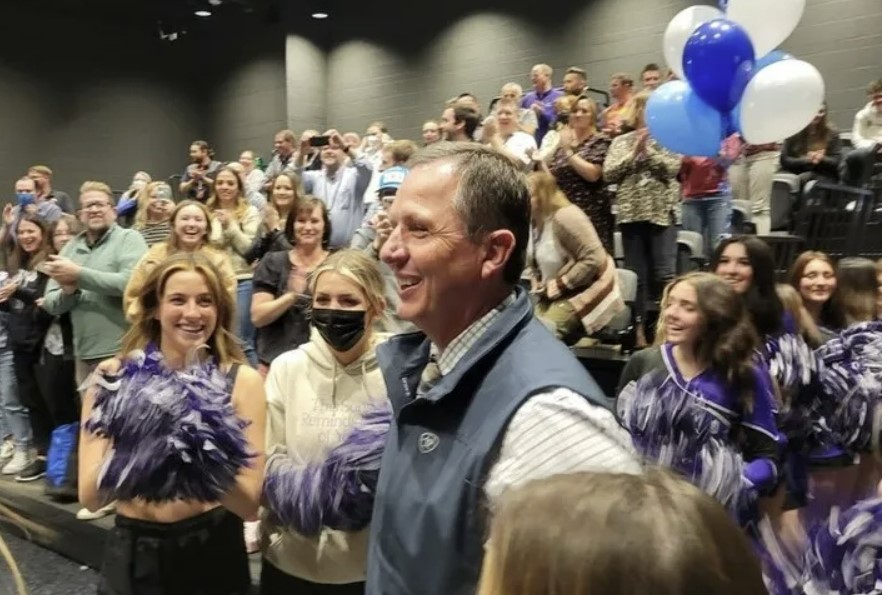 There was almost an audible groan of disappointment from students, teachers, and parents when Alpine School District officials announced that beloved principal Doug Webb had been selected as Secondary Administrator of Schools for Alpine School District administration.
Webb has been principal during a tumultuous six years in public education, specifically at Lehi High School. Webb navigated the Covid-19 pandemic, the final rebuild of the high school, and the balancing act of meeting the needs of a growing school and maintaining the traditions so important to patrons in one of the oldest communities in the state.
Last year the Utah Association of Secondary School Principals (UASSP) named Webb "Principal of the Year." Webb and his wife felt particularly elated at this honor as they are Lehi High School alums. Their children also graduated from LHS. Webb jokes that he "bleeds purple."
Webb began his educational career as an Agricultural Education teacher at Copper Hills High School before being hired to teach at Lehi High School, where he taught for eight years. He went on to become an Assistant Principal at Lehi High School. Then, Webb was the Principal of Oak Canyon Junior High, where he worked for 11 years before moving to Lehi High School.
Webb said, "Seeing students culminate all their experiences in high school is extremely rewarding. I have loved everywhere I have worked and am excited about this new opportunity."
Regarding his new role, Webb commented, "I hope to contribute to the high level of leadership in Alpine School District. As an educator, I want to help those around me be successful. I have truly learned so much from the amazing students and peers I have worked with.
I look forward to continuing my service in this great district and helping others reach their potential."
Webb's coworkers are lavish in their praise of his abilities as a leader. Lehi High Head Football Coach Ed Larson said, "Doug Webb is what every principal should be. He cares about every aspect of the high school. I have always had his support, and I know how much he cares about the faculty, staff and students. Football has excelled at Lehi in large part to Doug Webb. I feel very sorry for his replacement—very large shoes to fill."
Nancy Turner, a financial secretary at Lehi High School, recalled when Webb was an agriculture teacher at Lehi and came to her office in his overalls to turn in receipts. "When he became an administrator, we were lucky enough to have him stay here at Lehi as an assistant principal. Everyone was excited when Mr. Webb was announced as our principal. He loves the community, faculty and students here," said Turner.
"He loves to ride his bike to school and teases me when I don't ride mine. We wish him well in his new adventure," Turner added.
Diane Cardon, Administrative Assistant at Lehi, said, "Doug Webb is a very professional and caring administrator. I have enjoyed being his Administrative Assistant. We will miss him at Lehi High School."
Bob Barnes, LHS counselor and former basketball coach, said, "Doug Webb is a loyal, caring and dedicated principal. He has made a huge difference while here at Lehi High School. It is amazing the amount of time and energy he has willingly spent serving the students, faculty, parents and the entire community. He will be deeply missed,"