Skyridge student named art show winner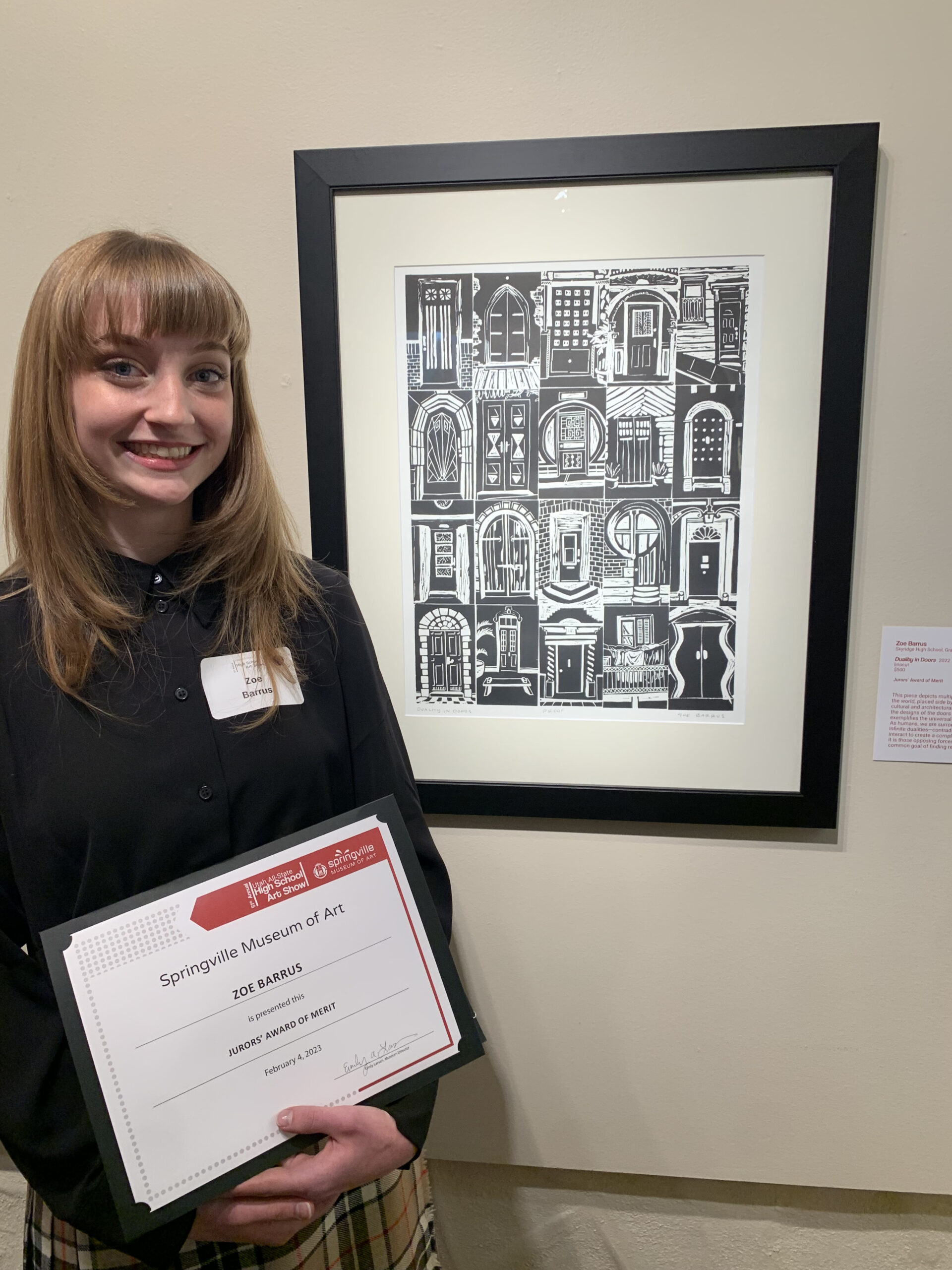 Jillian Rose | Lehi Free Press
Lehi's Zoe Barrus has been named one of the Springville All-State High School Art Show winners. Her medium is Linocut, her message is safety, and her inspiration is her mother's quilt.
A linocut is a type of relief print. The artist first carves an image into a block of linoleum or other material, then ink is rolled onto the uncut surface of the block, and, finally, paper is laid on top of the block and pressure is applied to produce a print.
"My mom made a quilt that hangs in our hallway. I see different stitches every time I look at it," said Barrus, "I want to be that artist. I want viewers of my art to get something different everytime they look at it." This is undoubtedly true for those who have seen Barrus' award-winning piece, Duality of Doors(2022). The work is a collection of architecturally diverse doors, which signify how different people worldwide seek safety and refuge from the world.
"I googled 30 different doors from around the globe. I studied the architecture of those doors. What was cool is that all the different doors contained the same message of safety and shelter from all those messy elements of the world."
Barrus' piece contains a poetic map of her own artistic growth. She explained that of all the doors she included in her piece, one is the very first linocut board she ever carved, and one is the very last. She bookends her set of doors in a way that brings her journey in this new medium full circle.
Through time, attention, and sometimes physical pain, Barrussacrificed a lot to bring her piece to life, "I had about three weeks to carve everything. When I first started carving, I had to push through calluses to figure out what pressures worked for me. The right side of my body hurt, but I learned how to relax my body and work with art and not against it."
After receiving the Jurors Award of Merit for her piece, Barrus has a message for her fellow students. "Your art is enough. Don't compare it to anyone else's. Express what's in your head and your heart."
Barrus learned a valuable lesson through the process: "I learned that I could do things I set my mind to. I learned how to have balance. I learned how to bring art into my life, which has been key."
Barrus has a bright future in store. "I am looking forward to my next piece. I have more confidence in my art and see this as a possible future for me. A big thank you to my parents and family, who have always been my biggest supporters," she said.