Miss Lehi's Outstanding Teen named first runner-up at state competition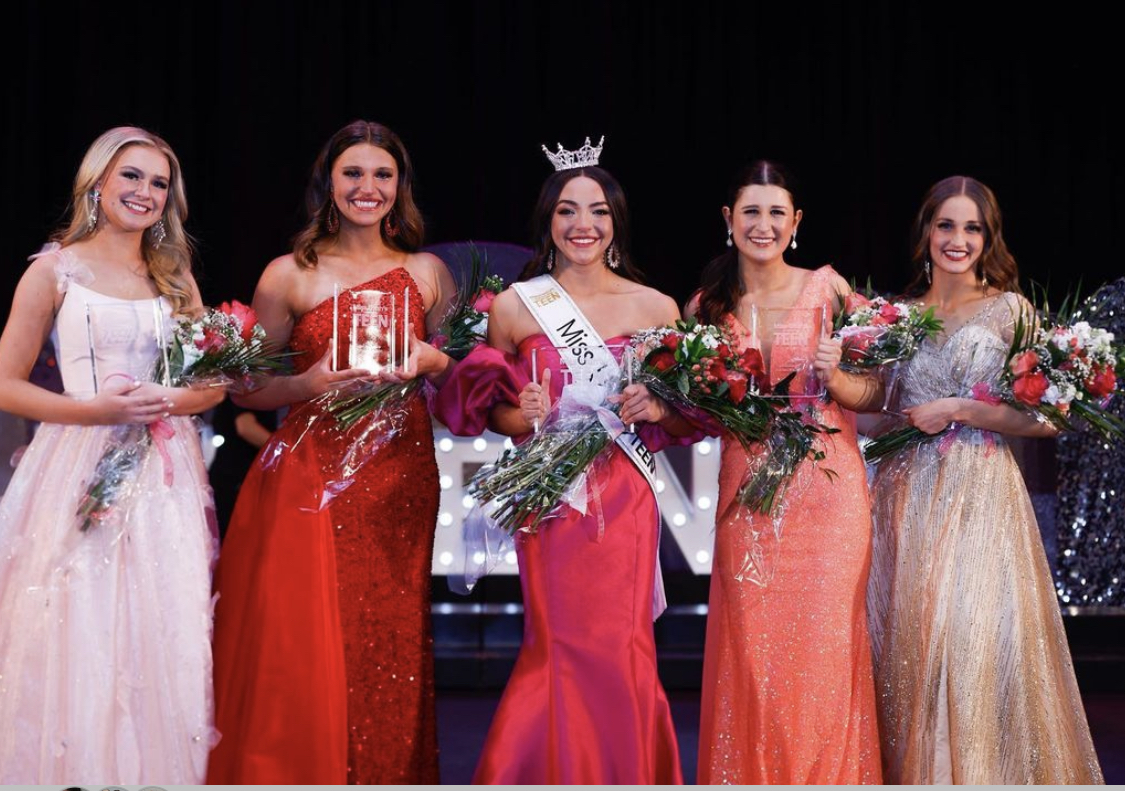 After two days of rehearsals, private interviews, and performances, the Miss Utah's Outstanding Teen (MUOT) 2023 competition wrapped up. The annual event featured 39 teens from around the state and was held at the Covey Center for the Arts in downtown Provo on February 16-17.
Miss Lehi's Outstanding Teen, Kira Gardner and Desiree McKinnon of Lehi, Miss Panoramaland's Outstanding Teen, both placed well as first runner up and second runner up, respectively. JayLynn Lindley of Salem was named the new Miss Utah's Outstanding Teen during the final competition on Saturday evening.
Each of the 39 candidates had private interviews with seven panelists (30% of their final score). The remainder of the competition categories included talent (40%), Lifestyle/Fitness (10%), and evening gown with an on-stage question (20%). The evening gown and on-state questions were presented Friday and Saturday in front of a live audience.
Gardner wowed the audience with a hip-hop/jazz dance for her talent and graced the stage wearing a glamorous orange formal during the evening gown competition. She won the panelists and the audience over with her quick wit, enthusiasm and authenticity.
For the talent category, McKinnon's ventriloquist act was a crowd-pleaser. She wore an elegant red dress for the evening gown competition and stood out with her charisma and lively personality.
Caitlin Thomas, director of Miss Lehi's Outstanding Teen organization, said, "I am consistently amazed by these girls and their commitment to service. Both Kira and Desi love the Lehi community and are dedicated to their social impact initiatives."
These girls represent everything Miss Lehi's Outstanding Teen organization and Lehi City stand for," she added.
Candidates in the Miss Utah Teen Scholarship Competition have a Social Impact Initiative (SII), formerly known as a platform. The young women choose a cause they are passionate about and impact the community with their advocacy. McKinnon was a second runner-up with her SII as a Teen in Action award recipient. McKinnon also won a Four Points of the Crown sponsorship award.
McKinnon said, "This past weekend has been the craziest, most fun, and best few days of my life. This program has changed my life and has made me into the young woman I am today. Allthese candidates are incredible and have impacted Utah in so many amazing ways. I am so incredibly grateful to be the second runner-up."
Gardner also won the highest score in the interview, the Scholastic Achievement Award for her 4.0 GPA, and she was a Four Points of the Crown sponsorship award recipient. The candidates also chose Gardner for the Spirit of Miss Utah's Outstanding Teen award in honor of her kind and friendly personality.
"I am so honored to have placed first runner-up. I am also honored to have received the spirit of Miss Utah's Outstanding Teen award, a Four Point Crown award, the Scholastic Achievement Award, and the top interview award. I am on cloud nine and feeling very proud of what I accomplished as a representative of Lehi City," said Gardner.
Gardner earned over $2500 in scholarships, and McKinnon earned scholarships over $2,000 during the competition.
"I want to thank Kira for being by my side the whole time. She has been such a light, and I am so glad I could share this experience with her. I also want to thank everyone that has helped me this past year. I can't say thank you enough," said McKinnon.
"I want to thank my family, friends, and directors who have supported me this entire time. I am so grateful for the opportunity to represent Lehi, the best city," said Gardner.