Falcon girls fourth, boys fifth at state track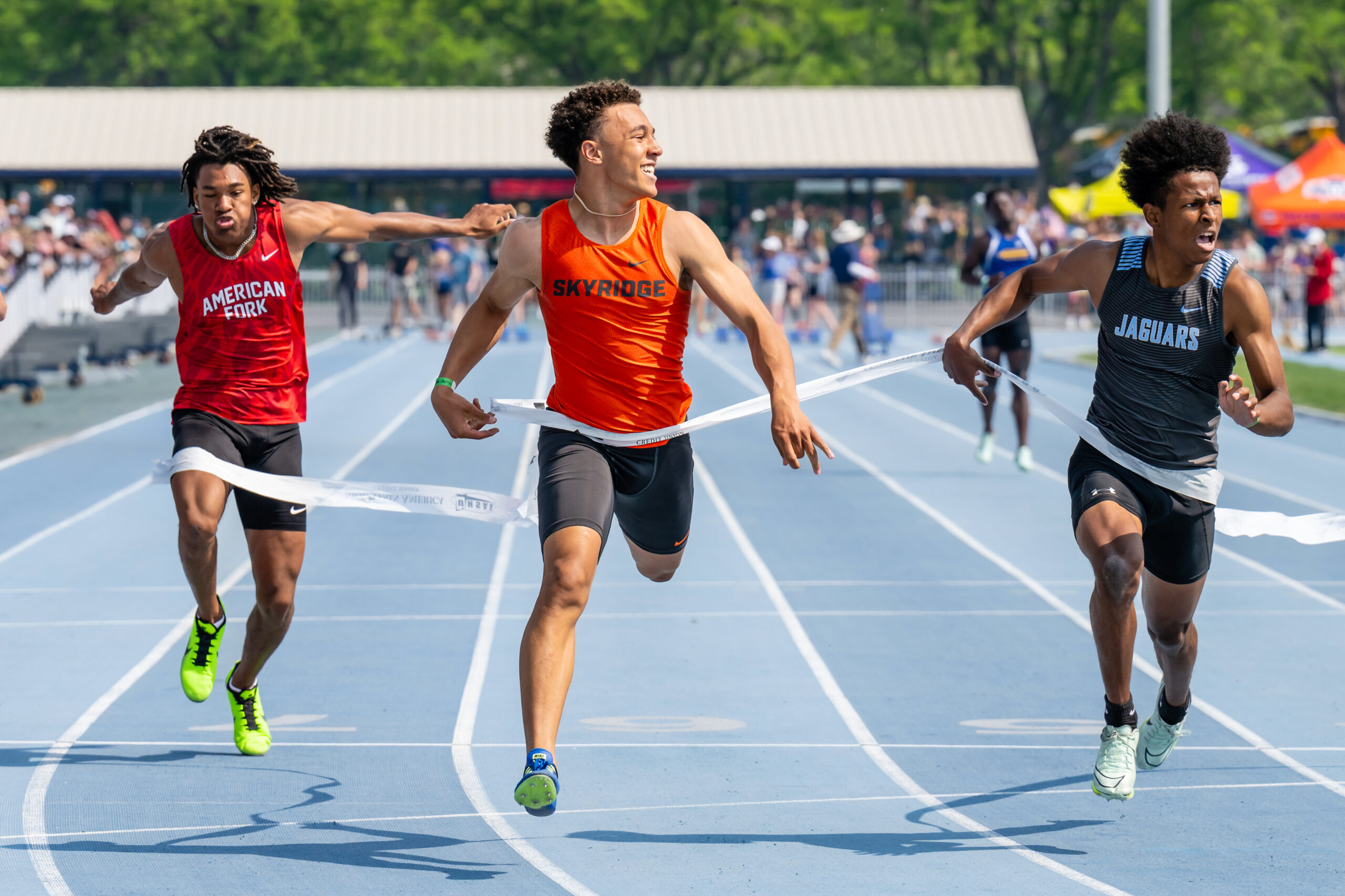 The Skyridge track and field team finished fourth in the combined standings at the 6A State Championship track meet on May 18 and 20 at Brigham Young University.
Lone Peak was the top scorer with 181 combined points, followed by American Fork at 157, Corner Canyon at 145 and Skyridge with 111 points. These four programs have competed together all season in Region 4 and their athletes have pushed each other to achieve these results.
In the girls division, the Knights were first with 113 points and the Falcons were fourth with 62 points. In the boys events, the Chargers were first with 92 points and the Falcons came in fifth with 49.
Senior Smith Snowden was the top gold medalist for the program with two in his sprint events. Senior Kylie Olsen was the top all-around medalist with four, including one gold, two silver and a bronze, two of them in relays. She earned a top-three medal in each of her events.
Skyridge made an especially strong showing in the relays, earning points in five events. The girls set a new school record capturing the silver medal in the 4×400-meter relay (3:55.93) with Makaylie Roberds, Tessa Miller, Mia Kauffman and Kylie Olsen.
The Falcons also added a new school record to the bronze medal in the 4x800m (9:25.04) with Halle Mehr, Tessa Miller, Elise Hartsell and Kylie Olsen. Makaylie Roberds, Tori Smart, Portia Hugh and Mia Kauffman combined for fifth place in the 4x200m (1:45.66).
In the boys events, Devan Greene, Issac Jensen, Ezra Nelsonand Jayden Gibson got the bronze in the 4x800m (7:51.43). In the 4x400m (3:25.95), the squad of Smith Snowden, Ryan Felt, Cameron Wood and Jayden Gibson came in eighth.
Here are the results for those who earned individual points at the state meet.• Smith Snowden (Sr.): Gold B 100m (10.59 sec); Gold B 200m (21.40 sec; broke his own school record).• Kylie Olsen (Sr.): Gold G 800m (2:11.48); Silver G 400m (57.38 sec).• Miley Richards (Sr.): Gold G Javelin (116-08 ft); 4th G Pole Vault (11-00.00 ft).• Cameron Beck (Sr.): Silver B Shot Put (55-07.75 ft).• Mia Kauffman (Sr.): Bronze G 300m Hurdles (44.28 sec; broke her own school record).• Jack Burke (Jr.): Bronze B Javelin (167-11.75 ft).• Makaylie Roberds (Sr): 5th G 300m Hurdles (45.48 sec).• Whit Slack (Jr.): 5th B Javelin (162-10.25 ft).• Jayden Gibson (Sr): 6th B 800m (1:54.92).• Kalena Bellini (So): 8th G 100m (12.72 sec).• Isaac Richards (So): 8th B Pole Vault (13-00.00 ft).