Willowcreek Middle School student showcases dress design at national fashion showYou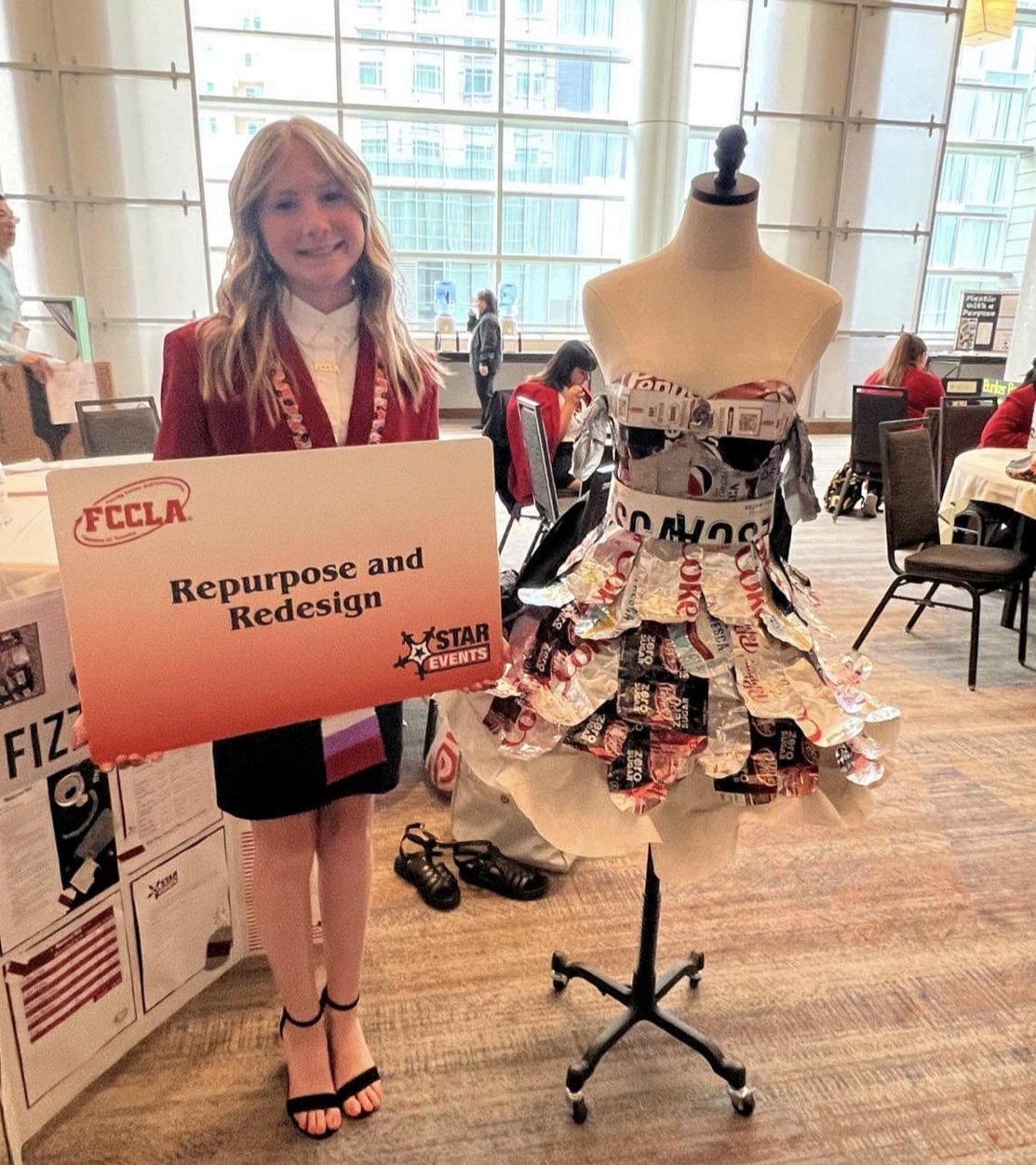 Who are those students in the red blazers? They are members of FCCLA, and the red jackets symbolize strength, courage, and determination. FCCLA stands for Family, Career and Community Leaders of America. FCCLA is a student organization recognized at the Local, State, and National levels. The students wear red blazers to represent leadership, professionalism, and service to the organization. One eighth-grade student at Willowcreek Middle School in Lehi wears thered blazer and exemplifies determination, strength, and courage as she turned a creative vision into a dream come true.
Kaylee Greer, who is 14 years old, has always been interested in fashion, and when she learned about the FCCLA organization at Willowcreek, she decided to join. "I thought fashion design and making something would be so fun," said Greer. 
Greer collaborated with her supportive advisors, Sarah Case and Holly Nielsen, and it was determined that as an eighth-gradestudent (most FCCLA members are ninth – 12th-grade students), she would be allowed to compete in the Repurpose and Redesign individual event. This competition category recognizes participants who select a used fashion, home, or other post-consumer item to recycle into a new product.
Greer said, "The inspiration for the dress came after brainstorming ideas with my advisors and the FCCLA group. I tried thinking outside the box and became excited because there were so many possibilities."
With determination and creativity, Greer designed a dress from recycled soda cans. After pounding and flattening 78 soda cans, she shaped them into the form of the dress she had sketched on paper. "I only cut myself nine times while pounding the cans," said Greer.
Greer also used the lids and tabs of the recycled soda cans for the dress. She also integrated scraps of fabric, recycled trash bags and cardboard, and repurposed gems from diamond art. Greer secured the dress with staples, hot glue and fabric duct tape. The dress is detailed with sleeves and corset lacing. Greeralso cut the trash bags into strips to crochet a single train.
The 14 hours of hard work paid off when Greer was selected at the State level as one of the top two students to compete at Nationals in the Repurpose and Redesign, Star Event category of the competition. She traveled to Denver, Colorado, for the July 1-6 National competition.
While at the Denver Convention Center, Greer was surprised after meeting with fashion industry designers who selected her dress as one of 40 other designs to be judged in an additional competition category. Greer presented her dress design to judges, and she was chosen as one of the top 20 students from across the nation to participate in the national fashion show. Greer was the youngest student chosen to model her dress to over 8,000 attendees.
Nielsen, the FACS teacher at Willowcreek Middle School, said, "Kaylee did an awesome job. She is a highly creative and talented designer. She is passionate about style and willing to put in as much effort as needed for the desired results.
She went above and beyond with her project this year and made me so proud. It really hit me hard when I saw her on stage in the fashion show. She was only an eighth grader and was chosen to show her dress alongside much older high school students."
Greer said, "I definitely felt a lot of things during the fashion show; I was nervous but also excited. I had so much fun. I feel honored to have been chosen to model my dress and so grateful for the opportunity."
The spirited Greer was determined to tackle a difficult project and turn it into something successful.
"Kaylee is just getting started, and I can't wait to see what she creates next," said Nielsen.
"The uniqueness of the dress is what makes it special," said Greer.
She added, "This project was very important to me because I learned that over three million aluminum cans are thrown away each year, and it is important to recycle aluminum because it offers so many more possibilities."